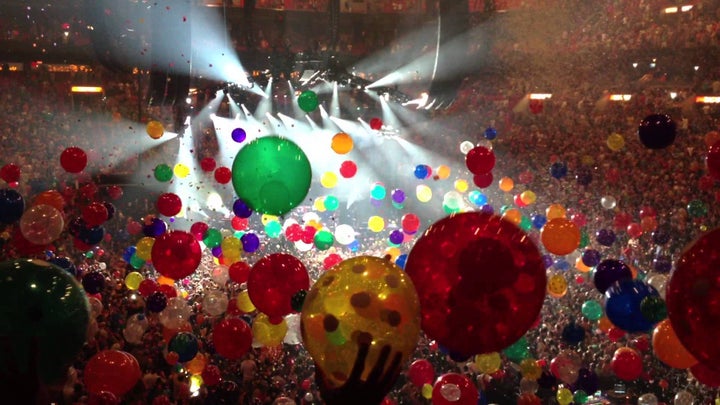 As 2016 draws to a close, it seems that we humans are in dire need of love, forgiveness and transformation. With that in mind, I'd like to share one of my all time favorite Phish Stories.
It was December 28th, 2009 and I was alone in my West Village apartment in New York City.
My occasional-girlfriend was back home in Australia for the holiday and I was feeling depressed and not sure what to do with myself.
I was moping around thinking it would be nice to be in Miami to see Phish play for NYE.
Since I was 16, Phish has been one of the most consistent forces in my life. As a kid with divorced parents, a volatile home life and a world that never got my brand of genius, the psychedelic melodies and wordplay along with the underground community of fans captivated my soul.
I found a sense of playful adventure and reassurance that I, and life, was going to be ok.
Anyone who has spent any time with me will soon find out of my love for Phish either through a story such as this, a metaphor referencing them, or citing their lyrics to provide guidance on major life events.
"Dude, if I hook you up with a free first class round trip plane ticket to Florida, will you go see Phish?"
My best friend, Jake Sasseville, had a very interesting relationship with a well known airline that was recently acquired by Southwest.
Ever since he convinced them to fly the cast of his self-produced late night nationally syndicated TV show to Vegas he had hung onto the VIP ticket bookers email address and in addition to sending her the occasional bouquet of roses, would also send in the occasional request for tickets.
Always inspired by Oprah, he would use this email address to book flights for people anytime he saw the opportunity to help — a mom he met on the street that hadn't seen her family in a few years ― how about some tickets back home? A depressed best friend who could use some cheering up by the world's greatest rock band ― why not.
(He and I also had our fair share of fun flying around the country together, enjoying Biscotti cookies, until they decided the $30k in free tickets he used in a single month was a sign it was time to say goodbye — but that is a different story.)
I jumped on eBay and found tickets for the 29th, 30th & 31st and made plans to stay with a friend down the street from the American Airlines Arena in Miami.
The next morning I overslept and missed my flight. Yikes. I was nervous about blowing Jake's deal with the airline, but was able to call and get on another flight with no problem, though I would miss the show that night.
I got up on time on the 30th and was able to make it down without any issue, but I was exhausted. I had nose bleed seats and the entire time I was in my head saying to myself:
"Look at your life. You are 29 years old and you are still going to Phish, sober at that, by yourself. Why don't you grow up?"
I don't remember a single song from that night, but I was determined to have a better show on the 31st.
Armed with a better seat for New Years Eve thanks to finding a new ticket on the way into the venue, I spent the first set dancing right behind the stage.
For the second set I crept around to the 100 section, just to the left of the stage.
This was NYE, so the band would be playing 3 sets. As I was sitting by myself there was an attractive woman in a gold bikini dancing next to me.
I spotted this security guard, maybe 30 feet away, whom I thought was leering at her. For some reason I instantly began to hate him for no real reason. He was just inside my head and I was thinking what a sleazy guy he was for checking out this bikini dancer. (Never mind that I was basically doing the same thing and was just shame-projecting onto this poor guy.)
So there I sit, in the stands, angry at this security guard who I've never met or talked to when the self talk starts again.
"Look at your life dude. You are 29 at a Phish show, a place that is supposed to be like Church for you, and you are here hating on some random stranger. You call yourself a hippy?"
I resolve in that moment to let go of whatever this projection / hatred is for this innocent security guard and then, I almost shit my pants.
I hear being yelled out. I look up and I swear it's the security guard.
"Do you want to go down to the floor?"
"Umm.. I don't have a ticket." I yelled back.
"I didn't ask if you had a ticket. I asked if you wanted to go down to the floor!"
Luckily I was able to shake my head yes.
He points at me, over a few hundred people and yells to the guard manning the gate about 20 feet from him, "This guy, let him down to the floor!"
In a daze I put one foot in front of the other and walk down the steps into the the general admission section of the show.
I'm maybe a dozen rows back from the stage, dead center as the lights drop and the band takes the stage.
It felt like I was tripping, but of course, I was completely sober. I hadn't even had caffeine in the last decade or so. This was a peak spiritual experience.
As Trey rips into Auld Lange Syne, tears of bliss are streaming down my face as the entire experience hits me like a tsunami.
I let go of hating some random guy and then that guy randomly decides to let me down to the floor. I feel like the universe is patting me on the back and this is my gift for practicing the art of love.
Then, another giant wave hits me and that voice inside pipes up again.
"Duh. The gift is the ability to let go of hatred — a gift that will stay with you your entire life."
Cue the tears. I text my younger brother Nick and in my bones I know this is going to be the best year of my entire life to date.
The trick was to surrender to the flow.
The rest of the show was incredible and 2010 turned out to be a defining year in many ways.
Phish and the radical community of fans, continue to inspire me with the gift they have brought forth for humanity.
NOTE: At the time of publishing this, I'm still searching for a ticket to Phish NYE tonight! Let me know if you've got one!
UPDATE: Got a floor ticket an hour before the show and it was INCREDIBLE. Thanks for an amazing time.
Anthony David Adams is an American activist, artist and entrepreneur living in Park Slope, Brooklyn.
Sign up below for a free copy of his upcoming book, Madness & Miracles.