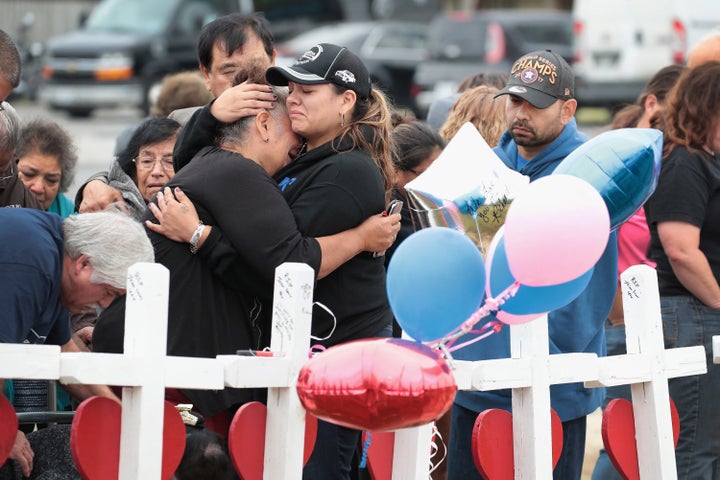 The Air Force has discovered "several dozen" cases in which it failed to report convictions of service members to the national background check database used for gun sales, a spokesperson told HuffPost Tuesday.
The military branch's review is still ongoing, but should be completed within the next few months.
Personnel at Holloman Air Force Base in New Mexico, where Kelley was court-martialed for abusing his wife and stepson, "did not report required information to civilian law enforcement in the Kelley case," the Air Force said in a statement Tuesday.
The error was "not an isolated incident and similar reporting lapses occurred at other locations," the statement said. A spokesperson for the Air Force could not confirm how many bases had similar problems.
The Air Force is reviewing an estimated 60,000 incidents involving its service members since 2002, the spokesperson said. It's also working to improve reporting, including training and implementing new procedures to double check cases are sent to the national database.
Kelley was convicted by a general court-martial on two charges of domestic assault against his wife and stepson before being released with a bad conduct discharge in 2014.
Under federal law, his conviction prohibited him from buying or possessing firearms. But because his offense was not entered into the federal database that gun sellers use to check the criminal history of potential buyers, he passed multiple background checks and was able to purchase guns, including the one he used to slaughter congregants at First Baptist Church.
Local authorities have not released much information about the lead-up to the shooting, but said Kelley was in a domestic dispute with his wife and her family. He may have targeted the church because his mother-in-law worshipped there. She was not in attendance during the shooting, but his grandmother-in-law was. Kelley killed her.