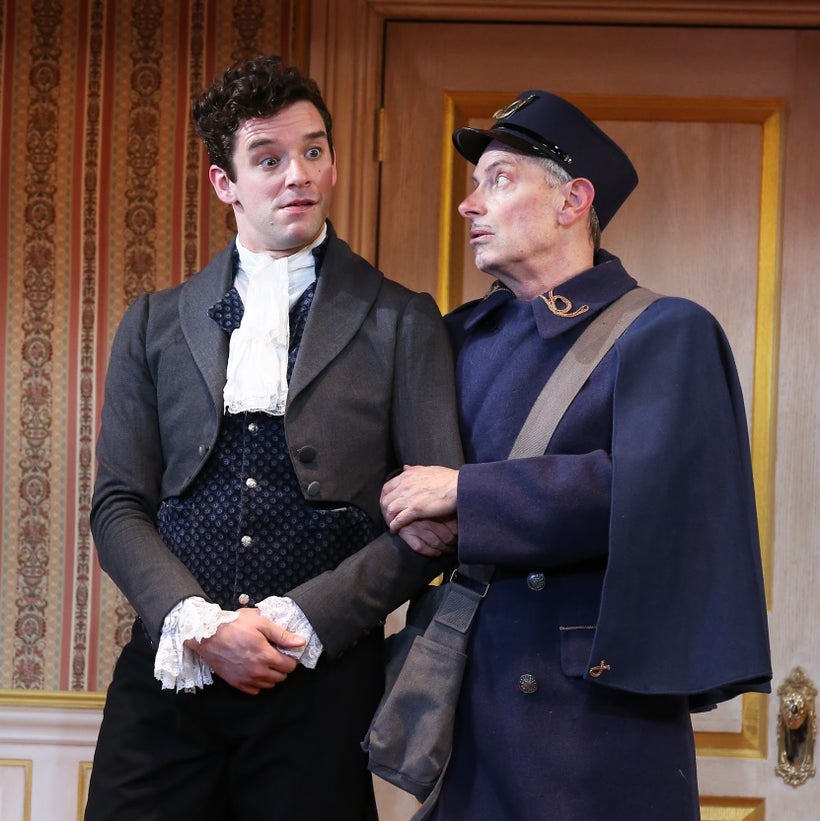 And now we have graft, greed, bribery, cupidity and all-round corruption. No, not in our local city hall; nor the halls of various congresses and executive branches, neither. At least not specifically. The vile misdeeds are purported to take place in Russia, although our present-day leader's buddy-in-chief needn't take offence or send out "fake" reviews from fake drama critics. This is Nikolai Gogol's The Government Inspector, a satiric stab at political leaders circa 1835, when—half-a-globe away—Andy Jackson the Indian hunter was still stomping through the Oval Office.
Gogol's satire remains razor-sharp—funny how politicians never change, no?—and Jeffrey Hatcher's adaptation, first seen at the Guthrie in Minneapolis in 2008, contemporizes the humor while keeping the action in Gogol's dusty old provincial town.
The Red Bull Theatre has seen fit to produce the play in resplendent fashion, complete with an exceptionally-contrived two-tier set and a large cast of fourteen. Michael Urie, he of Buyer & Cellar, stars as the minor clerk mistaken for the titular official. He is surrounded by some of our community's most protean scenery-chewers extant, which is to say Michael McGrath, Mary Testa and Arne Burton. They are joined by numerous other hams, some old reliables and some new reliables. All feast on the festivities, and the pleasure is ours.
This is all to the good, especially since the last major production hereabouts—Tony Randall's National Actors Theatre production at the Lyceum in 1994—was as stale as a five-day-old blini. (Randall deserved praise for producing Gogol, certainly; but at 73, he was not quite spry enough for the title role. Which gave the production a different emphasis.)
Urie is marvelous indeed, unable to attempt suicide without first fluffing his hair in the mirror and highly adept at pocketing bribes while playing with the resident ladies. He also has a marvelous drunk scene, which ends with the poor boy literally rolling off the upper level of the set. McGrath, lately of She Loves Me, makes a capital clown as usual; he can be subdued as necessary, but typically comports himself as something of a cross between N. Lane and J. Gleason.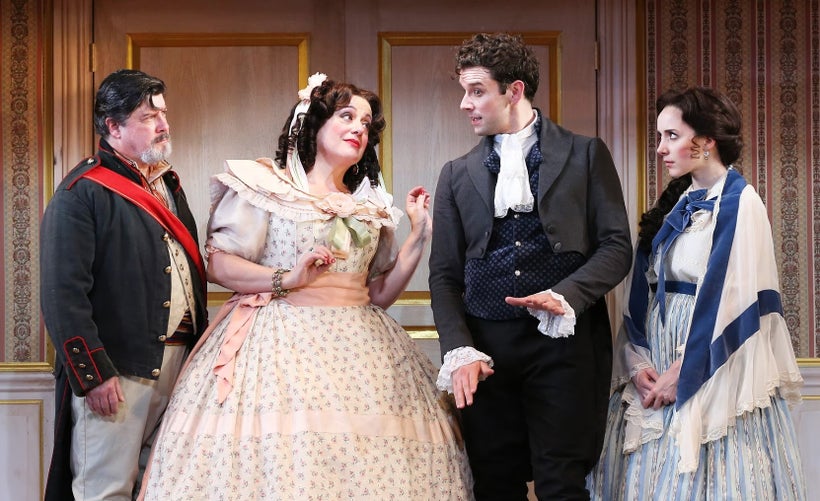 Testa (Queen of the Mist), as the voracious wife of the mayor, has apparently been instructed to let herself go altogether. She does so, using her excellent instincts, as a result of which there is always heavy clowning going on in her corner (even, one supposes, while she is merely waiting in the wings). As is the case with Burton (The 39 Steps), in dual roles as the non-government inspector's servant and the crooked local postmaster. Given the recent casting uproar over a regional production of Edward Albee's Who's Afraid of Virginia Woolf?, one can only imagine the brouhaha if someone applied for the rights to present Testa and Burton as George and Martha.
Adding to the hilarity is the ever-valuable Stephen DeRosa, as the corrupt hospital director; David Manis as the corrupt school principal; Tom Alan Robbins as the corrupt judge; and Ryan Garbayo and Ben Mehl as oafish Tweedledum & Tweedledee landowners with broken noses in mismatched plaids. Also in the mix is Mary Lou Rosato, as a pair of servants (including one who appears to be about three feet tall); and newcomer Talene Monahon, who engages in enchanting mummery as the sullen daughter.
Director Jesse Berger does a thoroughly assured job, wrangling his clowns and keeping the laughter percolating. (He is also presumably responsible, as artistic director of the Red Bull Theatre, for assembling what must be a relatively hefty budget). Alexis Distler, a veritable newcomer roundabouts, provides an impressive set with three distinct playing areas; one ratty, one functional, and a grand drawing room with enough doors to fuel a farce. Tilly Grimes (Underground Railroad Game) provides period costumes with flair, while Megan Lang and Peter West light the multi-level show effectively. Greg Pliska adds a properly humorous music track, mixing original music with classics (leaning heavily on Borodin).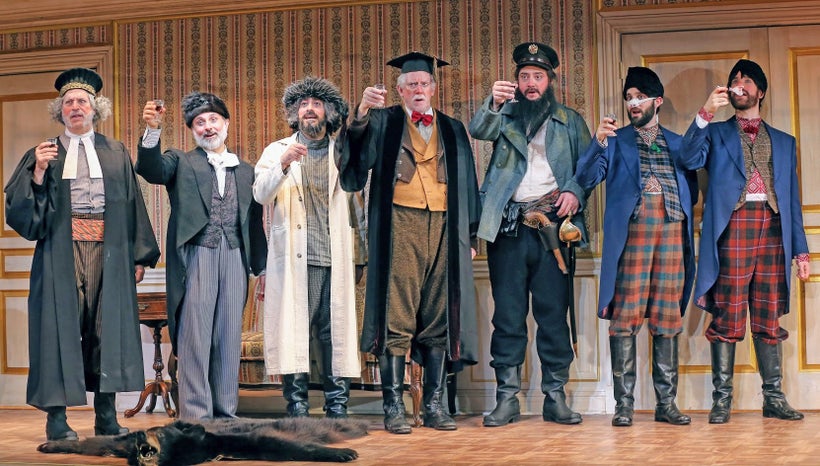 All of which points back to how sharp Mr. Gogol was, sculpting these scamps in a manner most universal; and how canny Mr. Hatcher has been in devising this playing version. All in all, the Red Bull Inspector General is bright, funny and as refreshing as a bowl of cold summer borscht crowned by two dollops of sour cream.
Jeffrey Hatcher's adaptation of Nikolai Gogol's The Government Inspector opened June 1, 2017 and continues through June 24 at The Duke on 42nd Street
This post was published on the now-closed HuffPost Contributor platform. Contributors control their own work and posted freely to our site. If you need to flag this entry as abusive,
send us an email
.