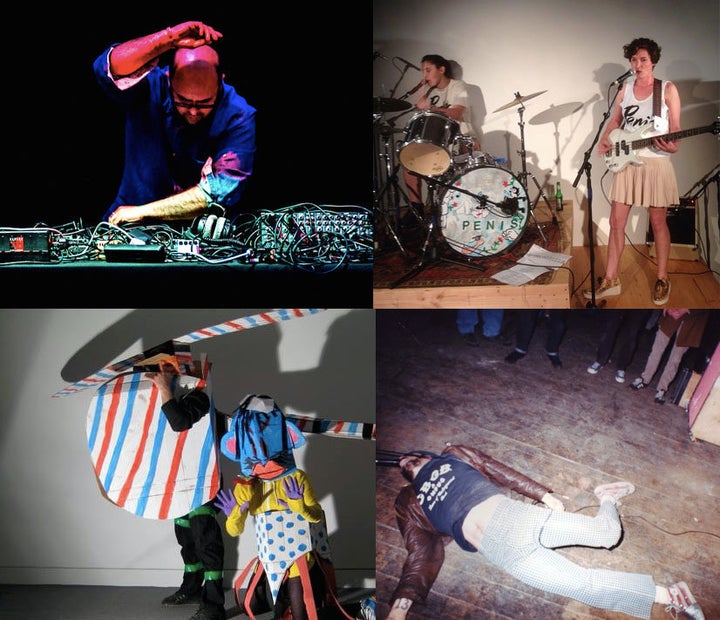 Call them art rockers. Call them experimental performers. Call them hybrids. 
The following artists, bands, collectives and in-betweens work somewhere in the haze of art and music. They're hard to classify and impossible to forget, combining seemingly infinite avant-garde influences to craft multi-disciplinary expressions that hit the viewer's senses all at once.
This weekend The Hammer museum in Los Angeles is hosting "ALL THE INSTRUMENTS AGREE: an exhibition or a concert," two jam-packed days of programming featuring some of the most legendary names and emerging talents in the tangled up space between art and music. To prepare you for the weekend's festivities, fill you in on what you're missing, and provide you with a playlist for the coming week, here are some of the artists/musicians that you should add to your playlist. 
Just listen to their music. Right. Now.   
1. Odwalla88
Think: Bikini Kill + tUnE-yArDs


Baltimore-bred best friends Chloe Maratta and Flannery Silva are Odwalla88, a riot grrrl reprise made of creepy-cute lyrics that veer from Hallmark sweet to pull-your-hair-out angry, complimented by looping drums and early 2000s nostalgia. Add in a little of tUnE-yArDs' frenzied pace and you have yourself one of the most buzzy underground art bands in the game. 
Sample lyric: "Crochet the past / Dark silhouette / Hate me happy / Fragile reflection / Parting my hair / Sitting in a stairwell / Jotting down this note / Be you and do your own thing."
2. The Bushes
Think: Lonely Island + Tim and Eric


Los Angeles-based Ry Rocklen and Nick Lowe, usually dressed like Steve from "Blue's Clues," deliver tongue-in-cheek rap songs coupled with delightfully surreal videos that seem plucked from one of artist Alex Da Corte's color-blocked sets. 
Sample lyric: "Where'd you get them panty liners / Where'd you get them panties? / From Macy's, Sears or J.C. Penney's? / Before they hit the store they sailed across the seven seas / And were made in factories by the hands of Cantonese."
3. Landed 
Think: FNU Ronnies + Forcefield


4. Penis
Think: Siouxsie and the Banshees + Potty Mouth


Sophia Cleary and Samara Davis are Penis, the feminist punk band with the best name since "Perfect Pussy." The ladies describe their band as "committed to transformation," with jams like "Process Bitch" and "Too Big to Fail" providing pumped up inspiration without any of the genial bullshit. 
Sample lyrics: "Running from myself when I think I can catch up / Why am I to blame? / Cuz I think that that's natural / Kill the judgment / kill the judgment / kill the judgement boys."
5. The God in Hackney
Think: Tangerine Dream + Peter Gabriel 


The U.K.-bred band, featuring Andy Cooke, Dan Fox, Ashley Marlowe and Nathaniel Mellors, picks up where British art rock meets something far spookier and stranger. They define their sound as "contemporary Neolithic," made with the help of chants, synths, shells, teeth, tree bark and cheap music apps, among other things. 
Sample lyric: "My imps' names are Holt, Jamara, Fat Spaniel, Louis like a pole cat and Vinegar Tom."
6. Genesis Breyer P-Orridge
Think: The Legendary Pink Dots + The Tear Garden


Dubbed "the Godm/other of Industrial Music," Manchestser-born P-Orridge has fronted legendary groups including Psychic TV and Throbbing Gristle, releasing over 200 songs throughout h/er career. Combining industrial sounds with psychedelic, punk and electronic influence, video art and chaotic performances involving blood and magic, P-Orridge is a legend of avant-garde re-invention. 
Track list: "Interlube I: Slipping Away," "Demilitarized Ozone," "Spillage"
7. Xina Xurner
Think: Hixxy + Bile + Ryan Trecartin


Chicago-based Xina Xurner, fronted by Chicago artist Young Joon Kwak along with noise musicians Michael Perkins and Marvin Astorga, puts happy hardcore in the blender with some '90s industrial jams and a little bit of Spirit Girls' cult-diva persona, yielding a glamorous and terrifying rave bacchanal sped up and spit out. Bile's 2013 album "Built to Fuck, Born to Kill" hasn't had such stiff title competition yet. 
8. Hassan Khan
Think: John Cage + Youssef El Manialawy 


Artist and musician Hassan Khan began making music in 1990s Cairo to accompany a theater troupe's performances. The self-taught musician's original compositions take inspiration from diverse sources including Jimi Hendrix, dubstep, local Egyptian musicians, minimalist composition and more, using a wide array of instruments including brass ensembles, string quartets, the various instruments of a classical Arabic music takht, programmed Gamelan, group clapping and piano. 
Track titles: Tabla Dubb (2001) / 12 Pieces for Piano and Electronica (2007) / The Big One (2009) / a short story based on a distant memory (2011) / SUPERSTRUCTURE (2011) / Taraban (2013) / CLUB GAMELAN (2015) 
9. Lonnie Holley
Think: The Space Lady + John Lurie National Orchestra 


The Alabama-born artist and performer channels the cinematic sounds of junk rustling and materials colliding in his monumental songs, coupled with Holley's soaring, improvised vocals that riff and loop as if digging into an infinite yet consistent stream of materials. 
Sample lyric: "I was looking for all to be rendered / To be the truth / From deep inside of my internal self / And I told everybody I said art is to me / the 'a' is for all / the 'r' is for render / and the 't' is for truth."
PHOTO GALLERY
30 Artist Names You Are Probably Pronouncing Wrong