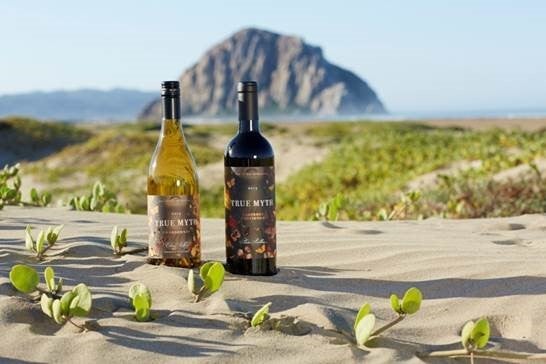 Now, is it just me, or are California's central coastal vineyards, enthralling wine spectators through California and beyond. Visitors to California's less traveled central coast have more than their fare share of winery options. Surely, you've by now heard of the names: Paso Robles, San Luis Obispo, or Santa Maria. 
This summer, capture a taste of San Luis Obispo, California with the True Myth and Cayucos Abalone Gift Pack available for a limited time this summer season. True Myth, a specialty appellation winery based in San Luis Obispo, California, believes there's no better way to embrace a warm summer day than by sharing a bottle of refreshing Edna Valley Chardonnay with simply grilled, fresh local seafood from the California coast all delivered to your front door. True Myth invites you to taste the unique area with their Cayucos Abalone Gift Pack highlighting the perfect pairing of True Myth Chardonnay and locally sourced abalone from Cayucos Abalone Company – the only company where you can purchase the ocean delicacy. 
True Myth and Cayucos Abalone Gift Pack features an eight ounce package of authentic California Red Abalone from Cayucos Abalone Company and everything you need for an authentic San Luis Obispo summer delicacy – a classic abalone grilling recipe, a disposable grill topper for home grilling or picnicking, and savory Chardonnay Smoked Sea Salt sourced from Paso Robles' based Pasolivo ranch. A natural bonus, the iridescent abalone shells are great for repurposing as home décor or beautiful storage dishes for items such as bar soap or jewelry. The True Myth and Cayucos Abalone Gift Pack truly embodies the idyllic coastal town of San Luis Obispo – with breathtaking beaches, world class wines, and a farm to table food culture.
What truly elevates and complements this dish is the True Myth 2014 Paragon Vineyard Chardonnay (SRP: $18/bottle) made from grapes grown solely in the Niven Family's Paragon Vineyard in Edna Valley. This classically-styled Chardonnay showcases flavors of beautiful tropical fruit with mineral undertones. Textured creaminess is balanced by a refreshing acidity – a hallmark of Paragon Vineyard – that pairs perfectly with local abalone.
An extra bonus to complete this savory summer treat, True Myth has also included a special recipe from Kendra Aronson, local author of The San Luis Obispo Farmers' Market Cookbook. Her Crostini with Sungold Tomatoes, Padrón Peppers, Grilled Zucchini, Fresh Brebis, and Spicy Pistachio Pesto is the perfect side dish to pair with the True Myth Chardonnay and abalone for a complete summer afternoon bite.
 The True Myth and Cayucos Abalone Gift Pack is offered at $95 and will be available now through Novemeber 2016 for purchase via the winery's website here at Niven Family Wines.
Olive oil & browned butter
Melt butter in a skillet until lightly browned. Remove from heat. Add olive oil and minced garlic.
Make sure the BBQ grill coals are very hot but no open flames.
Lightly brush steaks with oil, butter and garlic mixture. Pat steaks dry if necessary before placing on grill to avoid flare-ups as it will affect the flavor of the abalone. Lightly oil grill surface so steaks will not stick.
Grill steaks for about 45 seconds to 1 minute each side. Lightly season with sea salt and Meyer lemon. Serve immediately.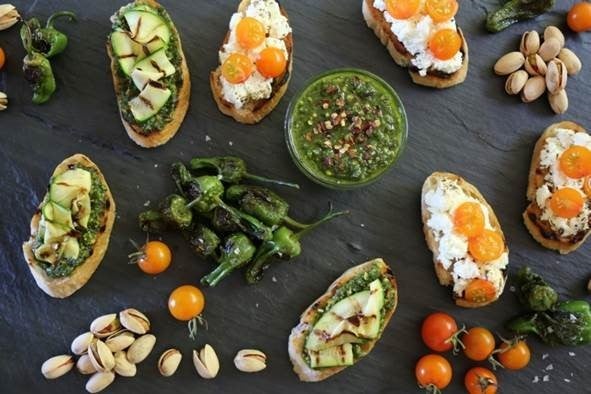 Zucchini, sliced and grilled
Ciabatta, sliced and grilled
Fresh brebis (or chèvre) cheese
⅓ cup spicy roasted pistachios
⅓ cup hard sheep's milk cheese
2 cups fresh basil leaves
red pepper flakes (optional)
Heat up a cast iron skillet over a medium-high flame. Once hot enough, add some olive oil and throw in the Padrón peppers. Blister and blacken the peppers, remove from heat. Sprinkle with flake sea salt.
CROSTINI
Carefully slice the zucchini on a mandolin to get thin ribbons, drizzle with olive oil and grill until tender. Once done, remove from heat and set aside for assembly. Halve the sungold tomatoes, set aside for assembly. Slice the ciabatta bread (and grill if desired).
In a food processor, combine the pistachios, cheese, basil, and garlic. Pulse until combined into a paste. Add pinches of salt, pepper, and red pepper flakes. Blend together and slowly drizzle in oil as it forms into a smooth sauce. Taste for seasoning and spiciness, adjust accordingly.
Time to plate! Top half of the crostini with a generous amount of fresh brebis—this French word refers to sheep's milk, whereas chèvre refers to goat's milk—and halved sungolds. Top the other half of crostini with a spoonful of spicy pistachio pesto and the thinly sliced grilled zucchini.
Serve alongside salty padrón peppers, extra whole sungolds, and pistachios in their shells.
Kendra's suggestions, if possible use:
Fresh brebis and La Panza Gold sheep's milk cheese by Rinconada Dairy
Basil by SLO Grown Produce
Olive oil by Lone Oak Olive Oil
Ciabatta by La Migliore Italian Bakery
True Myth is a specialty appellation winery that produces wines from regions along California's Central Coast, focusing on Chardonnay from Edna Valley and Cabernet Sauvignon from Paso Robles.  Crafted by the Niven Family, who pioneered grape growing in the Edna Valley in 1973 with the planting of the historic Paragon Vineyard and have played a significant role in defining San Luis Obispo County's farming history for more than 40 years, these wines are the latest chapter in their wine making legacy.  A depiction of "Mother Nature at her finest," True Myth takes advantage of nature's gift of rich and fertile soils on California's Central Coast, yielding wines that reflect the true terroir of their origin.  The name is inspired by the idea that "the one True Myth is Mother Nature."
To learn more about the True Myth of San Luis Obispo
This post was published on the now-closed HuffPost Contributor platform. Contributors control their own work and posted freely to our site. If you need to flag this entry as abusive,
send us an email
.