But despite the scope of the quake, there have been zero reported fatalities associated with the temblor ― a feat owed to both seismic luck and strong building codes adopted in the earthquake-prone state.
The rupture in the fault about seven miles from Anchorage, a city of around 300,000 people, occurred nearly 30 miles below the Earth's surface, according to the U.S. Geological Survey's latest assessment. That's a significant depth, experts say.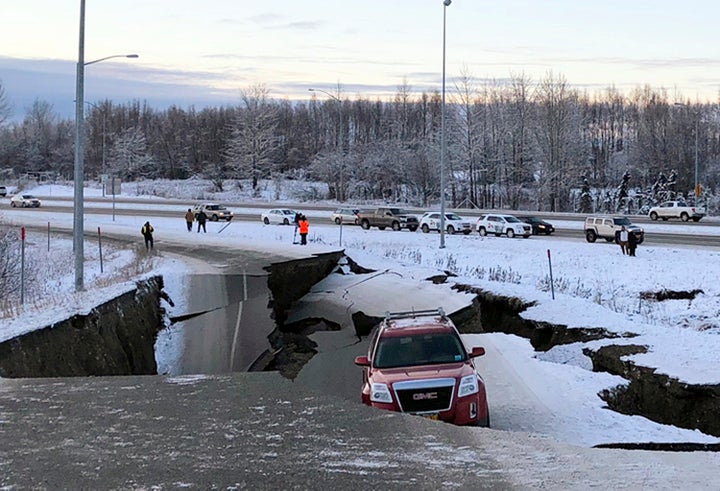 Though earthquakes with such high magnitudes ― a measure of the amount of energy the rupture gives off ― will be felt over a larger area and for a longer period of time, the intensity of the earthquake waves have a lot of time to diminish when traveling tens of miles to the Earth's surface. 
That's not to say no damage occurred in the Anchorage area. There's a good chance damage from last week's quake will total anywhere from $100 million to $1 billion, the USGS says. At least three schools, for instance, announced they will remain closed for the remainder of the school year due to damages.
But it could have been much worse ― and deadlier ― if it weren't for steps Alaska has taken in recent decades to raise earthquake safety standards. Sen. Lisa Murkowski (R-Alaska) praised the state for its preparedness this week on Twitter, calling the lack of casualties "extraordinary."
After Alaska was hit with a jaw-dropping 9.2 earthquake in 1964 ― the largest in recorded U.S. history and second largest in the world ― the state adopted the International Building Code, considered the highest seismic standard available, which mandates buildings be designed to resist ground motion and requires beams, columns and other structural connections be reinforced to resist  damage from shaking. 
"Building codes mean something," Alaska Gov. Bill Walker (I) told reporters the day the quake hit. 
California, a much more densely populated state with high earthquake risks, is lagging in that department, though lawmakers are pushing for higher standards similar to Alaska's. After a shallow 4.4 magnitude quake caused significant shaking across the San Francisco Bay Area earlier this year, seismologists warned that the region was sitting on a "tectonic time bomb." 
But the safety problem goes beyond building codes. Seismologists working on the prototype of a game-changing earthquake warning system lamented to HuffPost after the Bay Area quake that funding for the project was insufficient and insecure despite the U.S. being years behind other countries in the technology. The warning system, which gives anywhere from seconds to minutes before shaking starts, is already in place in other earthquake-prone countries, including Japan, Mexico, Turkey, Romania, China and Italy.
Now U.S. senators from Alaska and California have co-authored legislation that would bolster funding for earthquake preparedness ― including the early warning system ― across the U.S. The House and Senate have passed the legislation, which awaits approval from President Donald Trump.