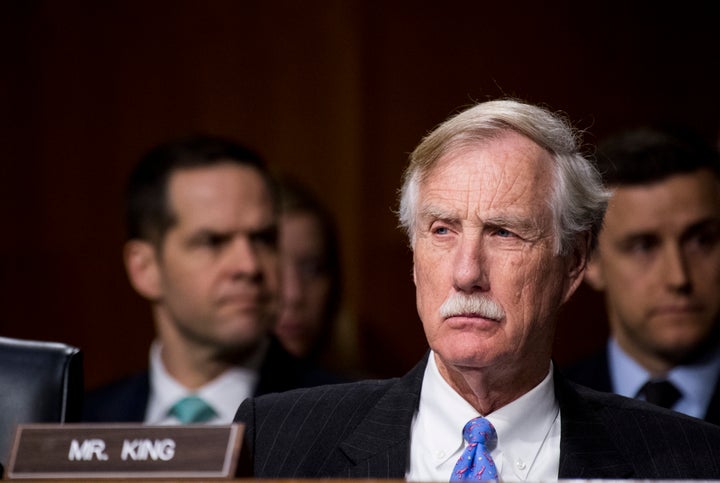 Sen. Angus King (I-Maine) said Tuesday that impeachment of President Donald Trump is a growing possibility, if reports are true that he asked former FBI Director James Comey to end the investigation of former National Security Adviser Michael Flynn.
The New York Times and several other publications, citing a detailed memo written by Comey, reported Tuesday that the president asked the then-FBI director to cut off the investigation of Flynn's ties to the Russian government. The report was published exactly one week after Trump abruptly fired Comey, a decision the president said later was influenced by "the Russia thing."
King said during an interview with CNN's Wolf Blitzer that if the memo is accurate, impeachment is potentially on the table. He called the allegations in the memo a "very serious matter."
"If these allegations, Senator, are true, are we getting closer and closer to the possibility of yet another impeachment process?" Blitzer asked King. 
"Reluctantly, Wolf, I have to say yes, simply because obstruction of justice is such a serious offense," King said. "And I say it with sadness and reluctance. This is not something that I've advocated for. The word has not passed my lips in these tumultuous three or more months.
"But, if indeed the president tried to tell the director of the FBI, who worked for him, that he should drop an investigation ― whether it was Michael Flynn or some investigation that had nothing to do with Russia or politics or the election ― that's a very serious matter."
King also called on the White House to disclose any evidence that may disprove the Times report.
"If the White House has been saying all day that this never happened, then I think they should come forth with whatever evidence that they have, whether it's tapes or notes made by someone at the White House, to contradict this," he said.
If the president's Twitter feed is any indication, tapes may exist. Last week, he implied he recorded his conversations with Comey.
Democratic lawmakers, including Rep. Elijah Cummings (D-Md.) and Rep. Filemon Vela (D-Texas), similarly raised the possibility of impeachment.