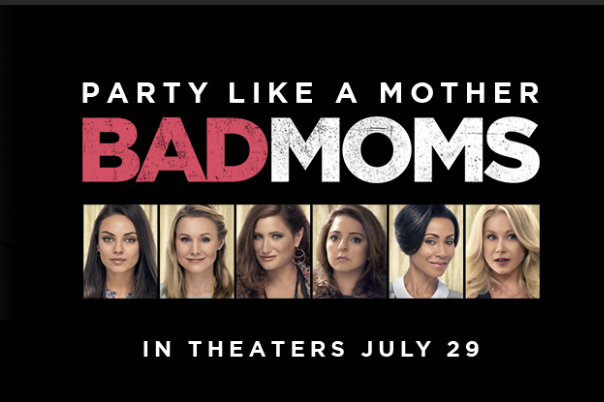 My mom friends are all aflutter right now over the new movie Bad Moms. I think it's because all moms already know we have a "bad" side, as in badass, and are excited to see it up on the big screen. We just don't always get to let our freak flag fly because we have to be grown-ups all the time. Boo!
But Bad Moms isn't the only mom-com project in Hollywood to target a very powerful and influential group of women: moms.
It seems Hollywood is finally catching on to the fact that moms can be funny, hot, and flawed. And we are ready to see more people like ourselves on-screen. Such as…you ask?
Never fear! Heather's here with a few more badass mom projects to prove how moms are taking over Hollywood.
Bravo's scripted comedy starring Jill Kargman, Abby Elliot and Andy Buckley is a mom romp not to be missed. Once I found out Jill also is the writer, star and an executive producer of OMO, I immediately realized that I'm a total slacker.
She plays a quirky mom of three kids, married to a wealthy man and feels out of place with his fancy family.  Nothing is off limits when it comes to dishing out jokes on the struggle to fit into a certain mom mold, or rebel and be the "odd" mom.
Odd Mom Out is in it's second season right now and you should add it to your late night wine and DVR list.
Can you say my dream team? Earlier this year it was announced that Amy Schumer and Goldie Hawn would be starring in a mother/daughter comedy action movie together.
The film is written by Katie Dippold (Ghostbusters) who says it's inspired by her own mom. Awww! I love that! It sounds like it's going to be a mom-fish out of water story with two comedic geniuses.
I want to see this, immediately. But it looks like I'll have to wait a little longer.
Tina Fey. Robert Carlock. Need I say more? Probably not but I will. Great News is a new comedy coming to NBC with 30 Rock alum Tina Fey and Robert Carlock executive producing.
The story centers on a relationship between a mother (Andrea Martin) and daughter (Briga Heelan) who work together at a TV news station.
I'm assuming things get tricky in a way only Tina Fey can make happen and I can't wait to watch.
Plus, as a former news anchor, I love watching shows that feature the comedic side of news. News people are funny you guys!
The simply titled and hilarious CBS show Mom (Allison Janney, Anna Faris) isn't new on the mom-com scene but it's definitely a main reason why moms are having their Hollywood moment.
What makes Mom great isn't just the jokes, it's the often poignant moments of parenting that they sneak in there. I see what you're doing Chuck Lorre, and I like it!
Mom is a funny look at what life is like when families aren't perfect. And let's be honest, whose is?
Okay, don't throw things at the computer. I'm adding this to the list because, while a little tasteless, it still shows that moms are hot enough to be the focus of a music video. We've made it!
Fergie has said in recent interviews that her goal with M.I.L.F $ was to empower moms to be flirty, fun and feel sexy. The overly sexed up video also stars celebrity moms Chrissy Tiegan and Kim Kardashian. I feel sexier already.
While I am putting this on the "Yay" list for Hollywood mom moments, this video kind of skeeves me out. I don't like the idea of kids bumping and grinding at the high school dance to this song about sexy moms. Ew, right?
But if other moms feel empowered to get their milf on, then work it mama. Work it.
The power of mom movies is even catching on in France! Back to Moms is a French comedy that tells the story of a recently unemployed, forty-something architect who has to move back in with her mother. #Terrifying.
But I promise, it's a comedy. Even in another language the universal challenges in a mom/daughter relationship can be easily understood. 
Side question: Where's the mom/son stories? Surely there's something out there in the works!
Another Bravo offering about moms. Hurray! This is a reality show centered around a popular support group for moms lead by parenting expert Jill Spivack. And like with any mom support group, there's drama, tears, and laughter.
Beth Bowen, Jen Bush, Meghan Conroy-Resich, Stefanie Fair, Leah Forester, and Alisa Starler are all in this upscale mommy group and they do not hold back on their experiences with motherhood, work, and family. Yay for moms on TV!
The movie that inspired this post is definitely one of the reasons why moms are having their Hollywood moment right now.
Mila Kunis, Kristen Bell and Kathryn Hahn play moms who've had enough of trying to keep up with perfect idea of motherhood. So they buck the system and have a wild night out and thankfully we get to go along for the ride.
This movie seems like a sign of good things to come for moms and fans of moms everywhere. 
Bad Moms will be released in theaters on July 29th
This post was published on the now-closed HuffPost Contributor platform. Contributors control their own work and posted freely to our site. If you need to flag this entry as abusive,
send us an email
.