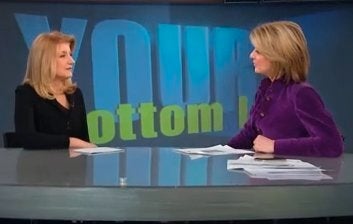 Arianna appeared on CNN's "Your Bottom Line" with Christine Romans on Friday, stressing the severity of the youth unemployment crisis.
"I think the risks are really serious," she said. "They call it the scarring effect when you graduate from college and you don't get a job. I have a daughter who just graduated, another daughter a junior in college and a lot of their friends are very deeply concerned about the fact that over half of them -- over half of those who graduated last year are either unemployed or underemployed."
Arianna added that "we can't just sit idly by the sidelines" on as critical an issue as jobs.
"The numbers that we saw this week -- yeah they're a little better," she said. "But the bottom line is that if they continue at that rate, it's going to take seven years for us to get to pre-recession jobs numbers. Seven years."