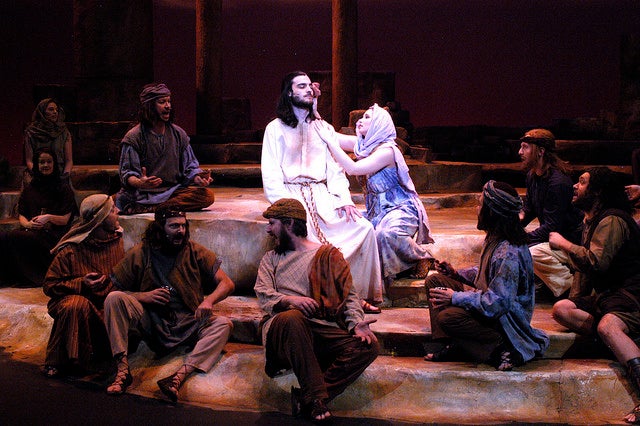 Christians are big this theater season. Denver Center brought the examination of faith in "The Christians", "An Act of God" takes a delightfully comic look at all that is sacred and just in time for Holy Week, The Arvada Center takes us back to where it all began with the opening of the iconic rock opera, "Jesus Christ Superstar". For those of you who haven't rolled away the stone you must live under, the iconic 1970s musical, written by Andrew Lloyd Webber and Tim Rice chronicles the last seven days of Jesus' life. Born in the Golden Age of Rock and Roll, rock operas like Hair, Tommy, Quadrophenia and Superstar took America by storm, moving the edge line on Broadway. I spent every afternoon in the seventh grade wearing the grooves off the Jesus Christ Superstar LP, enraptured by the lush score and the Jesus Movement that blanketed the California of my youth. I was closer to god then, so entering the theater, I was prepared for a two-fold experience; bearing witness to the play, and subject to the revelation of my spiritual path.
The Arvada Center production veers toward the traditional; a desert setting, time-sensitive costumes, and faithful rendition of the book, rather than taking a left turn toward the interpretive. Inspired moments grace the stage throughout the evening. Jenna Bainbridge, as Mary Magdalene, caressing her Messiah's face in adoration, tells you everything about the devotion that upsets the status quo, holding the purity of this good and constant heart in her renditions of two of the plays most widely known songs. Billy Lewis brings a fine balance of human ego and divine wisdom to the title role, with pure vocals that play perfectly off his historic betrayer. Matt LaFontaine pulls off the miraculous feat of delivering the demanding role of Judas Iscariot with a passion that rivals Christ's own. In LaFontaine's capable hands, one feels the palpable conflict of a true believer when the mission changes. Keeping the world together, even as it falls apart, is the Ensemble of Jesus' zealots, disciples, and detractors, while Stephen Day's commanding Caiaphas brings an intensity that drives the story, along with his rich baritone. Markus Warren's Pilate is a gorgeous mix of rule and reason, leaving me in teary contemplation on the nature of choice vs. fate.
Whether the Passion Play is your gospel truth or an historical rendering, "Jesus Christ Superstar" resonates as a timely and satisfying piece of theater.
"Jesus Christ Superstar" runs at the Arvada Center for Arts and Humanities, 6901 Wadsworth Boulevard, through April 16. Performances are 7:30 p.m. Tuesday through Saturday, 1 p.m. Wednesday, and 2 p.m. Saturday and Sunday.
This post was published on the now-closed HuffPost Contributor platform. Contributors control their own work and posted freely to our site. If you need to flag this entry as abusive,
send us an email
.