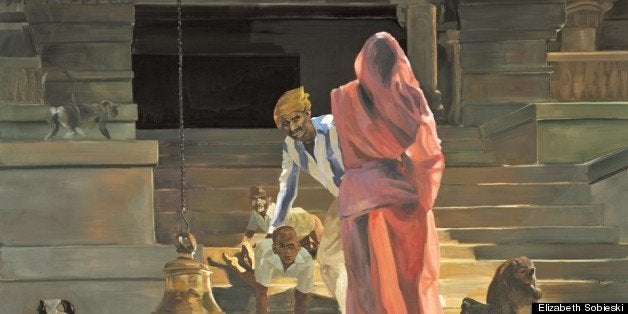 A woman lies in bed, legs akimbo, worrying a toenail; bars of light illuminate her nakedness, while a boy of 10 or 12 stares at her sex and conceals a ladies purse behind his back. Bad Boy is both a pivotal painting by Eric Fischl and the title of his memoir, to be released by Crown in May.
Fischl first came to prominence in the heady early 1980s with a series of artworks that seemed to depict suburban angst; voyeurism and subversion layered between the sheets of American dreams. They were unforgettable images: a young boy masturbating into a kiddie pool, a nude father embracing his naked toddler daughter (an ocean view providing background), a slim black servant bathing a blond boy-child. And Fischl, along with other artists labeled "neo-Expressionists," including his dear friend David Salle and his former bête noir Julian Schnabel, were stars of New York City's incandescent art world.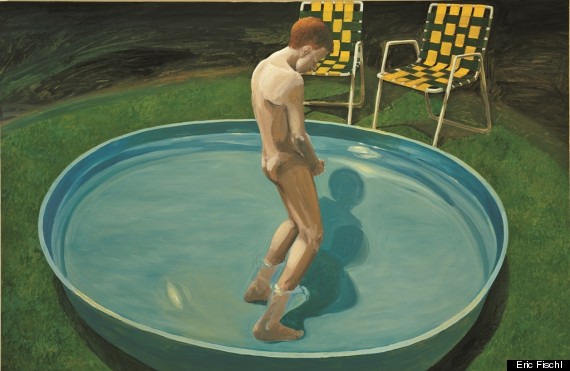 Captivatingly written (with Michael Stone), employing the same candor that produced these arresting narrative paintings, we see a portrait of the artist as a young boy in the '50s and '60s, on Long Island and in Arizona, victim of a brilliant, beautiful, narcissistic, violent alcoholic mother, an eventual and perhaps inevitable suicide. He enters CalArts at its inception in 1970, which somehow, before it even has a campus, is immediately a Zeitgeistian center, with Fischl, Salle, and Ross Bleckner enrolled, and professors John Baldessari, Nam June Paik and Judy Chicago. Art can be almost anything here, though figurative painting is not what Eric Fischl is taught. Fischl develops as an artist, leaving behind early abstraction, needing to depict emotion, gathering confidence and technique in Nova Scotia and Chicago, painting on glassine, layering translucent storytelling images, before erupting with the daring canvases of the 80s, a time when painting had long been declared dead.
Celebrity and money enter his life, along with cocaine sparked nights. Artists become like rock stars. Within a decade, Fischl's and friends' period of supernovadom passes. And yet wonderful works continue to emerge from his studio, images of India and powerful fleshy sculptures.
Fischl laments much of the contemporary art world as a passionless marketplace and is especially dismissive of artists Jeff Koons and Damian Hirst, who "were making work that I didn't respect," and dealer (now MOCA director) Jeffrey Deitch: "Going into his gallery was like going into a daycare center for artists with their art toys strewn everywhere."
As tough as he can be toward others, he is also brutal with himself. While still supremely successful, still sought by museums and connoisseurs, and still producing work that excites him, he quotes a collector of his, a man he respects, telling him, "You've got to face it, man. You didn't make the cut," post 1980s.
Along with Fischl's self-portrait in print, Bad Boy includes numerous short essays from family and friends, including Steve Martin, Mike Nichols and Fischl's estimable dealer of 29 years, Mary Boone. It's intriguing to see how memory sometimes works. Eric and his sister lay claim to different years for their father's death. Fischl recalls a fight with David Salle, culminating in the two artists not speaking for several years as having taken place on the streets of TriBeCa, and Salle states that the rupture occurred in Magoo's bar.
For anyone seeking an understanding of the contemporary art world, Bad Boy is a fascinating read. Fischl, who has often taught and lectured, skillfully and non-pedantically describes his work, his technique, the people and places that have inspired him, and readily admits to being highly competitive with other artists, not seeing himself as some highfalutin isolated preciosity. And as his approach to art is so emotive, his need to relate to the viewer so profound, we feel his passion in his words as well as his pictures. And he owns up to what his paintings have sold for, a taboo subject for most artists, more taboo than any art they make.
Has Eric Fischl been a Bad Boy? Not especially. There were some amusing hijinks, but the artist hasn't touched cocaine or alcohol in 25 years. For aficionados of Fischl's work, there are reveals. The model for the woman in "Bad Boy" was his wife, the lyrical landscape painter April Gornik. The couple has been together since 1975. And his descriptions of his interconnectedness with Gornik and his friends (and competitors) shows a man succeeding in relating to themes of male sensitivity and identity that have long compelled him in his work.
Disclaimer: I once interviewed the eloquent Eric Fischl at his spectacular home in Sag Harbor, Long Island, for The Art Economist Magazine, our discourse focusing on the subject of "America: Now and Here", Fischl's passion project, in which trucks containing works by over one hundred major artists (including poets, playwrights, and filmmakers) would tour the hinterlands. Fischl baked the most delicious olive bread I have ever tasted; it was not a bribe (as this book was yet to be written!). And sadly, so far "America: Now and Here" has not received the financing it needs; its tours were abbreviated.
PHOTO GALLERY
Eric Fischl