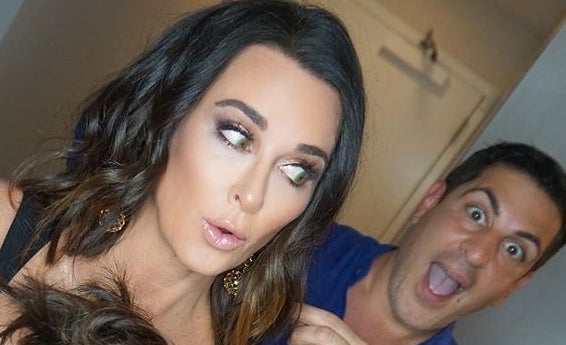 MANE MUTINY: JULIUS MICHAEL LOVES A HAIR CHALLENGE
I am at the Julius Michael Salon in Scarsdale surrounded by real housewives - the unbotoxed, non-Bravo variety. For although Julius (He's like Madonna when you drop that recognizable first name) tames the tresses of Watch What Happens Live With Andy Cohen guests, and has recently returned from The Real Housewives of Dallas reunion, he is the owner of this posh salon on Christie Street. It is located within a strip of shops in a high-middle to upper class Westchester town. I sit at the front of the salon next to the cappuccino maker awaiting the business namesake's arrival, listening to the hum of blow driers and restraining myself from indulging in a large chocolate cookie perched on the tray to my left.
Julius arrives and I recognize him from the Instagram photos immediately, tall and handsome with thick dark hair. He greets me and makes sure I am taken care of, getting my hair washed and cleansed of the grimy products de-frizzing my unruly locks. He has agreed to give me "Real Housewives hair," but I haven't forewarned him about what he'll be forced to reckon with, an overly thick mass of recalcitrant curls.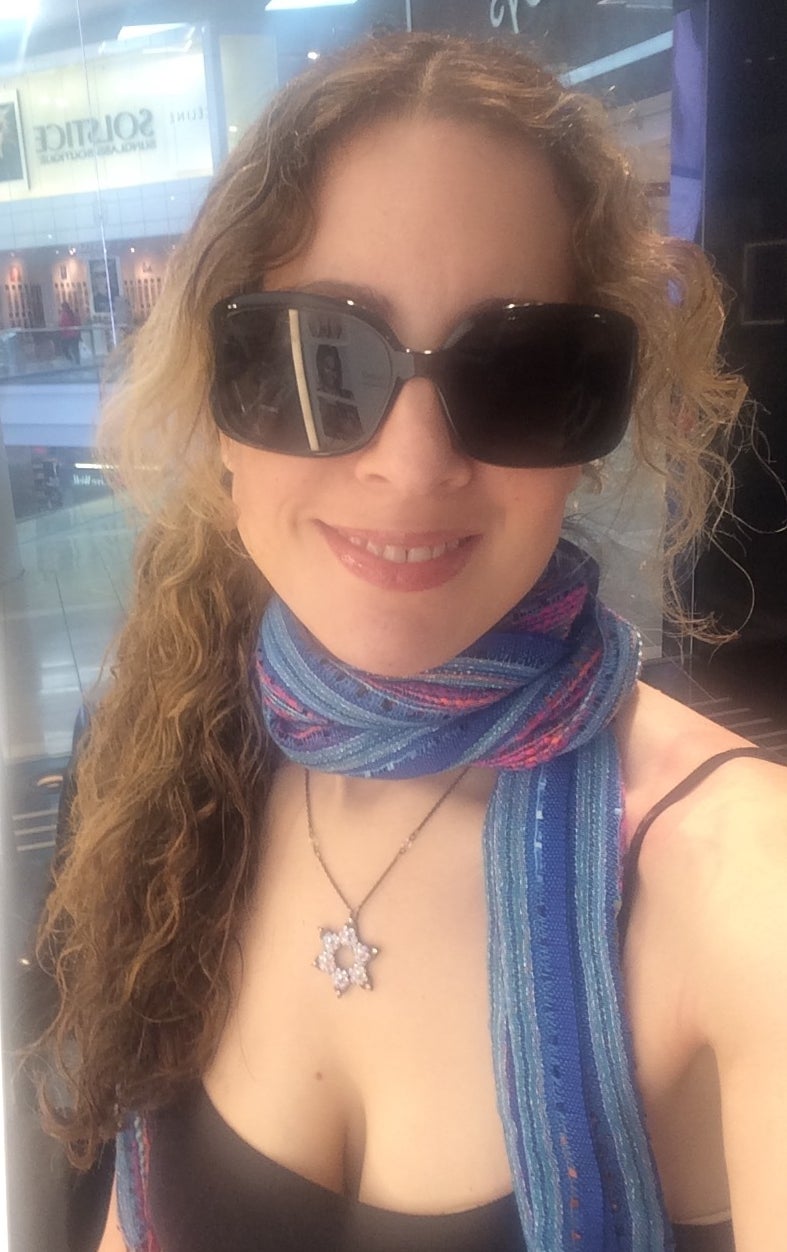 "This is my favorite type of hair," he says, much to my surprise. For years, stylists have complained loudly and made appalled faces and gestures at the texture of my tresses. However, Julius is sincere. "Melissa Gorga has this type of hair and I love styling her. Blow outs last longer on drier hair and Melissa is a pro at preserving her blowout."
Among the other Real Housewives Julius has styled are Kyle Richards, Lisa Vanderpump, Lisa Rinna, Ramona Singer, Cary Deuber (he has just flown back from the taping of the RHOD reunion), Tamra Judge, Kelly Dodd and Margaret Josephs. He is famous for styling and leaves the actual cutting to his business partner Arturo. However, he's great with a razor and has cropped the hair of Vanderpump Rules's Tom Schwartz.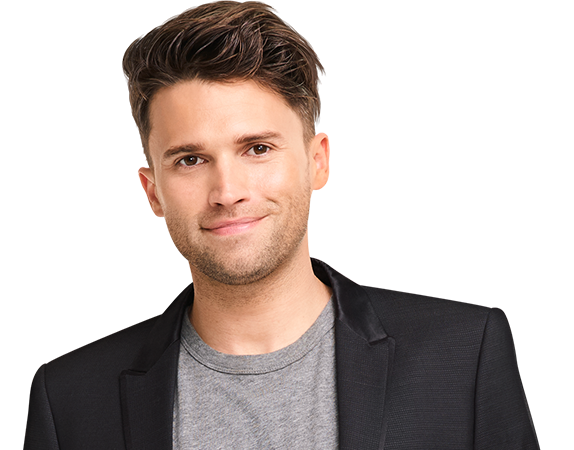 Julius has worked on many other famous clients who are not in the reality space too. He also counts reality stars of other networks among his clients (the Property Brothers are two of them).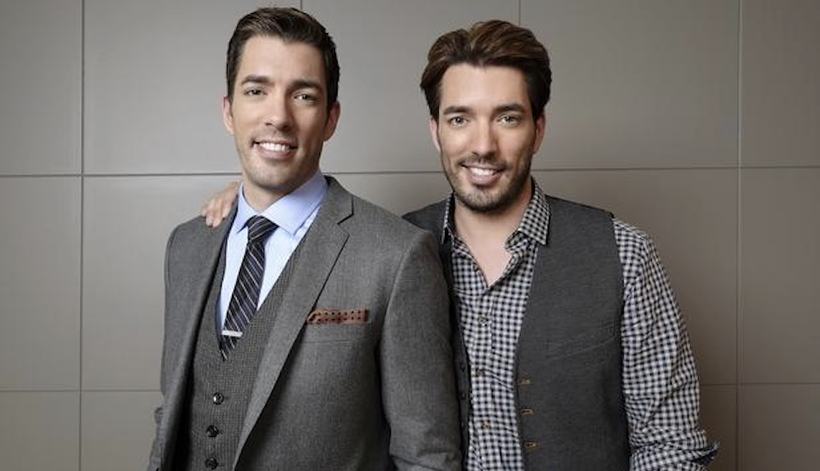 Lately there's been a lot of buzz about his faux hair cuts, the "faux bob" and the "faux lob." This means no cutting involved, but it definitely looks like he's taken off several inches.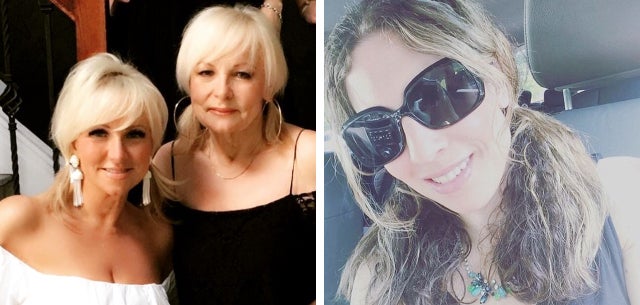 His Bravo-related work began with faithful clients like Ramona Singer requesting that he come in to style her for WWHL and other appearances. Today he goes in to NYC by request and has even flown to events out of state, but is widely known as "that Watch What Happens Live hair guy."
Arturo is to my left, snipping the locks off a blonde who, by the looks of it, probably came in requesting a "lob." Julius gave Ramona the recent "faux lob" she wore for a few days before revealing to her massive following that she hadn't actually had any hair cut.
Comedy shows like Reality Checked with Amy Phillips (on SiriusXM's Radio Andy) like to throw friendly jabs at Julius for not actually cutting the hair, but making it appear as if it's been shorn. Julius is totally cool with that: It's true that his talents lie in his superb styling and signature looks that don't rely on scissors. I tell Julius he can trim my ends and he backs away slightly, putting his hands up above his head: "I don't cut, remember?" That's not entirely true however because it was in fact Julius who gave Peggy Su her new 'do (that's Peggy Sulahian of Real Housewives of Orange County).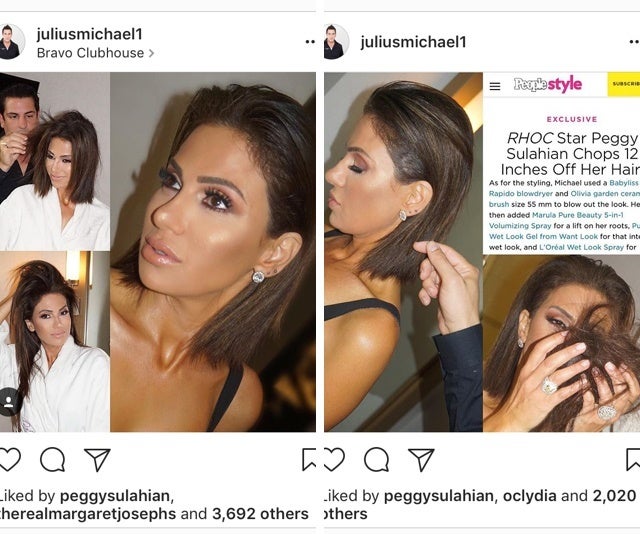 I wonder about the faux lob and realize it's not something I'll be able to do today due to the amount of time involved. It requires braiding the hair, pinning it up and securing it back, then using extensions. So I settle for something more manageable. After I've been blown out, Julius holds up a curling iron wand and creates Farrah Fawcett-like waves....or these type of waves: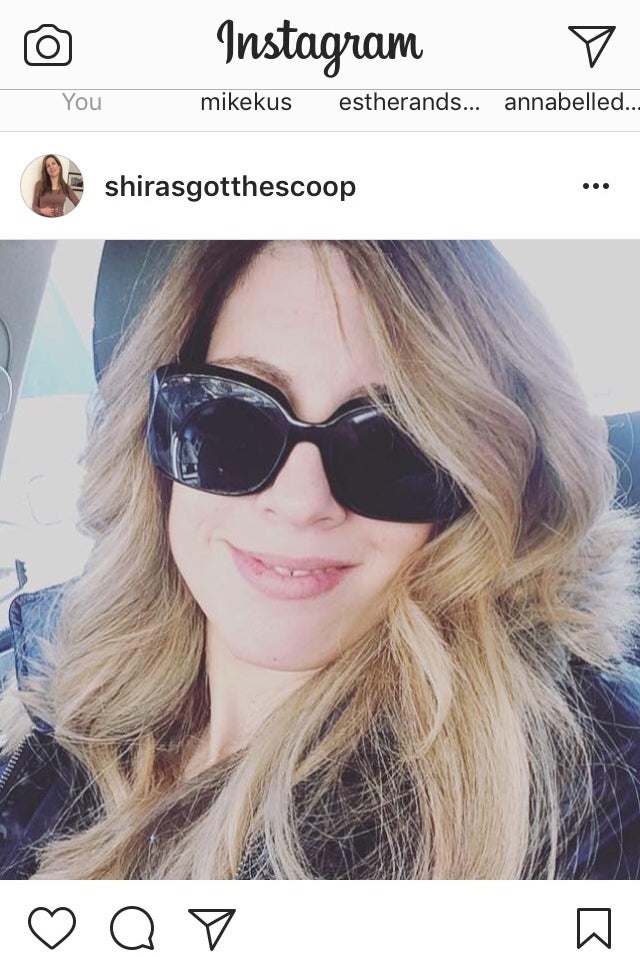 Suddenly I've been transformed into a Bravolebrity (well, let me just delude myself momentarily at least, OK? DISREGARD the chapped lips in the Instagram photo above!). Julius insists on taking out his quality digital camera and snapping photos of us as he parades me around the salon. I feel like a million bucks...or at least (somewhat) like Melissa Gorga (although I really could use a glam squad a la Erika Jayne so that my face is done up to the hilt to match the hair.)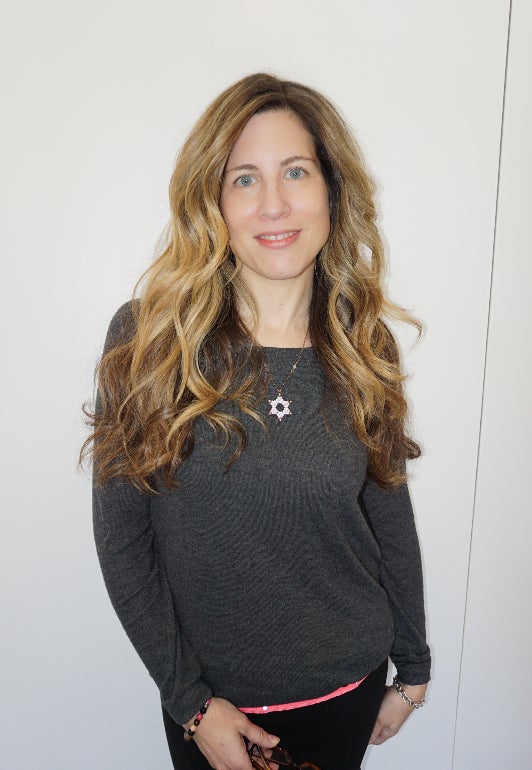 "Wow!" Says my husband when I arrive back at home in New Jersey "definitely worth the trip to Scarsdale."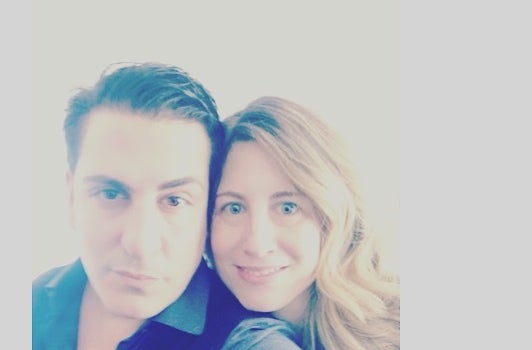 Then he can't help but add: "You definitely look like one of those insane ladies you're always watching on reality TV!"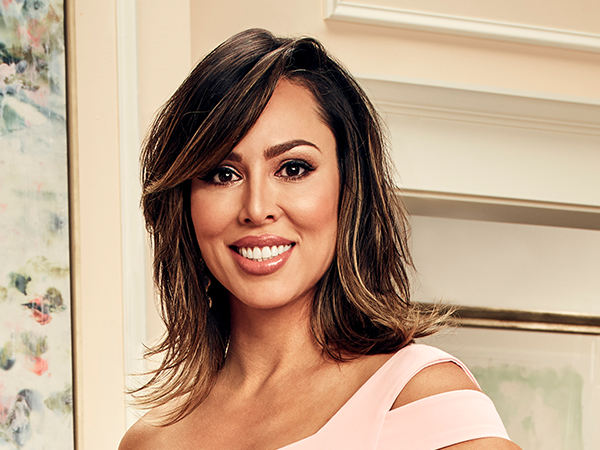 HAIR PRODUCTS, A CARE PACKAGE FROM TABATHA COFFEY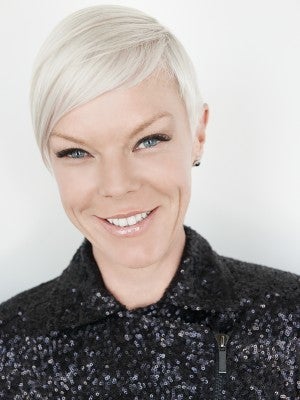 I recently conducted an interview with renowned hair stylist and business expert Tabatha Coffey. The icon got her start on Bravo's hair competition show Shear Genius. She then went on to have her own Bravo shows, Tabatha's Salon Takeover, Tabatha Takes Over and the upcoming Relative Success (slated to premiere in winter of 2018).
Tabatha lives near me, but I have yet to meet her in person since her schedule is so demanding. That does not restrict me from holding out hope that we'll do coffee or lunch one of these days. In the interim, Tabatha has kindly sent me a care package after we discussed my hair challenges. I have thirsty locks that can't seem to retain enough moisture, which leads to a frizzy look a lot of the time. I also do ample damage to my hair with a blow drier and straightening iron, all in an effort to look like the common straight-haired girl on the street.
"RAW by Biolage stands for Real Authentic Wholesome," Tabatha explains of the products she has sent. Their arrival sent me into the sort of tizzy I imagine kids feel on Christmas morning.
"It's of natural origin which means it's less processed than traditional products. It is also 99% biodegradable formulas. These products are doing good for your hair and the environment. The reason I love Nourish for textured and dry hair is that it is has quinoa husk and honey to transform dry, dull hair and make it shine. The conditioner has kaolin clay and coconut oil which make hair soft, manageable and moisturized without making it heavy."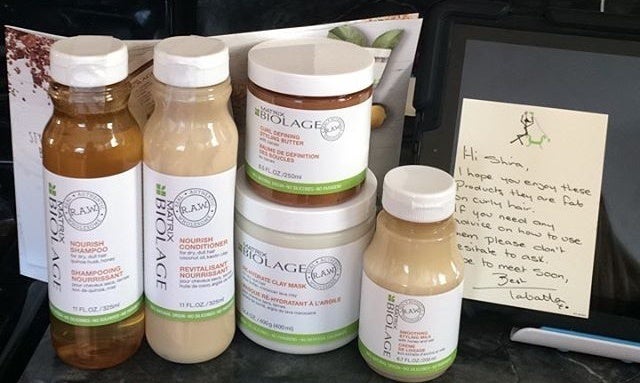 My friend Nell Kalter, a teacher, book author and writer, www.nellkalter.com, wanted to contribute her own review as it relates to "Beauty by Bravo". Since salons are not always limited to hair, Nell went and explored options for nails. Here is Nell in her own words:
"She's no longer on the show, but just before Kristen Taekman left Real Housewives of New York (and before her husband went down with a bang he received courtesy of Ashley Madison), she tried to create an explosion of her own with a line of nail polish."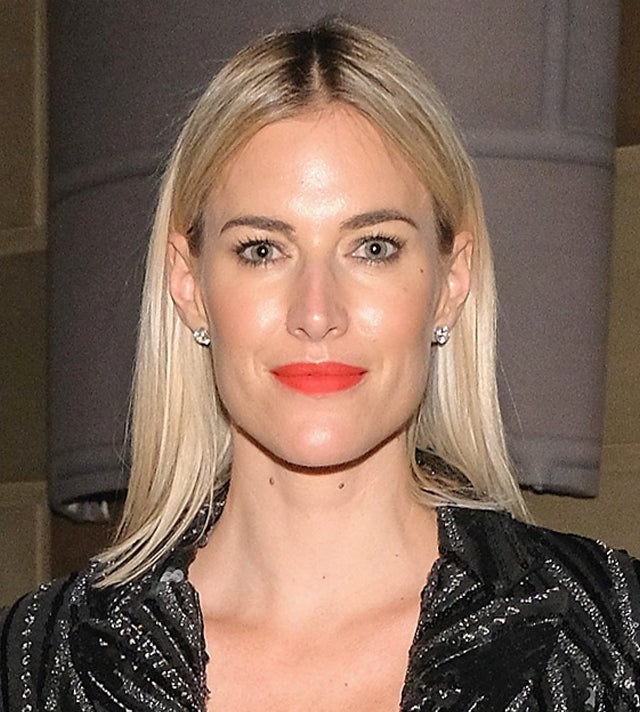 Pop of Color is sold at Ricky's NYC, but I bought my bottle on Amazon because if I don't purchase something from that site at least once a week, I'm concerned someone in the packaging department fears I've died. I chose the edgy mauve shade Cry Baby, and though I don't miss Kristen on the show in the slightest because she rarely offered anything other than horrified reaction shots, I'm pleased to report that her polish is kind of great. The bottle is thin and sleek and the brush is one of those smooth ones that glides over the entire nail, so applying a coat is effortless. I was never great at Science, but I wholeheartedly believe that I was born without whatever chromosome allows nail polish not to chip in less than a day. Nevertheless, I still made it through almost two days before Pop of Color flecks started falling off my fingernails. Those born with nails far superior to my own could probably rock a rather flawless finish for about a week."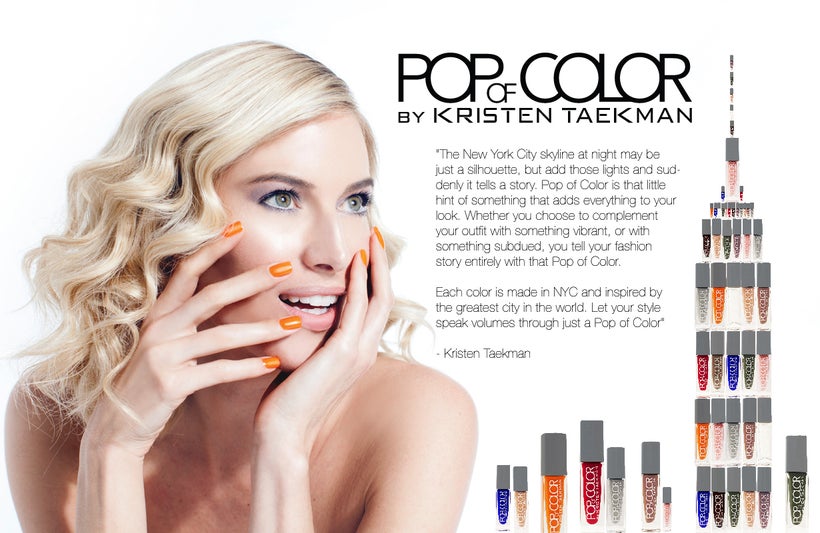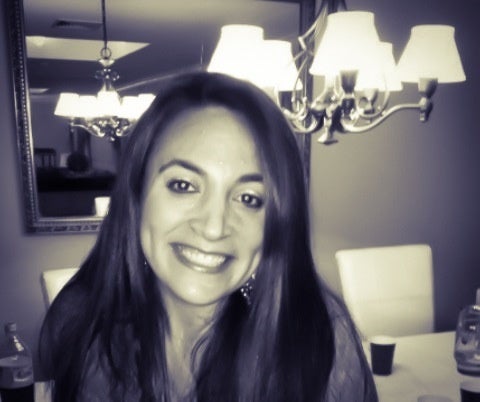 NEXT UP: BEAUTY BY BRAVO, SAVING FACE
This post was published on the now-closed HuffPost Contributor platform. Contributors control their own work and posted freely to our site. If you need to flag this entry as abusive,
send us an email
.