GOP presidential candidate Ben Carson did not back down on Sunday from controversial comments he had made a week earlier about Muslims and American values. Indeed, he seemed to add a new layer to the uproar when he answered a question about mass surveillance of religious minorities arriving as refugees.
"I personally don't feel that way, but I would certainly be willing to listen to somebody who had evidence to the contrary," Carson told ABC News' Martha Raddatz. "I think that's one of the problems -- we get to our little corners, and we don't want to listen to anybody anymore."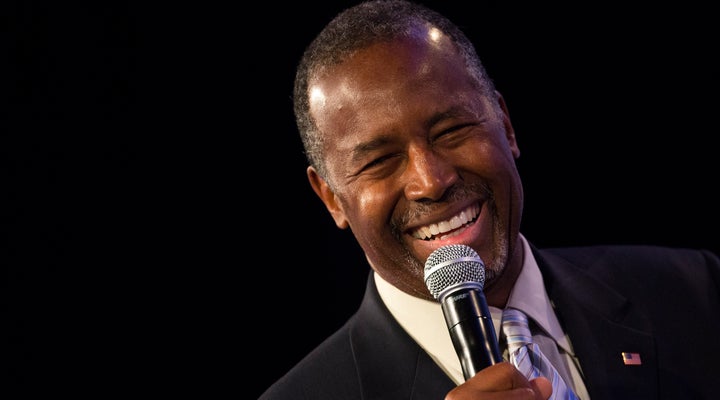 Some media outlets gave the impression that Carson's answer meant he favors unfettered tracking of anyone coming into the country, especially if the noncitizens are outside America's religious mainstream.
That would be troubling. But, for once, it might not be fair to say Carson went there.
Raddatz's own question was framed in legal terminology that might not have been clear to a nonlawyer like Carson. First, she referred to a comment he made two weeks earlier, when he said that allowing Middle East refugees to enter the U.S. "carries extra danger." Then she asked Carson about the intersection between religion and the Fourth Amendment to the U.S. Constitution.
"Let's imagine some of those refugees get into the United States," Raddatz prefaced her question. "For authorities to track emails, cell phone calls, they usually need to have probable cause. Do you think, in some instances, religion should be enough for probable cause?"
Raddatz stepped into a complicated legal debate over the protections of the Fourth Amendment there. It raises issues from dragnet surveillance of civilians to government spying on religious minorities to national security. Courts across the country have grappled with these questions, and as with other civil liberties in the post-9/11 world, the law is far from settled. Just last month, for example, a conflicted U.S. Court of Appeals for the D.C. Circuit overturned a lower court that had ruled that bulk collection of telephone metadata violated the Fourth Amendment.
Simply put, the Constitution does not allow the police to search Muslims just because they're Muslims. But in the realm of national security, the legal questions are often not that simply put.
Because of the ongoing uncertainties, it's not at all surprising that Carson's answer is an equivocal mess: "I personally don't feel that way, but I would certainly be willing to listen to somebody who had evidence to the contrary."
Carson may have been caught off guard and failed to wrap his brain around his answer. For that matter, Raddatz may not have been fully aware of the multiple implications of her question.
In a perfect world, Carson would've said flatly, "No, religion should never be a basis for probable cause to search anyone." But if we're going to give him the benefit of the doubt, his suggestion that he's willing to at least hear out "somebody who had evidence" on a matter outside his expertise is not a bad quality in a potential White House occupant.