As Democrats attempt to learn from their recent electoral losses and reshape the party, Sen. Bernie Sanders (I-Vt.) rejected the notion that President-elect Donald Trump's victory could have a silver lining if it might mean that the party adopts Sanders' progressive agenda.
"I would not say that there's any silver lining in Trump's victory," Sanders said in an interview with GQ magazine published Tuesday. "It is scary, and I think there are many, many people throughout this country who are very frightened about what will happen over the next four years. So I don't see any silver lining."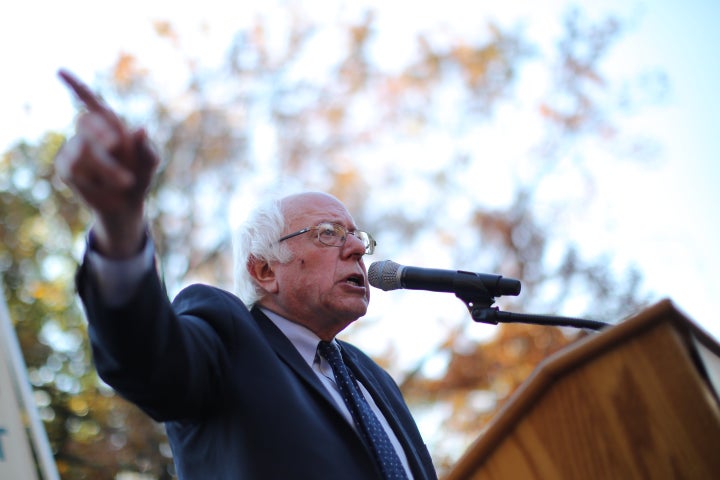 Since Trump appealed to voters as a champion for the working class, Sanders says he intends to hold the president-elect accountable on measures that could help workers and said it would be "counterproductive" to not cooperate with Trump if he follows through on those promises.  
But he stressed that "it's not a question of us working with Trump. It's a question of Trump working with us."
Many Democrats in Congress have expressed a willingness to work with Trump on issues of mutual interest, like trade and infrastructure. Trump's proposal to invest more money in infrastructure has been hailed as an opportunity for bipartisanship.
Sanders reiterated in Tuesday's interview that he will not work with Trump if the president-elect continues to spew hateful rhetoric, propose discriminatory policies and deny climate change.
"Clearly there is no working with a president who believes in, or will bring forth, programs or policies based on bigotry, whether it is racism, sexism, homophobia, or xenophobia, and there can be no compromise on that," he said. "There can be no compromise on the issue of climate change, which is a threat to the entire planet."
BEFORE YOU GO
PHOTO GALLERY
Bernie Sanders On The Campaign Trail