Eight years ago, I realized I had the strong desire to make a difference in the life of a child and became a "big sister" to a ten-year old girl. It was one of the best decisions of my life. For five years, I was at her side every other weekend, from going on fun field trips and watching her spin flags and batons at Color Guard in high school, to talking about how to socialize in a more effective way with other kids in her school. Today, she's a sophomore in college and her personal and educational life is flourishing. I couldn't be more proud.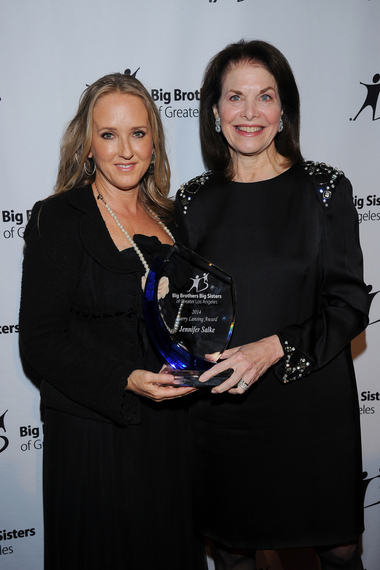 Jennifer Salke and Sherry Lansing
Photo Credit: Vince Bucci Photography
On October 24, 2014, Big Brothers, Big Sisters of Greater Los Angeles held their annual Big Bash at the Beverly Hilton Hotel to create awareness for the organization and to honor The Hollywood Reporter with the Trailblazer Award, NBC Entertainment President Jennifer Salke with the Sherry Lansing Award, and Ahmanson Foundation President William H. Ahmanson who received the Walt Disney Man of the Year Award.
Emmy Award-winning actress Katherine Heigl was on the red carpet and also introduced a video tribute narrated by Tina Fey and Amy Poehler for Salke, who received her award from her "little sister," Paola. Heigl surprised the attendees by announcing that she would become a mentor.
One of the highlights of the evening was the introduction of three "littles," accompanied by their "bigs" who shared their stories of where their lives had been before they became a part of Big Brothers Big Sisters organization.
Created in 1955 by Walt Disney and Meredith Willson, Big Brothers Big Sisters of Greater Los Angeles provides children facing adversity with strong and enduring, professionally supported, one-to-one mentoring relationships that change their lives for the better, forever. For more information on how to get involved visit www.BBBSLA.org.
Follow @JulieSpira on Twitter.