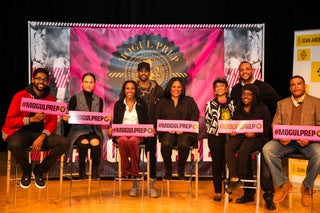 Artists usually only go on one tour at a time. Big Sean clearly did not get that memo though. He recently turned his "I Decided" tour into a real-life classroom for middle and high school students. Along with his mother Myra, they came together to give students a powerful new learning platform through the Sean Anderson Foundation called Mogul Prep. The program is a blended educational curriculum designed for students looking to explore career opportunities in the entertainment industry. It is an immersive learning experience not yet seen in classrooms. This past week I had a chance to speak to Big Sean and Myra about why they chose to start Mogul Prep, why they believe it is important, and where they see it heading in the future.
Big Sean and his mother always wanted to do something in the educational space. After a live event held in November 2015 they knew what that thing would be. It was a pilot event for Mogul Prep. There were nearly 300 students from six schools in the Detroit area that day, and the initial program was such a success they decided the course content should be developed further. Afterwards they partnered with various entertainment industry professionals and curriculum advisors to create what Mogul Prep is today. The program offers an intensive industry education while leveraging the credibility of Big Sean as a positive influence to the kids. The purpose is to entice them into seeing the exciting behind the scenes opportunities available in the entertainment industry.
Growing up Big Sean always knew he wanted to be a rapper. But watching TV then he did not know there were so many people behind that one artist who made a rapper's career possible. And what he finds exciting about mogul prep is how many lives could be helped filling those roles. Some of the jobs he mentioned off the top of his head were sound engineer, lighting technician, monitor technician, production manager, tour manager, creative director, publicist, and publisher. These are jobs people can do, but many do not know they exist. And careers like these typically outlast the artist's careers as well. That is the heart of what Mogul Prep introduces to students. By using industry leaders, it gives students insight into the hard and soft skills needed to succeed in a variety of entertainment related careers. The educators and students have access to over 100 hours of common care and CTAE aligned curriculum including, 7 modules and more than 21 lesson plans.
Starting in April Big Sean and the Sean Anderson Foundation are taking Mogul Prep on the road with an experiential tour aligning with the "I Decided" tour dates in four cities. Along each stop of the tour, a team of music industry leaders will offer students opportunities from the Mogul Prep curricula, conduct industry panel discussions, and teach them about the ins and outs of different music industry careers. During these sessions, the students will work with the industry leaders to create a personalized career card to outline what they see as their individual career pathway.
Asked whether programs like this can work in traditional school systems, Myra said it is possible if the right principals are on board. According to her, one of the major issue the current school system faces is they are using a 19th century model of teaching on 21st century students. She noted that Detroit has a 60% graduate rate, and she believes it is because students are not interested in schooling that is not relevant to them. This program uses their love of music as a hook to get them excited about education though.
Specifically, Myra said "As a former teacher I know how difficult it is for teachers to develop lesson plans that consistently keep students actively engaged, and are aligned to core standards. I also know how powerful providing students with a relevant and real world learning experience can be. I am happy to say Mogul Prep solves both problems."
Surprisingly, getting school districts on board has not been as difficult as they anticipated. Many principals are excited at the opportunity to get involved in the program. But an issue they have faced is many of those school districts do not have the funds for the program. Working to identify corporate sponsors has been a major part of planning the future of things. While this initiative is effective, it does cost money. That is where the sponsors have been a major help. In an era where President Donald Trump is attempting to cut funding for afterschool programs, seeing corporations put money back into the community is great.
Though the program is already a major success, Big Sean and Myra said they have much bigger aspirations for where the program will go. They are grateful for where things are right now, but they are in the middle of creating partnerships that will truly allow Mogul Prep to thrive. Some of those opportunities involve corporate partnerships, potential for internship placement for the kids, and some other things they could not mention.
Running a program like this is not without its commitments though. It is a very time consuming endeavor. Big Sean admitted that he is less involved in the day to day due to the rigors of his schedule, but that his mom is involved in a full-time capacity. And while she does dedicate a lot of time to this she is not alone. She works with professional curriculum writers and developers, has help for administrative duties as well, and is in constant meetings with people looking to offer their help. She stressed none of this was possible without Big Sean though. At first everything was paid for out of his own pockets, and she has seen firsthand the rooms she can walk into after she mentions whose mother she is.
While time consuming, Big Sean talked about how rewarding working on this is. He personally believes the true measurement of a person is how they help others. His music catalogue focuses on lifting moods, inspiring, motivating, and hyping people up. So, it's only natural that he is excited to use this foundation to give back. But even further than that, the goal is to have something to leave behind for the people to remember. This program is more rewarding than music because it goes deeper than the music to him. His work on this directly impacts people's lives because it decides what they do with their careers.
As of now, Big Sean and his mother Myra are focused on continuing the goal they started out to achieve. They want to continue to offer kids a learning environment that excites them to take their careers into their own hands. With this next step, it is no doubt that they are closer to achieving that vision. To learn more, make sure to visit their website so you can keep an eye out for what they will launch next!
This post was published on the now-closed HuffPost Contributor platform. Contributors control their own work and posted freely to our site. If you need to flag this entry as abusive,
send us an email
.