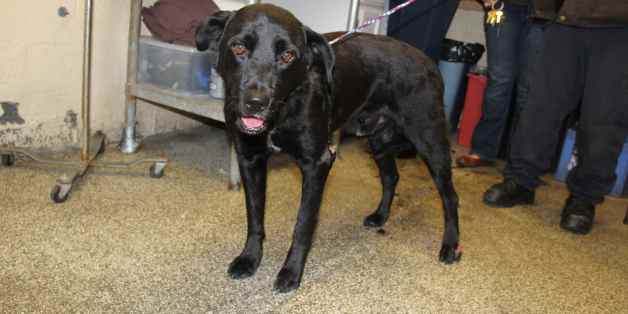 The Michigan Humane Society is investigating after rescuing a dog who was viciously attacked in Detroit.
On Saturday, the MHS Cruelty Investigation Department received a call from a neighbor in a westside neighborhood reporting that a black Labrador mix had been viciously and repeatedly attacked with a machete. MHS responded to the call but were unable to get further information about the assailant. They took in the dog; he is in pain but responding well to treatment, MHS Chief Cruelty Investigator Debby MacDonald said.
"This is just a horrific, horrific act upon this dog, and an individual like this is unsafe to be in the neighborhoods," MacDonald said in a video released by MHS. "It's going to be a very, very long, slow healing process."
MacDonald said the dog had severe lacerations to his legs and feet, consistent with blows from a machete. The dog also had self-defense wounds.
"This dog was lucky that somebody cared enough to give us a call," she said. "If he had laid out there with these injuries, I know he lost quite a bit of blood, and [had] several very severe injuries, infection more than likely would have set in, and he may not have survived."
MHS is offering a $2,500 reward for information that leads to the arrest and conviction of the perpetrator. Anyone with information is urged to contact the Michigan Humane Society Cruelty Hotline at (313) 872-3401.
Warning: the video below has graphic footage of the dog's injuries.
BEFORE YOU GO
PHOTO GALLERY
Animals Who Need Hugs