When I woke up this morning at 3:00 am to check the outcome of Alabama's senate election, I expected to read headlines that indicated that Roy Moore had won. I experienced an earnest sense of surprise and relief when I read the headline, "In Alabama, a lousy night for Republicans and a resounding defeat for Trump." How about that - Doug Jones won, but how did he do it? We all know that candidates do not win elections on their own. They benefit from donors, special interest groups, volunteers, political endorsements, and they have voters who vote for them. However, before I get to why Jones won, let's analyze why Moore lost.
It is clear that Roy Moore's past alleged behavior, including sexual assault and child molestation influenced the outcome of the elections. As highlighted in USA Today, in 2011, Moore agreed that the elimination of all constitutional amendments after the 10th "would eliminate many problems." To which 'problems' was he referring? Think about that. Is he suggesting that slavery should still exist? Should women lack the right to vote? More recently in 2016, when Moore forbade probate judges from issuing marriage licenses to same-sex couples, he was suspended for his actions. Finally, in September he intimated that the last time America was great was when families really loved each other during the era of Slavery. Yes. He said that. This is a very short list of his past proven and alleged transgressions. Acknowledging his apparent disregard for children, women, the LGBTQIA community and African-Americans, Moore supporters should come to terms with why he lost this election and more importantly why Jones won.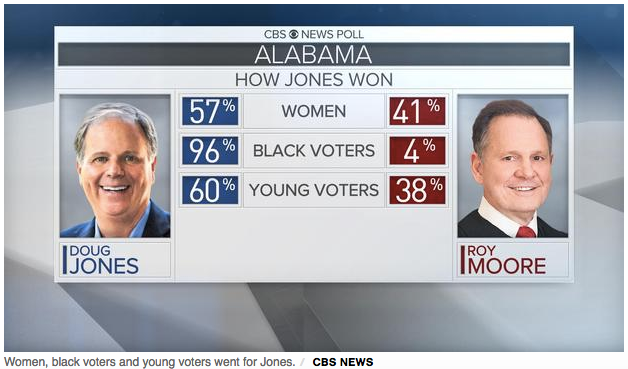 April Ryan, a White House correspondent, claims that "alt-right" Republicans who supported Moore generally feel that, "It is about us versus them, the other. They don't like women, they don't like minorities. It's a xenophobic, that piece that's part of the party." If Ryan's statement is true, and there are many reasons to believe that it is, are we really surprised at the African-American, especially African-American women, turn out on December 12th? Doug Jones, a centrist Democrat, won the senate race in Alabama, a religiously red state. As noted by the CBS breakdown above, 96% of Black voters and 57% of women voters backed Jones. While the impact of young voters and Republicans who chose to 'write-in' candidates should not be overlooked, Black women dominated this political game of tug of war. Moore would not be elected on their watch. Moments like these, when Black women and other minorities say enough is enough, are strewn throughout history.
Patrisse Khan-Cullors, Alicia Garza and Opal Tometi founded Black Lives Matter (BLM) in 2013 in response to Trayvon Martin's murder. The founders describe the movement as "an ideological and political intervention in a world where Black lives are systematically and intentionally targeted for demise. It is an affirmation of Black folks' humanity, our contributions to this society, and our resilience in the face of deadly oppression." Unfortunately, there is a sector in our country that finds offense in this claim, as if (and this has been refuted by many) the claim that 'black lives matter' negates another human being's value. Take the case of Colin Kaepernick who began kneeling during the national anthem as a protest against police violence suffered by Black Americans. Although Kaepernick decided not to re-sign with the San Francisco 49ers, he has not been picked up by any of the 32 National Football League teams since. How dare he speak out. How dare he protest for those individuals who lack his platform. The NFL attempted to silence him by eliminating his platform, essentially ending his NFL career. He recently filed a grievance against the NFL accusing the teams of collusion in an attempt to blackball him from the league. Individuals like the BLM founders and Kaepernick are seeking social justice through action and peaceful protest to ensure that Blacks are treated humanely and that their voices are heard.
African-Americans and others from minority communities have been knocking at the doors of Justice for centuries. They are demanding that their bodies be respected, their voices heard and their vote counted. Last night, African-Americans mobilized and their vote did count - even though there has been an attempt to stunt voting in predominately Black precincts. In 2015, the Alabama Law Enforcement Agency decided to close 31 driver's license offices in areas where Blacks reside. The decision to close these offices came shortly after Alabama enacted a measure whereby voters must present a photo ID at polling places in order to vote. This had staggering consequences for low-income, Black and elderly voters. (For a focused explanation of how and why it is difficult for the poor, elderly and African-Americans to get proper identification cards, click here.) That said, Black Alabama residents succeeded in getting their vote to count. I commend them for exercising their right to vote and for not allowing insidious efforts to silence them.
Doug Jones won because black votes matter. Black votes really matter.
This post was published on the now-closed HuffPost Contributor platform. Contributors control their own work and posted freely to our site. If you need to flag this entry as abusive,
send us an email
.