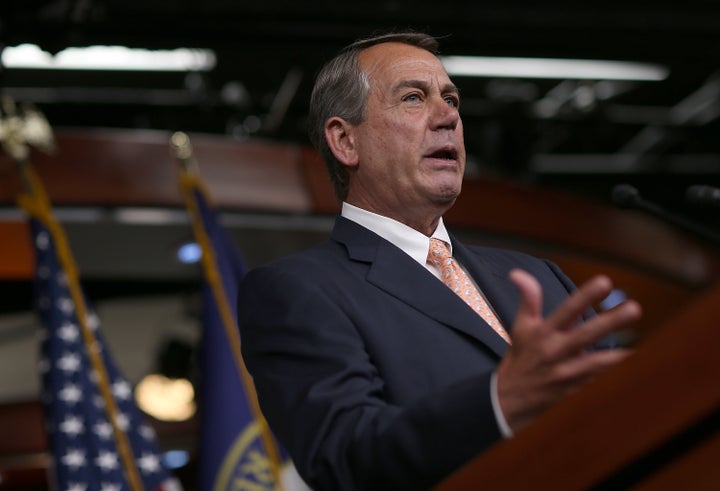 WASHINGTON -- Supporters of lifting a decades-old ban on crude oil exports just got a Christmas gift five months early -- an endorsement from House Speaker John Boehner.
"I would support lifting the ban and I hope that we can work together in a bipartisan fashion to bring our energy policies into this century," Boehner (R-Ohio) said Wednesday. 
The ban on crude exports -- first established during the Arab oil embargo in the early 1970s -- was meant to conserve domestic oil reserves and prevent foreign imports.
Years of booming oil production, and America's recent emergence as the world's No. 1 oil producer, have sparked calls to end the ban.
"Until recently, our nation's energy policy was rooted in a scarcity mindset. But now our energy and our policy needs to follow suit," Boehner said. "Lifting the ban would create an estimated 1 million jobs here at home. It would help bring down prices at the pump for consumers and it would be good for our allies."
Whether exporting more crude oil would actually lower gas prices is a matter of debate. The Energy Information Administration -- which consists of the Energy Department's top analysts -- has said that lifting the ban and shipping more crude oil overseas could increase U.S. production and subsequently lower the price of international Brent crude. It's the price of international crude, experts say, that impacts U.S. gas prices more than the price of domestic crude oil. 
Other economists argue that lifting the ban would raise the price of domestic crude, bringing it into line with international prices, which would actually cause gas prices to rise.
Boehner added on Wednesday that if the administration "wants to lift the ban for Iran, certainly the U.S. should not be the only country left in the world with such a ban in place."
Congress has been debating the ban for well over a year. The idea of ending the ban gained steam early last year when then-Sen. Mary Landrieu (D-La.) held the first Senate hearing on crude oil exports in roughly 20 years. 
There are now bills to end the ban in the House and Senate. The legislation has garnered an increasing number of supporters, mostly Republicans. 
But not everyone is in favor of changing U.S. policy on crude oil exports. In a Senate hearing on the issue this week, U.S. Steelworkers President Leo Gerard argued that lifting the ban would ship jobs overseas. Environmentalists are against the move solely because it would mean an even greater increase in oil production across the U.S. Refiners, who have profited greatly from the oil boom, aren't fond of the idea either, since ending the ban would mean producers wouldn't need to have oil refined before exporting it.