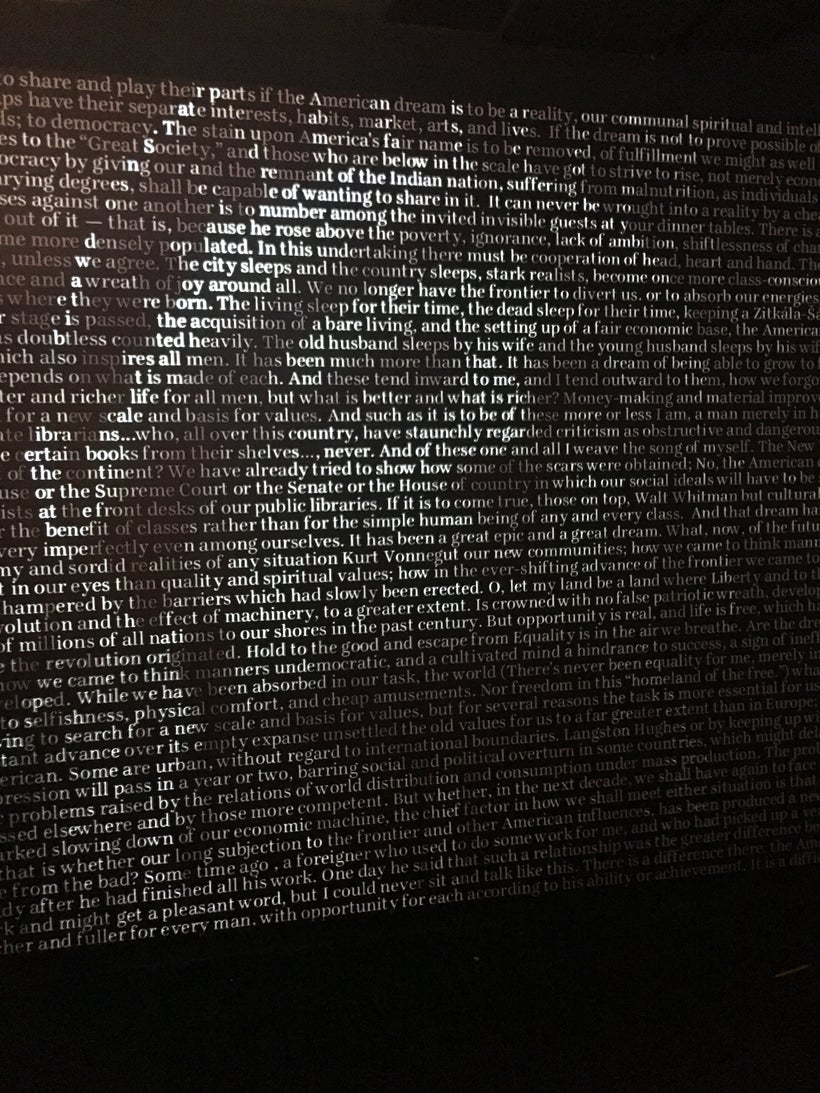 It is only 5:00 p.m. in Chicago, but the dark has floated down, lit windows illuminating the chilly afternoon. I love being in a city, love the hustle and bustle, the flow of the crowd across the intersection, bits of conversation out of context.
Soon, I have taken the elevator up one flight, paid twelve dollars and am loose in the American Writers Museum.
"We suggest you start on this side," the woman at the register gestures. I skip the lovely film, distracted by the timeline of American History along the corridor, illuminating particular eras in literature. Pictures of writers appear chronologically; when you rotate the photograph or portrait, biography, criticism, or selections from the author's work appear. I dive in, reading, turning the triangles, hopping from one author to the next, gorging myself. It's as if someone has demanded I consume a tray of truffles instantly. First, I seek old friends: Emily Dickinson, of course, and Willa Cather and Edith Wharton and Eudora Welty, Linda Brent and Anne Bradstreet and Louisa May Alcott. All the guys are there, too: Poe and Emerson, Thoreau, Steinbeck, F. Scott, Hawthorne. I drift to the other side of the hallway, where you are invited to pull out from the wall a small wooden door bearing an author's name and genre. As the O. Henry door (short story) swings towards me, I see the pocket watch and hair comb from "Gift of the Magi"; I read a snippet of Maya Angelou's "Phenomenal Woman." I wander, gaze at the Word Waterfall, words spread across a screen, the sound of rushing water behind them. Light travels across the vast expanse of wall, illuminating particular lines. The Statue of Liberty appears behind the words. I feel teary.
Earlier in the day, a colleague had introduced me to a friend of hers as a wonderful writer. I swatted away the compliment as when does when one is not Harper Lee or Mary Oliver. But here I am among the authors who I devoured as a child, constant friends whose stories seeped into me. I read everything Willa Cather wrote—I, suburban child of Main Line Philadelphia, lost myself on the plains of Nebraska. I thought I was a March sister or a member of the Ingalls family. I read Gone With the Wind in a gulp. Reading was my lifeline, my portal, my passion. Now, in fact, I do write every day, but to call myself a writer feels like too grandiose a claim. I write for pleasure, to make sense of the world—though that feels hard to do of late. I write because I like putting words down on the page every day in my own handwriting. I enjoy the quiet click of the keyboard on my MacBook Air. Often, I write to understand what I think or what I feel. Mostly, I write personal essays, though I have a chunk of a memoir written and eight pages of fiction—a grand experiment from a workshop last summer. I have stacks and stacks of journals I've kept for much of my life—a record that I was here, I suppose, musings, frustrations, bad poetry. I do not make my living as a writer. I do not secret volumes of poetry in my dresser drawer. I admire writers, worship them, really, but I self identify as a reader who writes.
I gaze at the Statue of Liberty in the Word Waterfall and feel a surge of love and fear for this country. I find myself wanting to hold on fiercely to ideals and themes American Lit offered me as a student, as an English teacher: ours as a land of opportunity, a melting pot meant for those in search of a better life, dream-grabbers, adventurers on quests intent on overcoming obstacles. American stories often feature some plucky boy or girl making her way in the world through integrity, grit, perseverance, ingenuity. American stories allow for conflict, for learning from those who are unlike us.
In the next room, James McGrath is talking about his new book—the story of the friendship Hemingway and John Dos Passos struck up during WWI. I listen for a bit, watching the two young authors before they were authors smile out at us from black and white photographs. I tend to think of Hemingway as having a weathered tan and living with cats in Miami, but, of course, he was young once. So, was Dos Passos. I try to think what I've ready by Dos Passos, but I come up blank. I read a lot of Hemingway novels out of obligation, but I never loved them. The speaker explains that Ernest and John had a different view of war than Scott, who never actually saw the carnage; he went to basic training, but never saw battle. Dos Passos and Hemingway's friendship waned—too competitive, jealous. Friends tried hard to reconnect them, but failed. What remarkable men emerged from those complicated decades in this country. The story behind their stories fascinates me.
The movie at the front of the museum is lovely, full of photographs and landscapes and captions with an evocative soundtrack. Writing has a broad definition here: song lyrics, poems, plays, comic books, biographies are all considered part of the American writing oeuvre. Where is Hamilton, I wonder?
In another hallway, an interactive exhibit invites me to slide panels to fill in the blanks for famous sentences. "Boo was our neighbor. He gave us two _______"
"Soap dolls," I murmur, sliding the little panel to see the words I know by heart: "a broken watch and chain, a pair of good-luck pennies, and our lives."
My eyes fill. I am the mother to Atticus, my own bearing the name of a man I hope he will love as much as I do once he reads the book Harper Lee may have only written one novel, but it's the one I had been looking for since I walked in.
I flip first lines painted on wooden slats, smugly identifying their titles. Only an English teacher would feel smug, I note, abashed at my own pride in being well-read. Next, I pull icons on a screen towards me. A bird gives me the text of an Emily Dickinson poem plus annotations about symbol and connections to other authors. I am mesmerized, slightly overwhelmed by all the information is available here. I want to bring our tenth grade who study American Lit. Just being in this space would spark their curiosity, inspire learning.
At last I see them: a large expanse of typewriters on several wide tables. I sit, slide my fresh piece of paper in, turning the roller of the fancy enormous Selectrec. I am fourteen again learning to type in the large classroom of Lower Merion High School, Mrs. Romanofsky presiding with a beehive hair-do, blonde coils sprayed into submission, running our summer school typing exercises like military maneuvers.
I imagine the first American writers dipping their quills into pots of ink. I think about those literary legends of the 20's and 30's scribbling by hand or pounding out on manual typewriters those iconic manuscripts. I want to know who wrote by hand, who typed—as if these biographical fragments could unlock my own torrent. I have few aspirations as a novelist. The prospect of a well-plotted House of Mirth or Scarlet Letter intimidates me, but in this moment, I pretend to be one of the greats. I like the noise I make—a clatter and clack of each keystroke hitting the page noisily, announcing its presence. I like the tiny ding at the end of the line to warn me to hit return, in case I might forget and simply type and type, letters scrolling out, illegible. My typing on my computer is tidier, no throb of a machine fueling my fingers as they fly across the keyboard. For a moment, I imagine my own great American novel standing upright on a shelf, my name emblazoned, gold, across the spine, my story a classic in American Lit classes like those I've taught for decades. I smile, twirl the knob to extract my piece of paper, fold it, a little self-consciously, and tuck it into my bag. Thank you, writers, for all you have given me.
After pressing the map of Ohio to see what authors called my home their home, I leave, reluctant. No one from Cleveland has made their map—yet.
Walt Whitman heard America singing. Me, too. Right here in this exquisite setting.
This post was published on the now-closed HuffPost Contributor platform. Contributors control their own work and posted freely to our site. If you need to flag this entry as abusive,
send us an email
.