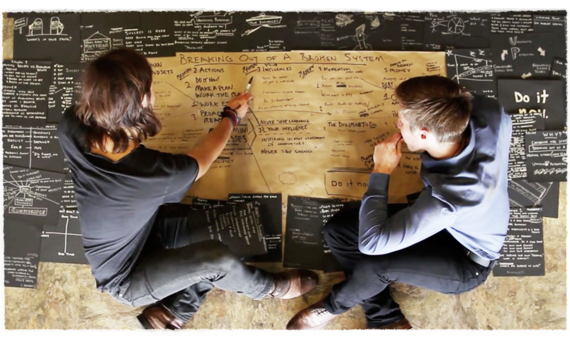 My articles don't normally center around philanthropic causes, but when a friend passed along this book, Breaking Out of a Broken System, and the socially innovative marketing campaign attached to it, I couldn't help but feel inclined to write about this topic.
Breaking Out of a Broken System to some might appear as only a self-help guide, but its purpose far beyond the pages is what truly makes the is book stand out! I could sit here and write about how the authors, Seth and Chandler Bolt, have found a way to resonate with the young reader on how taking the road less traveled doesn't have to be as difficult as our status quo society would make it seem, but then again, I would be doing a disservice to something far more inspiring for the reader to grasp on to.
What Seth and Chandler have done is create a book that's purpose is to not only enrich our own world as we know it by giving us a stress free, A.D.D.-friendly read 'how-to' guide on living out your dream but, also create a vehicle that creates resources available so that others can simply just live.
The book centers around two successful brothers in opposite spectrums of the professional world growing up under the same roof, both instilled with the same principles of how to be successful. Stricken with realization that many of their peers lacked these simple life lessons taught by their parents on how to empower each of them to accomplish their dreams, combined with a mission on how they could help raise money for charity to help combat the life-threatening, curable disease malaria; both Chandler and Seth set out to write a heartfelt "road map" on how to "avoid systematic traps that derail most people from their true purpose."
The Bolt brothers work with Palmetto Medical Initiative to provide accessible and sustainable health care to impoverished worldwide communities. One of the battles they are waging is the fight against malaria. Did you know that 1.2 million people die from malaria each day? These are mothers, fathers, daughters and sons that will not have the opportunity to live out their lives. The ironic thing is that a simple $4 pill can help eradicate this insidious disease.
This is where Breaking Out of a Broken System comes in. All proceeds from the sale of the book will be donated to help provide that crucial medication to save lives. So when you buy the book, you will not only reap the benefits of learning how to live life on your own terms but you reach beyond yourself to help others, and that is truly what breaking out of a broken system is.
Already receiving rave reviews from any other accomplish authors, this book is a must-add to your reading list. Check out a copy of the book at Boltbros.com.
"This is Rage Against the Machine meet Dave Ramsey at its finest! This should be required reading for every high schooler -- or college student -- or anybody working at a job they don't enjoy." -- Rob Bell, Pastor, Innovative Teacher and New York Times bestselling author Love Wins