Breitbart News' Adam Shaw wrote that the president's "'America First' base was the biggest loser" after Trump announced he would keep troops in Afghanistan and promised to take a more aggressive stance toward Pakistan.
Soon after the president's speech, Breitbart News splashed headlines on its front page saying the president had "flip-flopped" on his longtime position to end the war in Afghanistan. Trump acknowledged that he had changed his mind.
"My original instinct was to pull out, and historically I like following my instincts, but all of my life I heard that decisions are much different when you sit behind the desk in the Oval Office," Trump said during the speech.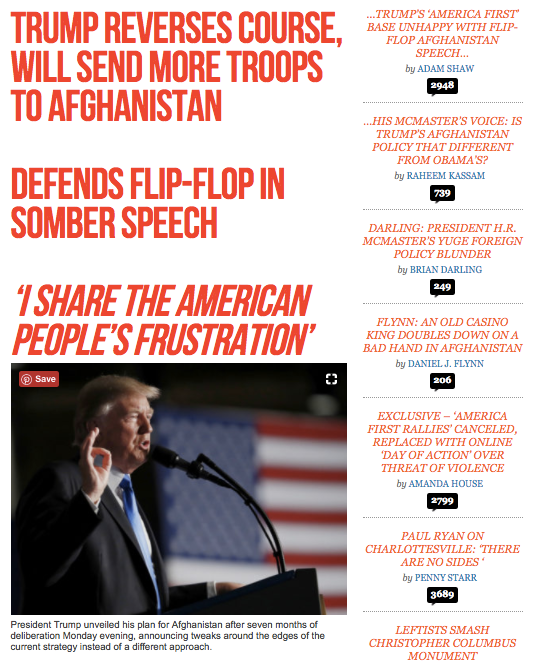 Two other lead stories on Breitbart focused on national security adviser H.R. McMaster's role in Trump's policy decision, while another pointed out that Trump's speech was his first since former chief White House strategist Steve Bannon left the administration.
The day Bannon departed, he rejoined Breitbart News and led an afternoon editorial meeting.
Referencing Bannon's absence in the White House, Shaw wrote that Trump's speech "confirmed the fears of many on the right that without a strong nationalist voice in the West Wing, the President would revert to the same old fare that Americans had voted to reject in November."
BEFORE YOU GO
PHOTO GALLERY
Anti-Hate Protests Against Trump