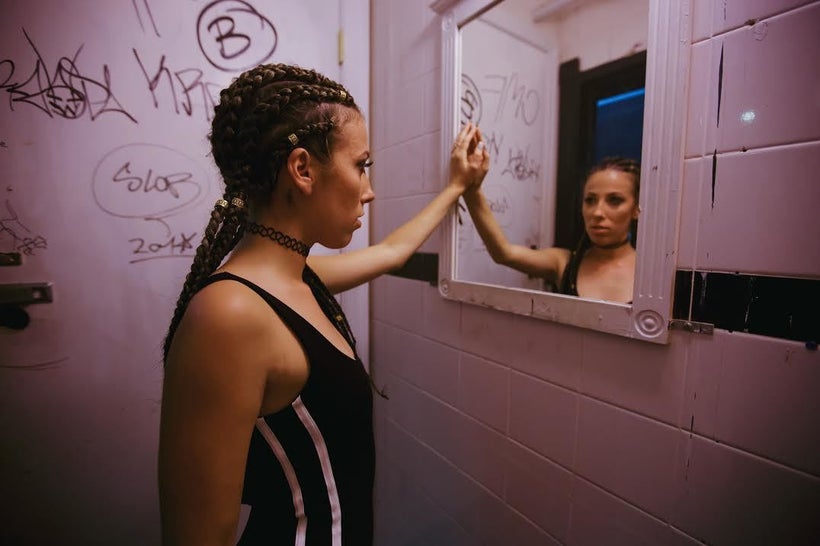 Brooke Forman is one of the biggest hustlers in the music industry. Using her street smarts and pure talent, she is always one step ahead of the game. Today, she is sharing her masterpiece "Mad Rollercoaster" with the world. Brooke's tenacity to bring her dazzling "Mad Rollercoaster" to life is a shining example of what being a genuine artist is all about. Before she got to this moment in her life, she had to overcome several obstacles that were thrown her way. In an exclusive interview, Forman talked about her childhood and what it took to become the music industry's next big thing.
"I come from a small town in Pennsylvania. Once I got to high school, I would skip school and take the train to Manhattan. I would walk around and go, 'One day I am going to live in the city and I'm going to be a singer.' When I was seventeen I left and headed to New York City.  I went and I studied creative writing to focus on songwriting.  I interned at a bunch of places and worked for record labels.  I really started learning the business side of things.  I came out of school and I started working for Armin van Buuren and his label, Armada Music. After a few years of that, I came to a crossroad of whether I wanted to be a singer-songwriter myself or if I wanted to work the label side of things.  I picked the route of being a singer-songwriter because that's something that's been instilled in me since I could speak.  I left the label stuff behind but I'm super glad that I did it because I learned so much of the industry through that." Forman's determination would help her conquer a freak accident that would have left most people down-and-out.
The singer-songwriter was hit by taxi and it changed her life from that day forward. She recalled, "That was a crazy week of my life.  Within that week, I lost both of my jobs.  I was also dating a record label executive and I found out that he had cheated on me with my best friend. So I hopped on a flight to London without even thinking about it.  While I was there I met up with a label executive from Sony.  I flew to London to have dinner with him.  He told me, 'You're crazy.  You flew to London to meet with me. That makes me think that you're a real artist and you shouldn't go back to working at labels.  You should pursue the music industry.' The whole thing was a pivotal turn in my life and made me appreciate everything so much more. I feel blessed." Forman was right to feel that way.
"The song 'Mad Rollercoaster' is about the record label executive that had cheated on me.  Years later, he still tries to come back to me and says that he regretted it.  For me, it was a story about betrayal and a woman's strength to persevere," Forman told me while shaking her head. While dropping the exclusive premiere, Brooke Forman explained the vibe of her creation. "I wanted to make it aggressive but make it still sound fun, funky and pop.  The message is me telling him I would never want you back.  There is a strong, female presence on the track," she said.
Brooke Forman had the opportunity to see Nicky Romero play "Heartbeat" at Ultra to thousands of crazy festival attendees—a hot, fist-bumping anthem that she was featured on. "It was really crazy.  I actually flew to Miami to see it live. I was in the crowd in the midst of all these thousands of people.  I just started crying while I was on my friend's shoulder.  I took a look around and saw everyone rocking out to it.  It was just a surreal moment to see people touched by something that I wrote while sitting in a room.  It was definitely a life changing moment for sure," she told me with a smile. When I asked her about what inspired her to write the song, Forman said, "I called up my friends, Mark and Allie, and went, 'I just saw this guy and I felt all this chemistry with him and he was gone in a minute.' But then for me, it became this larger concept with a message. Whatever you are going through, even if it's something really bad—everything can change.  There are highs and lows.  A lot of people wrote me after I put out the song.  They told me they were going through a rough period and it helped change their perception.  For me, if something simple that I did could create a bigger domino effect—that is success."
The star on the rise continued to achieve success when she got to work on her EP Lioness with an established musician who is currently in the biggest show on Broadway. "I worked on the whole EP with this guy named Benny Reiner.  He is a Grammy award winner and the drummer to the Broadway show Hamilton.  This was right before Hamilton blew up," Forman told me with great cheer. She followed up by saying, "Basically, the process for the EP was that I would come in with a concept.  I only write about stories that I've experienced.  For me, it is a way to connect with what I'm singing.  I would come in with different things throughout the year with experiences I was going through.  I don't only write about love songs.  I want to write about social issues.  I want to write about adventure.  I want to write about different things that I have embarked on.  The EP was the start of all of that." That's where "Mad Rollercoaster" comes into play.
Forman hopes that "Mad Rollercoaster" will help her go back on tour again. Not too long ago, Forman completed a tour of Asia without having a manager, booking agent or record label behind her. Her drive and desire to succeed made her musical journey a smashing success. "It was super rewarding.  I'm pretty fearless when it comes to reaching out to people.  The tour worked because I did a lot of research," Forman told me with a grin. She continued, "I didn't sleep for an entire month because the time difference in Asia is 12 to 13 hours ahead of the United States.  I would stay up all night waiting for people to email me back.  I would look up EDM DJs in Japan, promoters, booking agents, managers—whoever I could get a hold of. However I could reach them that's what I was going to do.  Basically I planned my own tour by doing that.  I tweeted to Tokyo FM radio and the next thing you know I was being interviewed on the station.  I sold out shows in three countries.  I did six shows and it was just this epic experience because I didn't have my own people behind me.  I went by myself and figured it out while I was going along.  It became this amazing adventure.  It is a different world out there." Forman can call herself an international superstar who is just getting started. She recently made the move to LA with her eyes on the prize.
"I moved to LA from New York about eight weeks ago.  It's brand new.  When I came back from touring Asia, I did a couple of shows in New York City.  It was my first time doing solo shows in New York.  It was the first time I played the EP out loud to see the crowd's reaction.  Then it hit me that if this was something that I wanted to do, I should try LA because I've already been in New York for ten years.  So I packed two suitcases and within two weeks I got rid of my apartment.  It's been really good.  There are a ton of people to work with here and people are very open to just meet with you," Forman told me with an immense amount of optimism. When I asked Brooke what is next, she laid out the groundwork for another huge upcoming adventure.
"Right now I'm taking a ton of meetings.  I'm doing the same tactic of just hitting up as many people as I can find with people that I want to work and record with.  Right now I want to release my EP and shoot more music videos for it.  I'm trying to place my songs into TV and film because that's a huge stream of mine.  I'm trying to make more music so I can go back on tour in Asia and then branch out in South America," Forman said with a confident and winning glow.
This post was published on the now-closed HuffPost Contributor platform. Contributors control their own work and posted freely to our site. If you need to flag this entry as abusive,
send us an email
.