Bryan Batt is so stylish, the Hotel Monteleone Carousel Bar's newly slate gray walls match the accents in his vest. It's just a style coincidence, but it's perfectly in tune with what the author of Big, Easy Style recommends.

"I think in your home, you should only use colors that you look good in. It's a little self-serving but think if it as you're on a stage," he says. "Not with any pressure, but you want to showcase yourself." How do the new colors of the Carousel Bar rate? "Gray is great. People think gray is a neutral but I think it's such a moody, intense, dramatic and sexy color. It's very sleek." We meet at the newly gray bar where I have wine and he orders water, as he's en route from a New Orleans holiday press conference on the Steamboat Natchez to his uptown home decor shop, Hazelnut.

So far this year Bryan has hosted lighting ceremonies, made a holiday video for the local tourism council, and served as grand marshal for the Krewe of Jingle parade. All this while rolling out his hit home decor book, Big, Easy Style. Television lovers know him as Salvatore Romano on the Emmy-winning Mad Men, theater lovers know him from a string of musicals as well as originating the role of Darius in Jeffrey, as well as the movie version.

Book lovers know him from She Ain't Heavy She's My Mother, his momoir, as he describes it about his mother, Gayle. Three life lessons he cites in the book are "1) Defeat is not an option; 2) Be happy in your own skin; and 3) There is great beauty in great strength."
That book led to his editor Angelin Borsics requesting that he work on a home design book, a natural with the shop he and his longtime partner Tom Cianfichi own in New Orleans. On December 19th he'll be signing Big, Easy Style: Creating Rooms You Love to Live In at B.D. Jeffries in Atlanta. He just wrapped up a signing at Bergdorf-Goodman's in New York. Then it's home to New Orleans.

"I love being here. Because my heart's here. I was born and raised here, and we opened Hazelnut in 2003. I thought I'd just pop in and pop out; I was kind of weaned off New York. And I still love New York, don't get me wrong it's fantastic. But as you get older you like a slower pace. Well, you wouldn't know." He says fantastic things like that, so it's no surprise customers are flocking to the store.

Hazelnut's one of a kind items include Laurel Wilder's custom art glass commissioned by Bryan from his collection of Harper's Weekly Mardi Gras images from the 1800's. "It's scenes from the first Mardi Gras, flambeau carriers, antique maps, grids of the city." When the oil spill happened, the commissioned work based on Audubon's birds of the area for environmental relief. "The crane, the pelican and the heron, they're all so beautiful."

"Don't be Afraid of Color" is the chapter in Big Easy Style that kicks off with: "Really, what did color ever do to you?" To help wean me away from beige he suggests red:
"I'm in love with red. I think it's such a passionate color. Every flag of every country pretty much has red it it. It's power, there's no fence sitting with red. Either you love it or you don't. I think its blood and strength and life. I do love red. I love all colors. Great shades of blue, you find them in nature. They're all magic."
That being said, there are some colors that are not the best backdrop to a life. Bryan once had a chartreuse bathroom wall incident. "I looked like something out of a B horror film. So immediately that room was painted a nice warm yellow." Lesson learned.

Another philosophy I'm adopting from the book is: "Put every light you have on a dimmer. Because after a certain age, we can play with the lighting and set it on how you look best on it. It's cheaper than plastic surgery."

The holidays, complete with light shows, can add to home decorating pressure but Bryan recommends using that as a jumping off point:
"We see all these elaborate decorations in beautiful magazines like House Beautiful and Elle Decor. You get great ideas from them. I have tear sheets, files of them, and make little notes. But something like simple beautiful evergreens, you just can't beat it. It's part of the holiday, the aroma they create in the room. And the cedar here is so beautiful, mixed in with the pine and the spruce. As simple as that, it can be just beautiful. Or you can glam it up with glitter, beautiful bows or berries."
Keep it simple or blow it out. He describes a New Orleans home covered in an explosion of lights with its teddy bear covered lawn, across from a Hannukah-themed light show. "It was these neighbors having fun with it. It was just out of sight. I remember growing up here and getting in the station wagon with my mom and dad and driving through the neighborhoods at night, just looking at the crazy lights and loving it."

Love of celebration runs in the family. At his grandfather's Pontchartrain Beach amusement park, there was a life-sized nativity in the parking lot. Our Lady of the Lot.

Hazelnut is named for his grandmother Hazel Nuss:
"My dear grandmother. The joke, I say she was Hazel and she was a nut. She wasn't really so much of a nut, but my great grandparents really did call her Hazel Nuss, which means nut in German. She was a well-respected dance teacher at many dancing schools in New Orleans. I still get stopped by little old ladies on the street who come up and tell me, 'Your grandmother taught me how to dance, but most of all she taught me to be a lady.' And my grandfather started Pontchartrain Beach, a beloved amusement park for generations here on the Gulf Coast. Coming from that, I guess I'm bred to be in some form of show business. And the artistic flair just had to come out."
Clearly it did.

His childhood home was mid-century modern, period perfect. And the parties sound like they could rival a good Mad Men evening. "I always loved to go to cocktail parties, even as a child," Bryan explains. "So I would sneak around. Back then everyone dressed. I would sneak out after my bedtime in little footie pajamas or my Batman costume, take an olive and dip it in everyone's drink until they'd find me under the kitchen table. A little toasted for a five-year- old." Just then, a group of sober children start caroling in the Monteleone lobby.

AMC's Mad Men brought back the image of the two-fisted drinking businessman. It also brought Batt international fame, but his character left the screen last year. "My mom just passed, and I had all this time with her so it was a blessing in disguise that Sal wasn't on last season. Who knows what's going to happen with him? Everywhere I go, people tell me how much they love the character. All I know is he's not dead."

It's not like Bryan hasn't stayed busy in the interim. His memoir flowed easily, but there was a steep learning curve for decor - captions, photos, layout and the rest. "It was really fun, it was a learning experience." Big, Easy Style now tops of Amazon's bestseller list in home decor.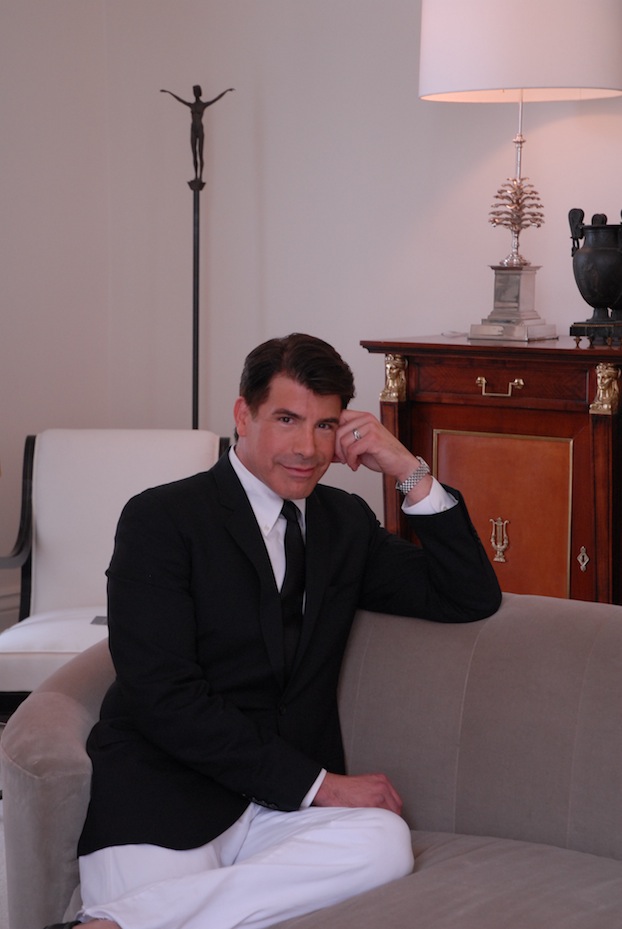 The book is full of Batt's tips. It's like spending an afternoon with someone who you'd like to watch decorate a home. Or sit under a table with, eating cocktail olives in costume.

"It's not just about the mansions of the garden district or cottages of the French Quarter or the Marigny, it's a really eclectic mix. We have this ease of living. It's how we really do inhabit our homes. We dine in our dining rooms. We live in our living rooms. Especially after Katrina, but I think always our homes reflected our personalities here. They're not just done by a designer to impress. People take pride in their homes. It is a reflection of your personality and that's what I really love about the design and the esthetic here. There's more of a sense of humor. No one's taking it that seriously, as if we ever did. People will take a chance with wild art or some great fabric."

"The feeling is: This is my home, I'm back. My brother's home had 9 feet of water. He rebuilt and then sold and rebuilt another home. Going through all that, I don't know they did it."
There's such a wealth of design here, and the antique market here is fantastic. Everyone thinks Hazelnut is an antique store, which it's not. We have high-end gifts and home furnishing." Bryan's partner Tom worked in furnishings in New York for many years. In moving back to New Orleans they brought with them the idea of the mix of old with the new, east with the west, whimsical and serious. "I believe everything should be like a good cocktail. Shaken and stirred." More on that in the "Shaken and Stirred" chapter of Big, Easy Style.

Bryan is known for both stage and television so he's already shaken and stirred his career. "It used to be either you could do stage or you could do film and television. Mainly what I did on Broadway was musicals." He landed the Mad Men role with one audition. The show was an instant style hit. "Jane Brant's great costumes have influenced fashion." Bryan's also become close with costar and style icon Christina Hendricks. "She's an angel. I adore her. She and her husband Geoffrey hosted the book signing in Los Angeles at Brooks Brothers."

Eventually the question has to be asked: "Is Jon Hamm really super good looking in real life? "Yes. He's pretty easy on the eyeballs. And a nice guy. They all are. It's a great cast, it really is."

Will castmates be visiting New Orleans? "Any time. I'm here!" As far as finding work in the Hollywood of the South? "Give me a call!" He'd be a terrific Batman -- he's already got the costume.

Clearly a positive person, Bryan had a viral "The Masses are Asses" blog quote here on the Huffington Post. Our conversation ranges from other pet peeves like the cowardice that can be found in anonymous commenters, to the talent gap in reality shows. "Our forefathers died for our right for freedom of speech. If you're going to say something, put your name to it." Or at least exercise some kindness. "Negative is one note. There's no harmony. For the most part, everyone's out there doing the best they can."

As part of one of the best shows around, he doesn't love reality television. "Horrible behavior on television is applauded and rewarded with high paychecks. I just will not watch it." Good, plot driven shows are the anecdote. "Like Modern Family -- I love that show. I think people want to be entertained. They want to have to think. The bad thing about the reality shows is you don't have to think at all, watching them. They're not real. If they would hire good actors to do reality shows, then they would have something."

For scripted television, Bryan landed in a show that Emmy has noticed in a big way. "The writers on Mad Men are just brilliant. They're some of the great storytellers." He's also a fan of the New Orleans-based series Treme. It's so spot on. It's just wonderful."

So Mad Men on one side and home decor on the other. We clink glasses to: "Here's to the Mad Man of the south," as he heads to his shop in New Orleans. "There's just something about this town," he concludes. "I don't think I ever really left. And then to open up Hazelnut and have more ties. We just bought a house here, so I'm thrilled. And airlines work. If I have to do a show in New York or a signing at Bergdorf's, it all works."

Big Easy Style with a chaser of She Ain't Heavy, She's My Mother makes an excellent holiday gift and supports your local independent booksellers (including Maple Street Book Shop in New Orleans).
PHOTO GALLERY
Big, Easy Style by Bryan Batt