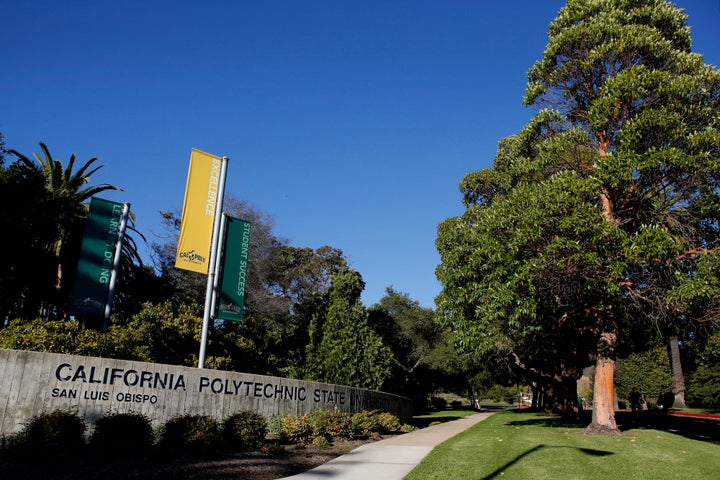 The California Polytechnic State University chapter of fraternity Lambda Chi Alpha outraged many on campus last weekend after a photo from one of its events circulated showing a frat member in blackface.
But the student in question, Kyler Watkins, a senior studying agricultural business, will likely not be expelled, university president Jeffrey Armstrong told the San Luis Obispo Tribune on Thursday. 
"That's very, very likely protected by free speech, and freedom of expression," Armstrong told the outlet. "If a student walks around on campus with their face painted black, they can do that."
In an apology letter published Friday afternoon by Mustang News, a local outlet, Watkins said he hoped the campus community believed that his "ill-informed" decision "had nothing whatsoever to do with racism or discrimination" because he did not know what blackface was.
"When I woke up Sunday morning to learn that 'blackface' is of historical racial significance, no words can express my regret and horror," he wrote. 
Lambda Chi Alpha apologized in a statement on Sunday, saying the frat held a competition that grouped members into teams represented by different colors. One team chose black, and "that is why the person's face was colored," the fraternity's president, Logan Boersma, told Mustang News. 
"In my own mind, I was simply 'going all out' in my theme as a member of the black team," Watkins said, adding that he has received death threats. He has resigned from the frat.
A photo showing a group of frat members from the "yellow" team dressed up as gangster stereotypes also surfaced:
Armstrong told the San Luis Obispo Tribune that although he personally thinks "it's awful what they did," he can't put his "personal feelings on top of an individual's constitutional right."
As the blackface photo stirred up anger over the weekend, Cal Poly quickly announced that it would investigate, and Armstrong sent out a campus-wide email on Monday afternoon expressing his "embarrassment" and shame over the Lambda incident. 
But the conversation is far from over.
An emergency town hall meeting meant to elevate voices of students of color was packed with people who filled seats and lined the walls on Monday.
"When I see that picture, it is kind of hard when all of your life you're told that your skin is ugly, you know, you look dirty," Cal Poly freshman Erica Green said in footage from the emotional meeting. "The more I think about it, it doesn't make me feel that this campus wants people like me here."
Green suggested that the Lambda members be ordered to complete a community service project in a minority community, "so they honestly understand what it's like for them."
She is one of just 166 black students at Cal Poly ― a campus of 22,000 ― according to the school's latest enrollment numbers. 
Meanwhile, Associated Students Inc. President Riley Nilsen, who leads a student government group, made controversial comments at the meeting that elicited immediate calls for her resignation.
"I cannot believe that the members of Lambda Chi Alpha did not tell their brother to go wash his face off when they walked into that party," Nilsen said. "I 100 percent know the privilege that I've been given, because I don't have to wash my face off, and I know that I am given a privilege to make a difference."
(Nilsen wrote a very lengthy apology on Facebook Wednesday, acknowledging that her remarks "weren't sensitive.") 
By Monday evening, a group of students, including many students of color, had gathered outside the Lambda Chi Alpha house to confront members of the fraternity, and some people led chants. Police eventually arrived to intervene. 
Both Cal Poly and Lambda Chi Alpha's national headquarters put the local frat on interim suspension, pending the results of separate investigations, the San Luis Obispo Tribune reported. 
Armstrong hosted another town hall meeting on Thursday night that drew a crowd of nearly 1,000 people, according to the Tribune. Students there asked questions about diversity and racism on campus for more than 90 minutes. 
Hundreds of students turned out for a protest on Friday morning, local NBC affiliate KSBY reported, noting that some were calling on Armstrong to resign. The protest was sponsored by a number of activist groups on campus including Cal Poly Democrats, the Cal Poly Queer Student Union and the Comparative Ethnic Studies Student Association.
"Students have a right to voice their opinions, but the fact is the university is committed to diversity and inclusion," a spokesman for CalPoly told HuffPost in an email highlighting the administration's efforts to improve diversity in the student population.
"There is more work to be done, but the hurtful actions of a few cannot define the university and override the values and the successes of the many."
This story has been updated with an apology from the student in blackface and CalPoly administration.