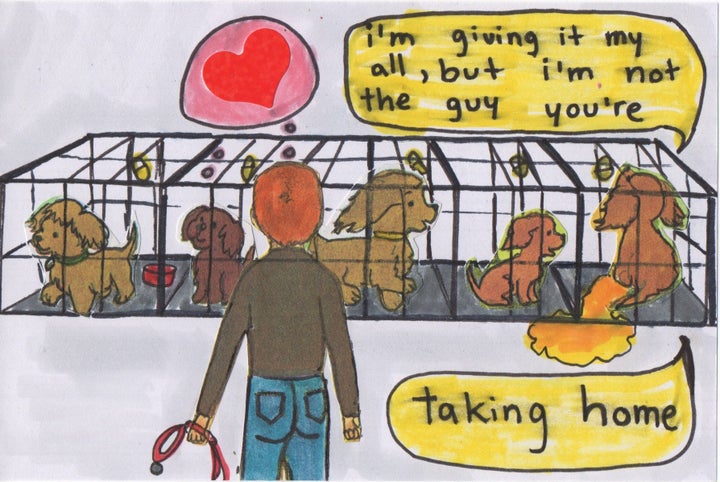 Brooklyn-based artist Cameron Dailey is using bits of his life and scraps of the past to create evocative, personal pieces about what it means to him to be a gay man in his 40s.
His new collection, titled "The Past That Suits You Best" and on display this March at The Spring Break Art Fair in New York City, remixes the bric-a-brac in his mind with images inspired by vintage children's books, old movie stills and song lyrics to manifest poignant drawings.
The Huffington Post recently caught up with Dailey to learn more about "The Past That Suits You Best," his artistic process and more.
The Huffington Post: How did you start this collection? Do you remember what the first piece was and what sparked it?
Cameron Dailey: I started making these pieces on a daily basis as a sort of diary and mailing them out to friends as pen pal notes. Once the momentum was there I wanted to develop it into a larger project and share them as a body of work. The first piece was a boy reading a book while riding a cat that is walking along a fence in the rain and the cat is declaring, "Come with me, we'll surprise everybody."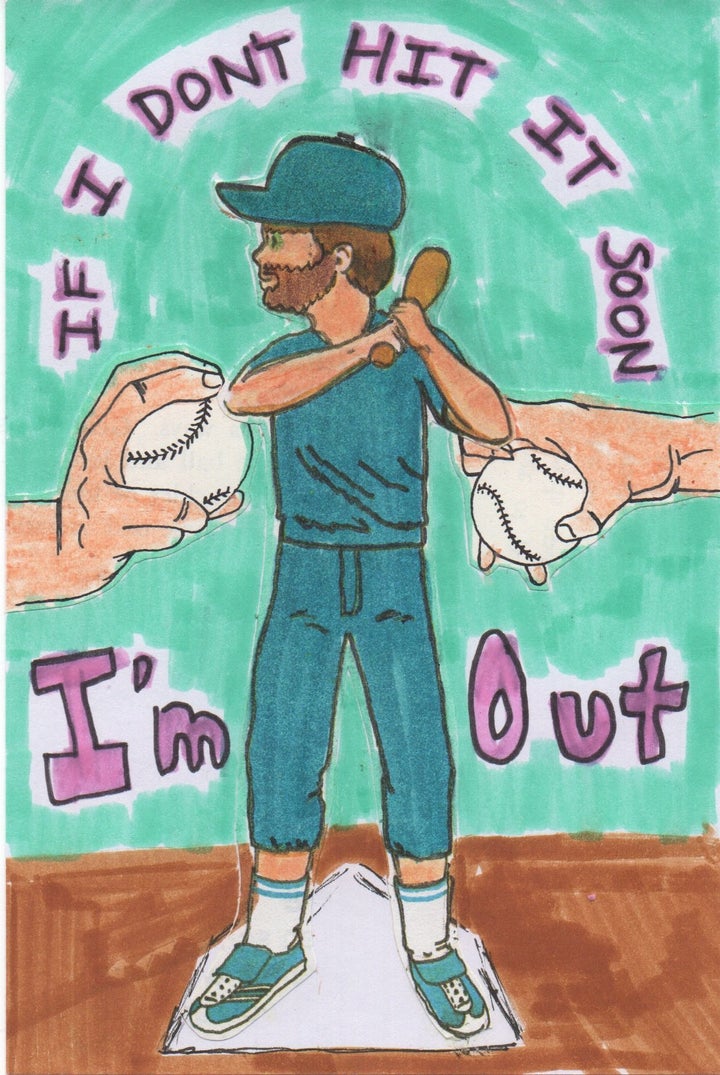 What's the process for creating each piece? Do you start with the phrase and go from there? Do they go through many drafts or do you start one and finish it and that's that?
Sometimes a phrase or a song lyric or text will get stuck in my head and the visual follows after. Other times I will create a piece based around a scene or moment I want to relive and the characters' voices come out to complete the narrative. There's the draft in my head and then the one I put to paper and then I move on to the next. If you ask a child to draw what they did that day or how they're feeling, the drawing would be unrefined, slightly off and emotionally pure. That's what I desire from my work.
Tell me about your inspirations. When I look at the pieces I'm getting vintage greeting cards, mid-century children's books, Walt Disney, the Castro circa 1978…
Vintage greeting cards offer tender sentiments. Old children's books instill life lessons. Movie stills and old photos capture singular moments, if only on the surface. These all have great appeal to me. My life as a gay man and how I
navigate it and engage with others continues to be a constant source of inspiration in the work.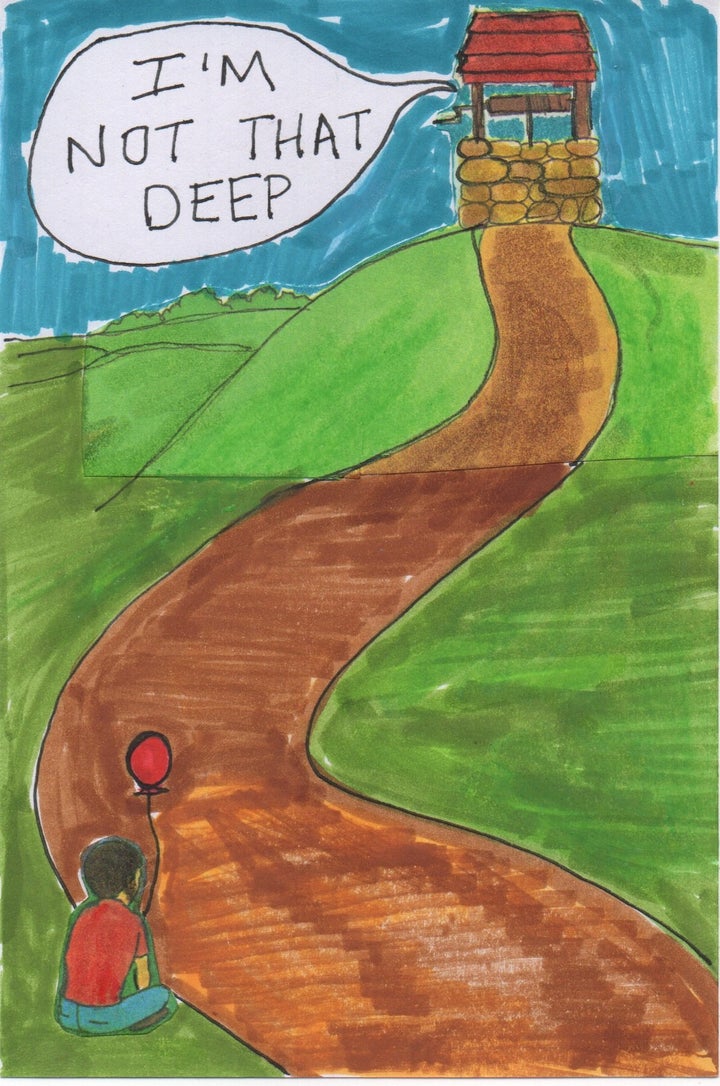 Many of the pieces explore/disarm/upset — at times hilariously, at other times poignantly — ideas of masculinity and gay culture. Is there a central statement you're trying to make in relation to these topics?
These are my experiences and observations as a gay white male in my 40s. If there is a central statement in the work it's "I'm OK."
How personal is this work? Lots of the "boys" in the pieces look an awful lot like you (right down to the beards). Is that you inserting yourself in these situations? To what end?
I'd say I'm somewhere in each piece. Sometimes I'm the bearded "boy" and sometimes I'm the urine soaked underwear he's thrown on the floor. Just like in life.
I suppose in some ways these pieces are my version of the gym selfie.
I first saw these pieces shared on Facebook and that made me think about how social media has become a way of mediating and navigating our personas, as well as our relationships (romantic and otherwise) with ourselves and others, visually. How do you think social media (and all of the self reflection and/or narcissism that comes with it) functions to complicate these pieces?
I suppose in some ways these pieces are my version of the gym selfie. I started posting these works on Facebook with the intention of connecting with people away from social media through the pen pal series. If someone sent me their address I would send them a drawing and the offline connection was made. Once I moved past the pen pal series I got an Instagram account and started posting the work there. Emotional over sharing has more appeal to me these days.

What's up next for these pieces and what's up next for you?
I am planning on turning a selection of these pieces and the original pen pal series into a book. I'm also applying to a few residency programs, working on some larger pieces and hopefully continuing the adventure.

The Spring Break Art Show runs March 2 - March 7 in New York City. For more information and tickets, head here. Check out more of Dailey's drawings below.