Back in the dark ages, if you were in love with one of your pictures and wanted to blow it up you would might take the negative to your local camera shop and have it blown up. But these days it's a different and digital world. Many of the local camera shops have gone out of business. Most photography no longer uses film but flash memory cards. And you don't have to pay to have those pictures developed. And now you can submit that picture on line for a standard print, or you can make it into a real work of art by having it printed on a framed canvas, The makers of these prints on canvas use high quality ink jet printers, much the same as today's photo printers. The quality is quite good and theoretically, the canvas prints won't fade over time. But just like an artwork on canvas, these should be carefully handled, and unless you want a warped image, don't hang them over a working fireplace.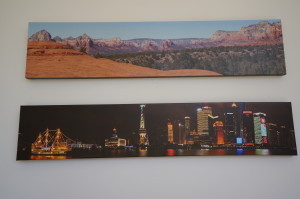 But it's too soon to see if they will fade over time. If you go online you'll see that there are dozens of companies that offer photo printing to canvas from CVS and Costco to boutique shops.. We looked at four different canvas picture makers to see how they stack up against each other and against some more traditional alternatives. We found the print quality at all four uniformly good. While we picked one standard size of comparison, all of these companies offer custom services, from specialty sizing (we're fond of big panoramas) to filtering, retouching, photo restoration and more -- often for an additional fee.
Picture It On Canvas - This is one of the biggest makers of canvas prints. And you should take their posted price list with a large grain of salt since they frequently run advertised specials with price reductions of 50 percent or more from their published rates. If you want to use PIOC I definitely recommend waiting until they have a sale. Here's why: a 16"x 20" canvas will cost you $110. Add to that another $10 if you want a border. Another $10 for mounting hardware and a simple rear dust cover. Add $14.95 for shipping and you're up to almost $145, making this hands down the most expensive of the four services we looked at.
Canvas on Demand - They also offer discounts through Groupon and their own website. So for example, the last time we checked they were offering a 16"x 20" canvas for $39, marked down from $126.95, shipping included. The print included a color border and mounting hardware.
CG Pro Prints - This service is aimed at professional photographers, but amateurs can use it too. They don't offer big discounts through coupons, but they don't really need to. Pricing for that same 16" x 20" canvas is $28. The print does come with hanging hardware and a rear dust cover.
MyPix2Canvas - These folks also offer discounts right off the bat, but they aren't as deep as the competition. For example, a 16"x20" canvas with a color border will cost $85.53 plus $9.79 for their cheapest shipping. Even with a 30 percent off promotional code, that still only brings the price to $59.87 plus shipping. It does include both a rear dust cover and hanging hardware.
For the sake of comparison, you can order a 16"x20" photo print from Snapfish that's unframed for only $15, though a framed version, which is comparable to what you get on canvas, will cost you $55. A custom high quality print from a specialty lab like Modernage in New York can cost between $48 and $100 depending on the quality you want, and that's without any mounting or framing.
Bottom line, this is a great way to create personalized works of art that reflect you instead of an unknown artist. They let you keep your memories displayed where you can see them. But read the reviews, and check for coupons, promotions, and the fine print before you sing on for prints charming.
For more articles about technology with a Boomer perspective, visit In the Boombox