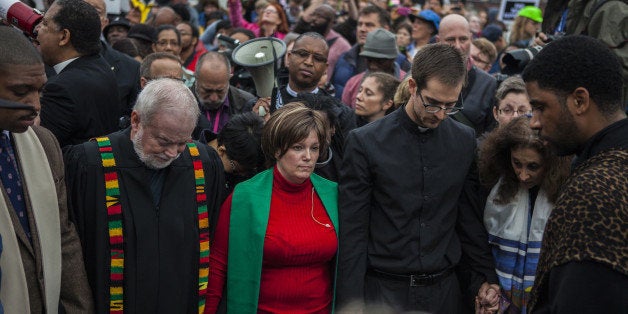 All week, people have bringing donations to Rev. Tommie Pierson's church in Ferguson, Missouri. They've provided hot dogs, hamburger patties, condiments, water bottles and first-aid kits. Usually, the food and other supplies would be for the poor and homeless, but these days Pierson is collecting for what he suspects will be an inevitable series of protests in the neighborhood.
"If Darren Wilson is not indicted, people are going to take to the streets, no question," said Pierson, pastor of Greater St. Mark Family Church.
Greater St. Mark is just a few blocks away from the site where Wilson, a white police officer, shot and killed unarmed black teenager Michael Brown this summer, igniting protests and a national conversation on race, violence and law enforcement. A grand jury is now deciding whether to indict Wilson, with the St. Louis County prosecutor's office saying an announcement may come as early as mid-November. Some activists have called for Wilson to be charged with murder, though jurors could decide on manslaughter or no charge at all.
To prepare, Pierson, who is also a representative in the Missouri state legislature, has been collecting supplies and handing out keys to the church. "We'll rotate to be open 24 hours a day," he said, with the goal of offering sanctuary amidst what could be another wave of demonstrations.
Faith leaders have played a pivotal role in Ferguson since Brown was shot on Aug. 9, offering their houses of worship as organizing spaces, joining marches and acting as intermediaries between citizens and police during a tense period that has included looting and accusations of police brutality. Last month, 20 religious leaders, including philosopher-activist Cornel West and Sojourners founder Rev. Jim Wallis, made headlines when they were arrested during demonstrations in Ferguson. Now, with the grand jury decision looming, local and national clergy are promising more action.
"We believe in community. We try to meet people's needs. This is an extension of that," said Pierson, who has readied his church, its fellowship hall and an adjacent abandoned school building -- altogether they could hold some 1,500 people -- to provide a place for prayer, respite and shelter. The church played a similar role during the earlier protests, and members have said the police raided the school at that time for being illegally occupied.
Greater St. Mark is one of 17 locations -- mostly churches -- organized under the auspices of the Metropolitan Clergy Coalition of St. Louis to offer ongoing services after the grand jury decision is released. Some places, such as the Central Reform Congregation in St. Louis, will be open 24 hours for prayer and reflection for the entire community. Others, like Pierson's church, are offering resources specifically for protesters. If any Ferguson schools close during demonstrations, Wellspring United Methodist Church pastor Willis Johnson said his church will be open to offer lessons, food and supervision for children.
"We are called to discern and name all systems, institutions, and processes that dehumanize black and brown people and that distort the purposes of justice, peace, and equality that we believe God intends for all people. In this work we do not seek to demonize police officers, but rather challenge and hold accountable a system of policing and criminal justice that stigmatizes black and brown people," the coalition's members, who represent 40 houses of worship in the St. Louis area, said in a statement. "We support and defend the rights of all, no matter their rhetoric or level of anger, to participate in non-violent protest."
Clergy from outside Missouri are also vowing to be there. The Rev. Michael McBride, founding pastor of The Way Christian Center in Berkeley, California, who has largely relocated to Ferguson since the summer, said he plans to be in town for the grand jury announcement. McBride also serves as director of urban strategies for PICO, a national network of faith-based community organizations, and leads the group's Live Free Campaign.
Dawud Walid, the Detroit-based executive director of the Michigan Chapter of the Council on American-Islamic Relations and a co-founder of #Muslims4Ferguson, said the latter network of spiritual leaders and activists had a representative on the ground in St. Louis and was preparing its response. A representative for Sojourners, the Washington, D.C.-based progressive Christian organization led by Wallis, said he is planning a national faith leaders' retreat in Ferguson in December.
"The role of clergy is to be with the people. There may be some who believe our role is to try and maintain peace and calm people down, and I used to subscribe to that. Now, I am getting to the place where I believe we have to be there in the belly of the beast to remind people that God is present with them in their pain and tears," said McBride. "Clergy and the faith community have to speak truth to power."