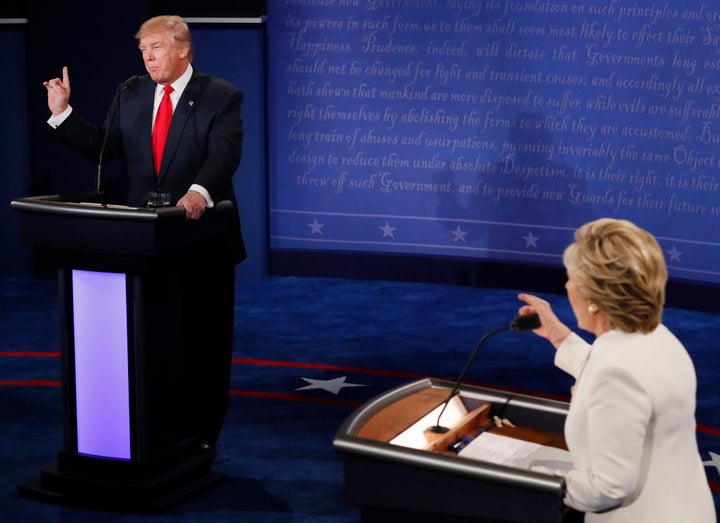 A majority of Trump supporters want more fossil fuels, like coal, oil and natural gas. Clinton's supporters, however, want to phase them out. Sixty-nine percent of Trump supporters say they favored more coal mining, while only 22 percent of Clinton supporters say the same. Sixty-six percent of Trump supporters would like to see more offshore oil and gas drilling, and 58 percent favor hydraulic fracturing for oil and natural gas. Only 28 percent of Clinton supporters favor offshore drilling and fracking.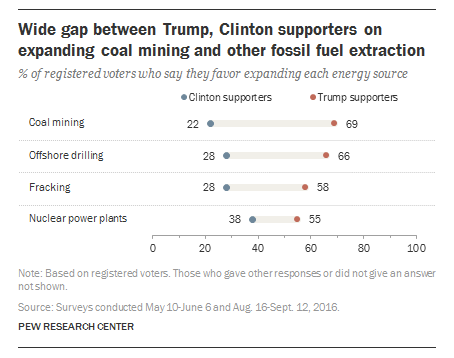 The candidates themselves are similarly split on these issues. Clinton opposes drilling off U.S. coasts and expanding coal as a major energy source; Trump supports both. Clinton also believes that burning fossil fuels is causing climate change, while Trump once said climate change had been "created by and for the Chinese in order to make U.S. manufacturing non-competitive."
Environmental issues were largely ignored during the three presidential debates and single vice presidential debate. Out of a combined six hours of heated exchange, only one question came up about energy ― accounting for about four minutes of the candidates' time on Oct. 9.
Trump said "energy is under siege by the Obama administration," touted "clean coal" and promised to revive the energy industry. Clinton discussed her plans to shift toward clean and renewable energy production, including wind and solar power, and to help coal workers transition to new jobs. She also referred to climate change as a "serious problem," although the candidates weren't asked directly about the issue in the debates.
In a rare spot of bipartisan agreement, supporters of both candidates overwhelmingly approve the expansion of solar and wind power. Eighty-four percent of Trump supporters and 91 percent of Clinton supporters say they favor expanding solar, while 77 percent of Trump supports and 88 percent of Clinton supporters think the U.S. should expand its use of wind power.
The Pew analysis was based on a survey of registered voters, which included 582 Clinton supporters and 488 Trump supporters.
HUFFPOST READERS: What's happening in your state or district? The Huffington Post wants to know about all the campaign ads, mailers, robocalls, candidate appearances and other interesting campaign news happening by you. Email any tips, videos, audio files or photos to scoops@huffingtonpost.com.
BEFORE YOU GO
PHOTO GALLERY
10 States That Burn The Most Coal