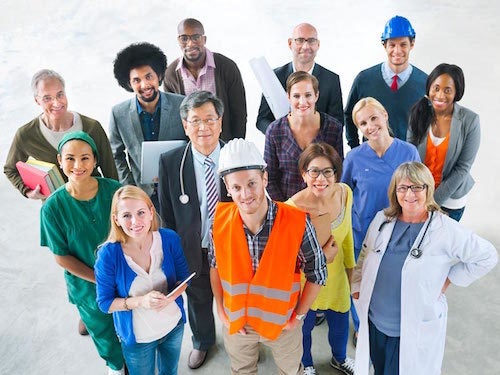 At the Flawless Foundation, we believe that creating a revolution around health and wellness will require all of our involvement. If we are to build a more effective system, all parties -- from government, to business, to local leaders, and healthcare providers -- need to be part of the conversation. As the leader of the mental health advocacy movement, Patrick J. Kennedy says, "the lives of Americans are counting on all of us."
When we see promising examples of collaboration, we like to shine the light on them, so we were thrilled to sit down with Mike Thompson, President and CEO of the National Alliance of Healthcare Purchaser Coalitions, and a thought leader on workplace health. The National Alliance is an umbrella organization for coalitions of employers from across the country, and its goal is to help these coalitions and their members drive improvements in health and value, and support innovation in the system. Their work is an incredible example of the synergy we can create when we bring together multiple stakeholders, as well as the real, tangible changes that can result. In our conversation with Mike, we learned about the many ways that the interests of seemingly divergent groups are, in fact, aligned.
The National Alliance believes we "can demonstrably improve the wellbeing of individuals and their families through and to the benefit of employers, communities and health systems." They see opportunities for alignment of interests between groups that we might typically think of as coming from opposite sides of an issue. For example, employers and employees: "Employers know now that the wellbeing of their workforce depends on how effective and committed they are to their employees," Mike said. At the same time, he noted that they, like employees, are concerned about rising costs: "The issue of affordability is real whether you're an employer or employee." When we can recognize that our interests are aligned, we can combine forces to advocate for change.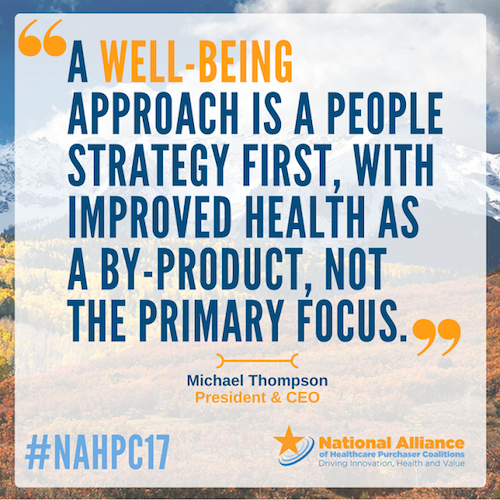 We often overlook that health is a very localized issue. "If you're trying to fix the healthcare system in the United States, it's hard to come up with a one-size-fits-all solution," Mike said. For that reason, the National Alliance works to make sure local interests are represented. Because it's a national organization that is made up of a diverse mix of regional coalitions from across the country, the National Alliance is uniquely positioned to help bridge the divide between the local and national levels in the health arena. As a national organization it has the influence to pressure health suppliers to make changes that can benefit both employers and employers, but because its members are regional coalitions, it receives input from community-level stakeholders who truly understand the dynamics and needs on the ground.
We all benefit from the sharing of best practices and strategies that drive innovation and increase quality and value in health. When we come out of our silos, we are better able to recognize our common goals and work collaboratively to achieve them. The National Alliance creates opportunities for its coalitions and their members to do this through convenings like the Mental Health and Wellbeing Summits they are hosting next month. As Mike noted, "we share strategies that can be implemented in business, but that complement what's done in communities." At the same time, we begin to look at health in a more holistic way, and Mike emphasized that in his work, the movement is toward a model of wellness that includes both mental and physical health.
The most important takeaway from our discussion with Mike was that, despite having different agendas across industries, regions, or sectors, ultimately, we all want the same thing when it comes to healthcare: a system of high quality care, that's accessible to all. At a time of divisiveness in this country it is especially inspiring to learn about pockets of effective and crucial work that is based on the shared values of unity and helping others. We believe these types of efforts, coupled with the activism of everyday citizens, will provide the creative, collaborative fuel to develop real solutions to our critical health crisis. The National Alliance is a shining star on this front and is a powerful example to emulate.
This post was published on the now-closed HuffPost Contributor platform. Contributors control their own work and posted freely to our site. If you need to flag this entry as abusive,
send us an email
.