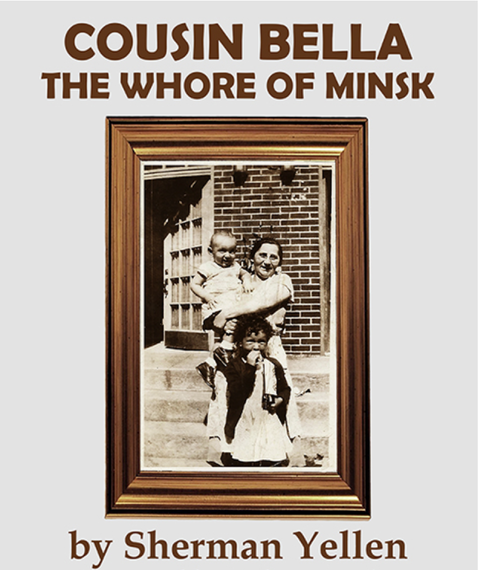 Cousin Bella has her book at last - and my long ago promise kept.
Sometime in the early 1970s, my Cousin Bella, an elderly relative of my mother's, asked to meet with me saying," I got a life story to tell." I winced. As a writer I find most lives interesting but few can sort out the truly beguiling from the deeply boring in their own experience. And I feared that this was about to be an afternoon of the relentlessly tedious - a story of a drab life sewed together stitch by mind-numbing stitch by this former seamstress, a plain-looking old woman who might be cast in a film's crowd scene of arrivals at Ellis Island, but never as a leading lady, not even as a featured player. Nevertheless, I accepted Cousin Bella's invitation to meet and listen to the story of her life. She had been kind to me when I was a young boy; alone among my relatives she never asked that deadly question of a child, "So how is school?"
I knew that she was an immigrant from Czarist Russia who had spent her adult years on the Lower East Side of Manhattan, long married to a furniture salesman, silent Cousin Max; a childless woman earning her living making slipcovers for other people's sofas in the Bronx and Brooklyn. Was she going to tell me that she had once shoplifted a lipstick from a Woolworth's? Or that she had had an affair with a kosher butcher to relieve the boredom of her days with her silent husband of fifty years? None of this felt promising to the busy, impatient forty-year-old man that I was - a writer of screenplays and librettos for musical theater.
And so I sat and listened as family duty turned to fascination, taking notes as she told me about her life. I kept telling myself "This can't be. No. This doesn't happen to people I know. Not to people from my family. Certainly not to people who look like Bella." I had just heard an old woman tell how as a young girl she had been sold into prostitution by her avaricious stepmother - rescued from a Minsk brothel by my fierce grandmother - and whose life in America included the theft of a child, a terrible scandal, a happy marriage, and enough deception and desperation to fill two Dostoyevsky novels.
After Cousin Bella was done speaking about her past - one that she recalled with precise, enviable detail - I thanked her and assured her that I would get around to writing it as soon as I had the time. The first thing I did was call my mother - a woman who worshipped at the altar of truth - and go over the details of this most remarkable story. When Bella's story was confirmed by my mother, and then reconfirmed by my cousin Serena, who had heard it all from her own father, my Uncle Frank, I put my notes away for "later." Later is too often a synonym for never. My excuse was that I had a family to support as a screenwriter and I did not imagine that Cousin Bella's life - remarkable as it was - would help pay the bills. Then, suddenly, with the blink of an eye (otherwise known as the passage of forty years) I was no longer the young relative listening to an old woman's story but a man as old as, if not older than Bella was when she recounted her life to me, and I now understood that need to have her story told - to have one's life with all its passion and its pain rescued from oblivion through the magic act of words. And so this week Amazon has released my small book, "Cousin Bella -- The Whore of Minsk" as a Kindle eBook and an unabridged audiobook narrated by Robert Armin, and I feel relief that, at last, I have kept a long delayed promise. All of us want to leave a record of our lives for future generations - not many of us make it out of the High School year book into the history books but everyone has a story to tell although few have lived with the drama, the deception, the heartbreak, and the strength to survive shown by my remarkable cousin.
As an addendum to Cousin Bella's story, perhaps I should mention that, with two Aunt Idas and one Cousin Ida in my family history, I took the liberty of changing my old cousin Ida's name to Bella to provide her with her own unique literary identity and to avoid confusion with the other Idas in my more complete family history. Since Bella means "beautiful," I trust that my otherwise homely old cousin would be flattered by the name change.
When I sent the last draft of the book out for comments from the few literary figures I know I received the following from Christopher Davis, a distinguished novelist, teacher and literary critic. It sure brought joy to this writer's day. He wrote and I quote:

"With his playwright's precise ear for the nuance of the spoken word and a novelist's gift for the colors, smells, and sensations of another era, of the things of the world as they actually were, Sherman Yellen has created a small masterpiece in a memoir called, wonderfully, Cousin Bella, the Whore of Minsk.
Startlingly funny in its frankness ("That big mouth of hers could suck a regiment dry,") Yellen's courageous, beautiful-ugly whore, his indomitable iron-tough grandmother who saves her, her adoring simple-hearted husband who protects her, the child she steals, worships and raises, the story that resolves itself in a catastrophe fit for melodrama (in fact, these true events made it to the stage of New York's Yiddish Theater), Yellen has given us the Jewish-American immigrant experience more vitally and persuasively than any writer since Isaac Bashevis Singer:
"'You want trees?' Bella asks of those who leave the worn-out Lower East Side for the greener pastures of Flatbush and the Bronx, 'go back to Russia' . . . Who needed nature. Nature was for the goyim." Christopher Davis.
Sherman Yellen's short story, A CHRISTMAS LILLY, originally introduced in the Huffington Post, is also available as an Amazon Kindle eBook and as an unabridged audiobook narrated by Robert Armin. Sherman's forthcoming memoir SPOTLESS - a book that deals with his New York boyhood in the 1940s - will appear later in 2014. He admits that the title SPOTLESS is not about his character but refers to his mother's kitchen floor.