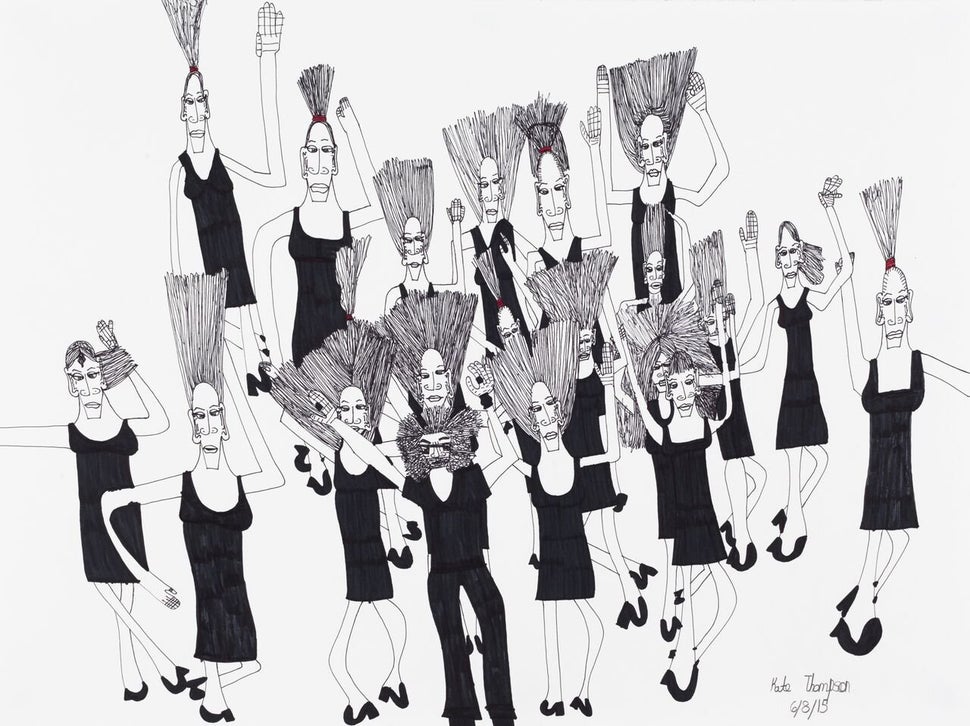 "I like to dance. I want to dance. I have to dance.
When you do the stage, you want to dance.
It makes me feel good, it makes me feel better. 
Dancing to have fun.
Power of dancing when you do have fun.
I want to do a better dance.
It makes me feel pretty, it makes me feel good.
Wonderful powerful good."
-Yolanda Ramirez, Creativity Explored artist 

Every Friday, during the last hour of the work day, Creativity Explored hosts a dance party. For the majority of the week, the space operates as a studio space for artists with developmental disabilities to create, exhibit and sell their work. However, for one hour every week, San Francisco-based Creativity Explored shifts gears entirely, transforming into a carefree, inclusive event revolving around rhythm and movement -- one that would probably benefit most work environments.  
The dance party has been an established aspect of Creativity Explored since before most of the current staff began working there. Not everyone participates; some artists sit on the sidelines or jump in for a song they love; others wait days, weeks or even years before gearing up to join the dance.
First, the party begins with a movement circle, in which every dancer enters the middle and performs a certain move or stretch, with the rest of the circle quickly following suit. Next, there is a freestyle dance-a-thon, where all the true-blue dance aficionados can really break it down. Finally, the group finishes off the week by holding hands, closing their eyes, and dancing together. Each dance party is a temporal event unique unto itself. It's a repetitive ritual that's consistent but never mundane.
And for the artists of Creativity Explored, like many self-taught and visionary artists, repetition is at the core of their artistic practice.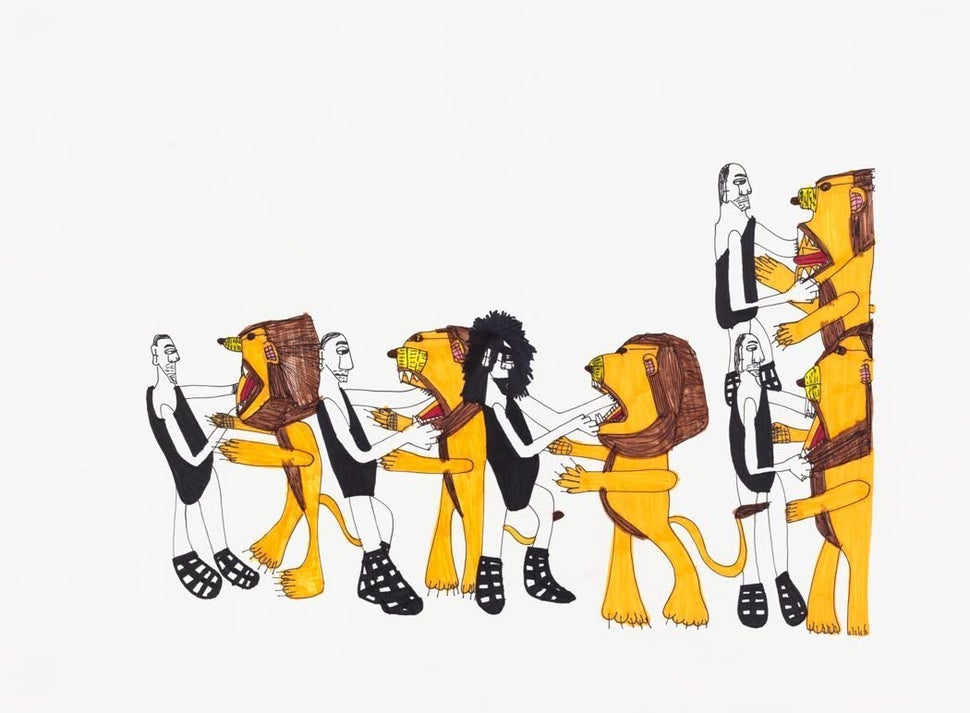 "It makes me feel carefree," Creativity Explored artist Joseph "JD" Green told The Huffington Post of the weekly tradition. "It makes me think of movement, the body. You can do things with your arms and legs at all these different angles. It's fun to draw, like you can really feel the movement."
Inspired by the uplifting power of getting down, Creativity Explored visual arts instructors Leeza Doreian and Mara Poliak have curated an upcoming exhibition on the subject, aptly titled "Dance Party!" 
Both Doreian and Poliak were independently roused by the energy cultivated through the weekly dance parties, a practice they consider, as Poliak explained to HuffPost, "a central axis upon which Creativity Explored spins ... It affects their identities, how they see themselves as people and as artists."
The central touchstone of a dance party offered a unique opportunity for the diverse roster of artists to riff on a shared theme. This is especially unusual given the undeviating nature of most Creativity Explored artists' work. While many fine artists in the gallery circuit emphasize evolution and experimentation as core aspects of the artistic process, many self-taught and visionary artists find an artistic beat and stick to it, for life. 
As a result, it's difficult to find a unifying concept for a Creativity Explored show, one that appeals to those who create personal, representational drawings and repetition-based, abstract systems alike. "Not everyone works figuratively, not everyone wants to draw people dancing," Doreian explained. "So we started thinking: how do we make the container bigger and expand beyond just our dance party? We started thinking of the ephemera and the lights and the clothes people wear and the pop culture associated with it all."
J.D. Green, for example, who feels best drawing creatures, animals and people, created four mixed media pieces inspired by Oakland-based hip-hop, funk and punk group The Coup. In one work, Green rendered a still from the music video for "The Guillotine," as seen through an old fashioned TV set. The old school television directs attention to the near-extinct art of the made-for-TRL music video in today's YouTube age. 
Kate Thompson opts for a more fantastical approach with her detailed line drawing "Lion Tamer Dance Party," which depicts stone-faced cavemen and emotive lions engaging in a stream of dance duets. The lions' expressions vary between enthralled, terrified and entertained, capturing the range of gut feelings you'd expect to experience in a prehistoric hoedown. 
For those artists, however, who prefer not to work with figuration, Doreian and Poliak suggested taking inspiration from the many patterns, textures and abstract visions that manifest themselves, somewhat sneakily, at dance parties. The overwhelmingly popular example: disco balls. "We have a lot of work that is just different representations of disco balls," Poliak said, "wildly different, some very geometric and deconstructed." 

Of all the artists on view, however, only one diverges from the visual arts into the performative. Her name is Yolanda Ramirez. The artist, who normally works with food-centric drawings and needleworks, doesn't usually participate in Dance Fridays. But when a particular song stirs her, she jumps up from her seat and mounts an impromptu dance that stops others in their tracks.
For many of the Creativity Explored artists, dance provides a social outlet and a safe space for community building. But for a select few, dancing is a form of expression in itself. "When she dances in the studio she really is performing," Poliak said. "She demands attention and she is captivating. Both Leeza and I have seen her dance over the years and thought, if only there was a way to share this with a wider audience. One of the things she is is a performance artist."
"It's really oozing out of her pores, that artistry," Doreian continued. "It's very moving for both of us. We both have concerns about not wanting her to look like a spectacle but like an artist. There were some things that had to be considered before making the decision to feature her work as a performance artist that wouldn't apply to other people."
For her two performances, filmed at San Francisco's Roxy Theater, Ramirez moves to a Tango song by Otros Aires and Nina Simone's "I Put A Spell On You." The videos, featuring Ramirez alone on a jet-black stage, are bewitching and disarming, like the performance that followed "Llorando" in Lynch's "Mulholland Drive" that never made it into the film. Ramirez's improvised gestures flow from her fingers to her face to her knees to her feet. She switches characters, giggles, hides behind her hands, jiggles her watch. She's clearly swept up the moment in a way that, for most of us, is only a cliche. 
The multimedia exhibit offers the chance for visual artists to explore the overlap between dance and art, the body and the imagination, improvisation and careful repetition. Despite their differences, both dance and art offer the artists of Creativity Explored an opportunity to communicate in means outside the standard practice -- language. "They're both forms of creative expression, they both exist out of word-based language," Doreian said. "Human expression can be very verbal, and both art and dance offer a different way of being in the world and creating."
"Dance Party!" runs from Oct. 8 to Nov. 22, 2015 at Creativity Explored in San Francisco. 
PHOTO GALLERY
Outsider Art Fair Preview