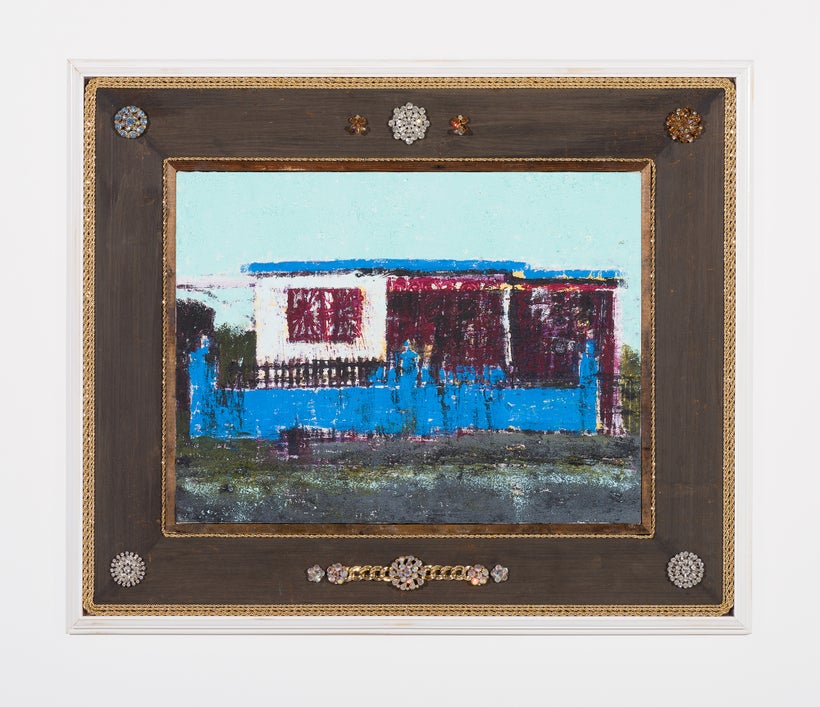 Bigger is not always better, although large scale artwork is more attention-grabbing in a fiercely competitive, commercialized art universe. Enormous art fairs, expansive architectural white cube galleries and monumental fabricated art works made in factory-like studios take center stage today. So it is refreshing to find a gem which goes against the trend.
Puerto Rican born, Enoc Perez and Carlos Rolon/Dzine collaborated on six poignant small works for an installation at Chimento Contemporary's small, shoestring gallery space. Although both artists are known internationally for large scale works at bigger galleries and museums, this scaling down is an interesting reminder of the power of intimacy.
Perez is known for monumental, evocative images of modernist architecture, in which he undercuts the utopian dream embodied in architectural triumphs - like One World Trade Center - with a sense of instability about the future. The modus operandi for his work is a fascination with architecture as the embodiment of memories and dreams filled with bright promises but no certainty. Perez is known as a painter "who didn't use a brush" - drawing on the Warholian legacy of printmaking and exhibitions which also reflect the architecture of the gallery space.
In this new series, created for Chimento Contemporary (in 2016) Perez returns to using a brush in small Vermeer-size canvases (35 1/2 x 29 1/2 inches) of humble Puerto Rican architecture. The images conjure emotionally-charged memories that Latino immigrants carry with them as they pursue the American dream. These unpretentious paintings are named after cities in Puerto Rico, and combine abstract elements with representations of small houses and fences in splattered fields of thick paint in primary colors, which evoke the haunting feeling of a distant past.
Perez's dream-like canvases were sent to Carlos Rolon, who made hand-crafted frames from reclaimed wood, embellished with decorative American signs like "Chevrolet Bel-Air" or adorned with glitzy costume jewelry, the latter of which symbolizes success to many immigrants. Rolon is known for ornate sculptures and intricately crafted paintings that draw from both American pop culture and Latin craft to explore immigrant identity and aspiration - all the while calling the crass notions of luxury they consume into question.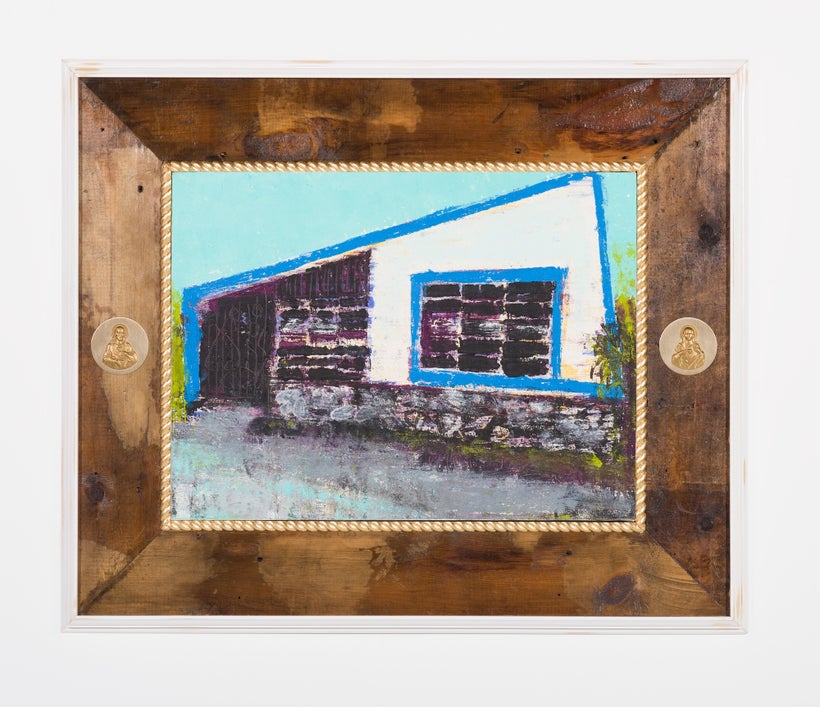 Perez and Rolon share an aesthetic sensibility rooted in their cultural history - which bridges their American art education and study of art history with traditional Latin craftsmanship - and their empathy for Latino immigrants, who are displaced in a world of American commercial values which sell bright promises but hold no certainty. These intimate artworks pack an emotional punch because they create a tender vision of a shiny present haunted by a somber past. The small scale actually creates deeper empathy for the uncertain nature of the immigrant dream.
Eva Chimento calls this collaboration "an act of blind trust" because neither she nor Perez had seen the completed work by Rolon, until it arrived at the gallery for them to install. This touching backstory reveals the integrity of both the artists and the gallerist, who are internally- motivated by their love of art - a rare thing in a money-driven art universe increasingly dominated by externally-motivated power-players. While Perez is the better known artist, it clearly invigorates his practice to collaborate with Rolon, a compatriot artist friend who shares his socio-political concerns and history. Perez and Rolon are currently showing more collaborative work in an exhibition in their Puerto Rican homeland at Roberto Paradise gallery in San Juan.
Where: Chimento Contemporary, 622 S. Anderson Place #105, Los Angeles, CA 90023
When: November 5 - December 17, 2016
This post was published on the now-closed HuffPost Contributor platform. Contributors control their own work and posted freely to our site. If you need to flag this entry as abusive,
send us an email
.