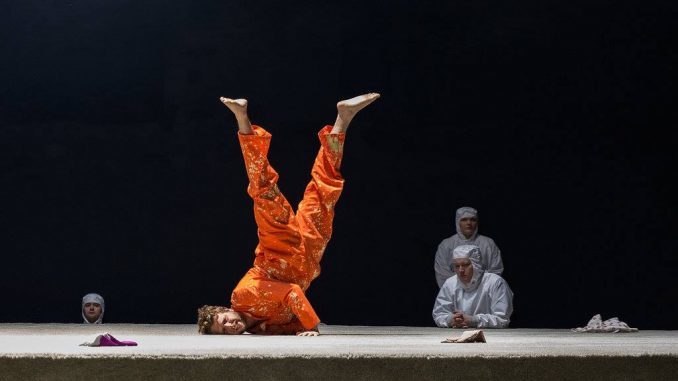 Curtis Opera Theatre's inspired new production of the John Adams/Peter Sellars opera Doctor Atomic was a stunner in its two performance run earlier this month. Stage director R.B. Schlather reconceived a powerfully scaled down production in the Kimmel Center's intimate Perelman Theater in Philadelphia in sharp contrast to the famed previous stagings at San Francisco Opera (2005) and the Metropolitan Opera (2008) featured elaborate designs and sonic dimensions that depicted the 1945 first atomic bomb test site at Los Alamos, New Mexico.
Schlather and scenic designer Paul Tate dePoo III have a raised cement disc that takes up most of the Perelman stage, gone is the 40s period cloths and interiors of the previous production, not to mention the menacing replica of the A-bomb that floated over the Met stage. Instead Schlather devises an arena for potent physical theater that facilitates a more kinetic, evocative and less literal adaptation.
The 32 -member chorus files in through the aisles of the theater and surround the cement platform then move to the front and sing about the cold science of nuclear fission. Dr. J. Robert Oppenheimer (Baritone Jonathan McCullough) claws his way across the cement disc, as Adams' themes heat up with orchestral chaos and Oppenheimer writhes out of his orange hazmat suit, like a snake shedding its skin.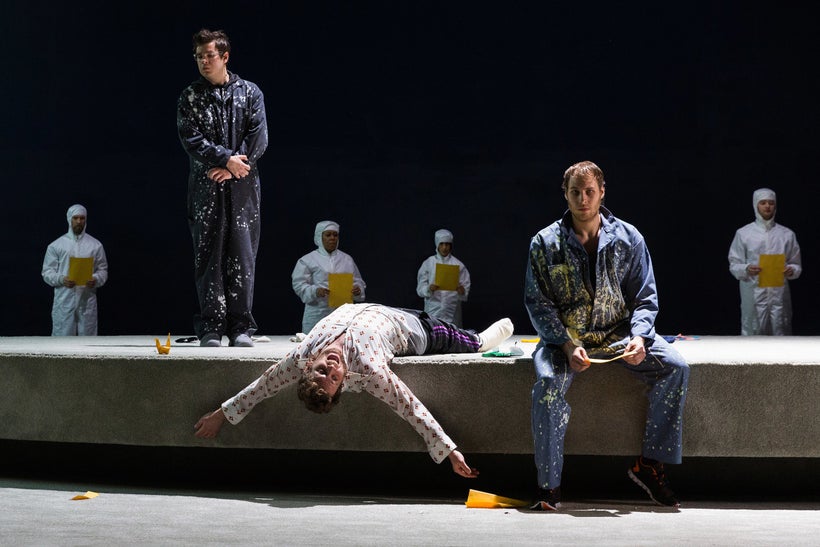 Oppenheimer and physicist Edward Teller (bass-baritone Tyler Zimmerman) debate about the moral implications for and against the test and its possible outcome. Between the sung bickering, Sellars laces in universal truths with texts from John Donne and Bhagavad Gita ecumenical texts. Zimmerman's makes the physicist a jumble of nervous tics and maniacally fantasizes about a nuclear chain reaction, but is voice rightly is strong and reserved.
As propulsive as Adams score is, the intimate scene between Oppenheimer and his wife Kitty, couldn't be more dynamically tender. McCullough and mezzo-soprano Siena Licht Miller have instant vocal chemistry. Miller first appears in a blazing red mini-skirt and golden center soprano and sings makes her way to the edge of the disc and sings quotes of Baudelaire as Oppenheimer climbs up her body and they escape in a love scene unapologetic in its erotic intensity.
Periodically, thick smoke, metallic confetti and black balloons drop from above as the scientists and officers continue to argue over everything and a huge amount rains down as the whole chorus joins in with a brawl as Act I comes to an end, but not before Oppenheimer returns with 40s crystal microphone and delivers the opera's shattering aria "Batter my Heart" (Three person'd God). McCullough's voice just continues to bloom in passionate tones. It caps off his altogether mesmerizing performance. Equally stunning is Miller's solo at the beginning of as Kitty staggers around the stage singing about the "night in the soul" (lines from poet Muriel Rukeyser) as she takes slugs from a bottle of Jonnie Walker Red and contemplates the barbarism of the Manhattan Project.
Who could not be moved to profound thought about its implications for humanity as Adams music suspends time as Schlather has them file around the stage and back into the aisles, murmuring collective as the Adams' score rumbles and spirals down .
Kudos also go to Curtis conductor Timothy Myers and the Curtis Symphony Orchestra detail and orchestral precision in bringing translucence to Adams' quantum musical complexities, these musicians crystallize, the sheer force of this propulsive score, as well as its hypnotic lyricism.
Elizabeth Braden, (choral director of Opera Philadelphia) directs a mighty chorus of Curtis opera singers and guest artists delivering what stands as Adams' most lyrical choral music despite or because of the theme.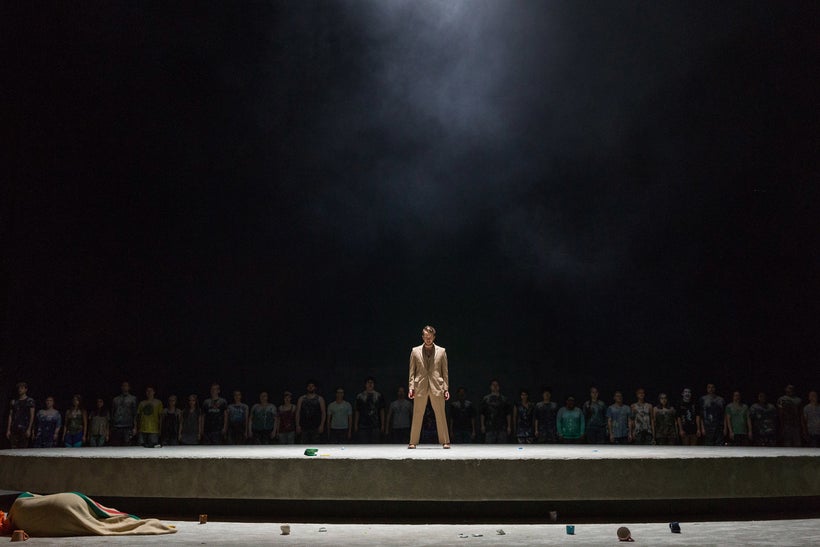 The final scenes that depict the countdown to the detonation, with the chorus and leads circling the disc, slowly, deliberately, so we take in who they are and what is at stake for each of them as the detonation countdown gets closer. An arresting movement meditation by Schlather as we contemplate what was at stake then for the people of Los Alamos and now, for us as well as the nuclear warfare is all the rage again to batter our hearts, minds and souls.
For information about upcoming performances of Curtis Opera Theatre, Curtis Symphony Orchestra, recitals and live-stream events at the the Curtis Institute of Music check http://www.curtis.edu/
This post was published on the now-closed HuffPost Contributor platform. Contributors control their own work and posted freely to our site. If you need to flag this entry as abusive,
send us an email
.