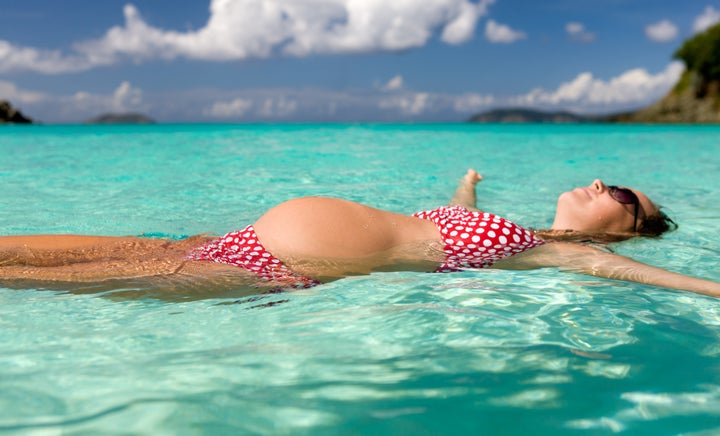 Pregnant women are often told not to invest too much in maternity clothing because they won't be able to wear most of it after their pregnancy, which is true. Instead of buying an entirely new wardrobe during pregnancy, many women turn to online consignment shops like Swap.com and ThredUp to find maternity wardrobe staples at wallet-friendly prices.
But, there are some clothing items you'd probably prefer to own first-hand, like swimwear. Maternity swimsuit shopping is its own personal kind of hell, but there are places to find flattering styles ― from plus-size maternity to one-piece looks you won't hate to wear. 
Some tips to keep in mind when shopping for a maternity swimsuit: 
Your old two-piece swimsuit might work just fine, if you don't mind showing your belly
Take a spin through the plus-size section for swim tops that'll give you the room you need
Consider a two-piece style instead of a one-piece look for quicker bathroom breaks
Halter-top styles are ideal for chest support, coverage, and will give you room to grow
Look for tops and bottoms with adjustable sizing and side ties ― they'll grow with you
Whether you're planning a spring-break getaway or a last-minute babymoon ahead of your due date, we've got your swimwear choices in the bag. 
Below, 18 stunning maternity swimsuits that don't look like maternity swimsuits: 
HuffPost may receive a share from purchases made via links on this page.