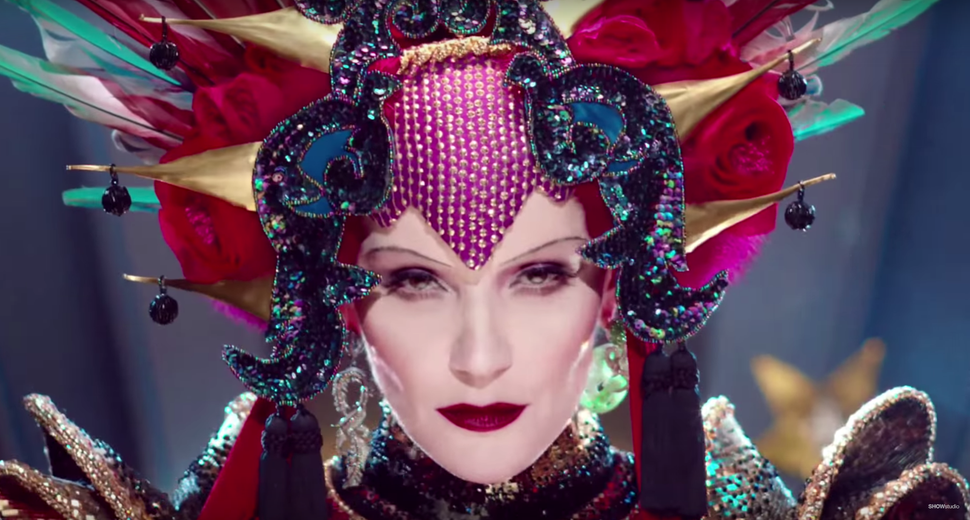 Daphne Guinness is a lot of things -- a muse, a street-style star, an artist, a couture collector, and the granddaughter of The Honorable Diana Mitford. 
Her penchant for wearing high fashion duds by designers like the late Alexander McQueen, whom she considered a friend, and Gareth Pugh, made the black-and-white-haired Guinness a fixture in the fashion world. In fact, her wardrobe is so admired that it was the subject of an exhibition -- which Guinness helped curate -- at The Museum at FIT in New York City from 2011 to 2012.
It should also be noted that Guinness, who was born in London, has been surrounded by art her whole life. Growing up in both the U.K. and Spain, her mother was a muse for artists such as Salvador Dalí and Man Ray. 
Now, the heir to the Guinness brewery fortune is ready to show the world who she really is. "I've been a musician probably all my life," Guinness told The Huffington Post over the phone earlier this month, adding, "This is the real me."
At 48, the Honorable Ms. Guinness (yes, that really is her formal title) has just released her first album, "Optimist in Black," which was produced by David Bowie collaborator Tony Visconti. It's comprised of 14 original tracks that echo the psychedelic sounds of the 1960s and classic rock of the '70s; Guinness counts everyone from Bach to Bob Dylan to ABBA and Radiohead as influences, among a long list of others. That being said, she proudly confirmed that every song on her album is an original. 
"That's pretty difficult these days," she told HuffPost. "It's because I had real people with me and because I wrote them myself. We haven't sampled anything. These are all original chord progressions and original drum beats." 
For Guinness, the relationship between visual art and music is important, and she credits her time in the visual world with helping her understand the way artists think, "because it's quite different from the way I think," she said. 
"My ultimate goal," she added, "is to get sound and vision undivorced, because I think there are too many people in between sometimes." 
Judging by her videos, she's well on her way to reaching that goal. For instance, there's the mesmerizing Nick Knight-directed "Fatal Flaw," which brings to mind Grace Jones' "Corporate Cannibal." Its striking kaleidoscope imagery makes it almost impossible to look away, while the hypnotic tune keeps the viewer listening. 
Then there's the colorfully opulent "Evening in Space," directed by photographer David LaChapelle (whom she considers her brother -- "I think we were separated at birth.") Music legend David Bowie, who died in January of this year, also added a dash of his Starman magic to the video. 
"I'm so grateful for David for taking [the video] into a different realm," Guinness told HuffPost. "That's how he imagined it. I didn't ask him, he wanted to do it."  
Though she's had the chance to work with talented and iconic artists while pursuing her passion, Guinness admitted that the road to releasing "Optimist in Black" wasn't without its obstacles.  
"I had a big depression when I finished the album, and I couldn't listen to it for quite a long time. I didn't want to release it at all," she said. "I thought, 'Fuck you, fuck the world.' But then I think it's an important process to -- especially when you've got such great artists involved -- to honor the songs." 
For Guinness, the songs are a sort of social commentary, written through a poetic lens. Lyrics like "Many marionettes / Dripping from your fingers / Grinning, mesmerized / The foolish ones, they linger offer (from "Marionettes) and "I spent an evening in space / Man, feel like an alien / Far from ecstasy / In a parallel reality" (from "Evening in Space") offer plenty of subtext about living in a world so obsessed with money and keeping up with appearances. 
A little bit of reading between the lines surfaces themes that everyone can relate to -- interacting with someone who's just on another level, trying to prove a point that no one understands or even just trying to live authentically. 
But the songs aren't personal, Guinness explained. "It's not about me, it's about what I've observed," she said. "I hope I've been able to obscure myself enough out of these songs that they are universal." 
"Optimist in Black" is available now on iTunes, Apple Music and Spotify. 
BEFORE YOU GO
PHOTO GALLERY
Daphne Guinness