AT&T launched its new internet TV streaming service, DirecTV Now, on Wednesday — and traditional cable providers should be worried. 
All DirecTV Now requires is an internet connection to stream live TV to a computer, smartphone, tablet and streaming devices.
A clear advantage of the service, at first glance, is that it kicks cable's ass when it comes to pricing. Currently the new service offers four tiers of channel bundles ranging from $35 to $70/month (there's currently a limited-time $35 promo offer for its second largest plan, Go Big, with more than 100 channels that will eventually run for $60/month). HBO and Cinemax are offered as add-ons for $5 each.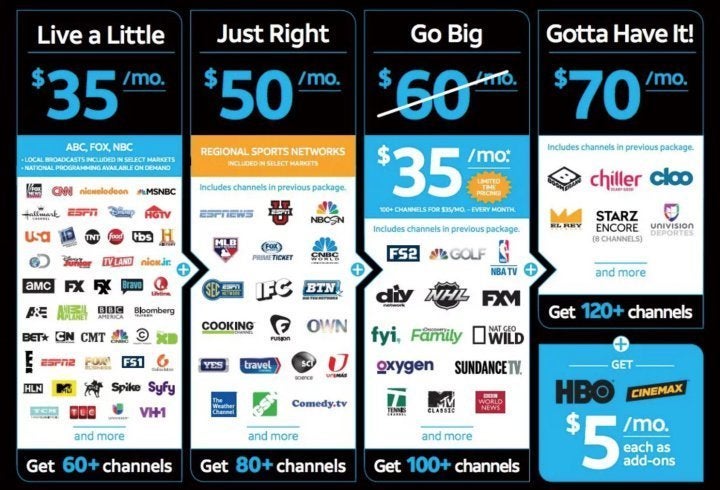 DirecTV Now has a lot to offer, but some of the service's offerings might make one say, "Hmm."
Live TV programing from ABC, FOX and NBC is included in all four plans, but it's only available in select markets. There are some conditions for watching NBC in particular — subscribers can only watch it from a browser, not on "streaming devices or Apple TV." Again, "Hmm."  
Less perplexing, but also notable, is the fact that the service doesn't offer programing from CBS (or Showtime), so if "The Big Bang Theory" or "NCIS" is your thing ― well, sorry about that. 
It feels a little like AT&T rolled the service out prematurely. While it works, it definitely feels unfinished. For instance, though there are some on-demand shows and movies available, there are no DVR capabilities to record favorite shows.
AT&T says that feature will come in 2017, but DirecTV Now's closest rival, Sony's PlayStation Vue, already offers recording options. Customers would have to catch a program live, or wait until an episode is available in the on-demand library. Judging by the library's current selection, that doesn't seem to be a quick process. For example, "Westworld" is available on-demand, but Episode 6 is the newest episode listed — the show is about to air the 10th and final episode on Sunday night. 
If you want to stream to a television, the service works with Amazon Fire, Apple TV and Chromecast ― for Android only ― which means iOS and Roku users are out of luck for now.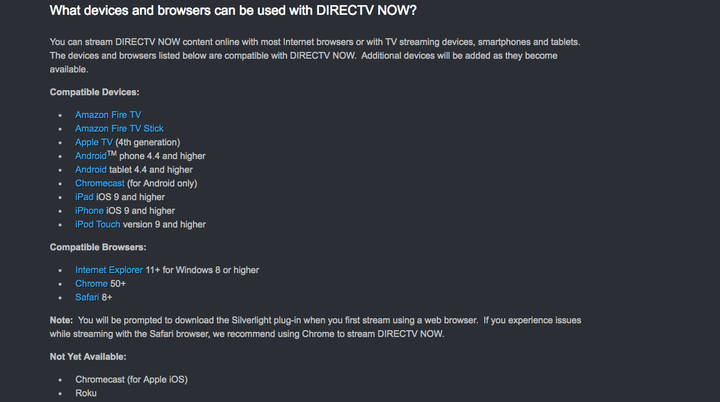 For sports fans, NFL Sunday Ticket and the Red Zone aren't offered. 
There's no 4K video or 5:1 surround sound audio.
You can only stream from two devices at the same time, which limits use in larger households. 
DirecTV Now is not perfect ― in fact, it's far from it — but the prices are good and it seems like its poised to get better. Plus, it's the only place you'll find an all-Taylor Swift channel, so that might swing you either way. 
BEFORE YOU GO
PHOTO GALLERY
12 Highest-Rated Movies on Netflix