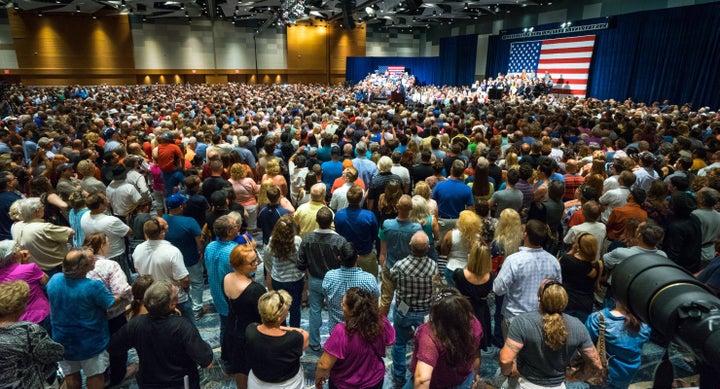 Despite Donald Trump's assertion that the crowd at his Saturday campaign event in Phoenix was the largest of any presidential candidate so far in the race, all other estimates put the number of attendees significantly below what the Trump campaign said.
The campaign moved the rally from the Arizona Biltmore hotel to the Phoenix Convention Center to allow more people to attend. When Trump arrived at the podium, he claimed the crowd was larger than those at Sen. Bernie Sanders' (I-Vt.) presidential campaign events.
"This blows away anything Bernie Sanders has gotten," Trump said.
In a tweet, which has since been deleted, Trump said he was "[s]peaking to 20,000+ patriots in Arizona." A post on his Facebook page claimed 15,000. After the event, a campaign press release also had the crowd at 15,000 and called the event "the largest campaign event of any presidential candidate this cycle."
Trump, who is now leading opinion polls in the Republican presidential primary race, has a theory on why no one agrees with his estimates.
This isn't the first time Trump's crowds have come under question. After his announcement speech last month, a Hollywood Reporter article said Trump paid audience members $50 to cheer for him.