Blockbuster season has begun, but as the news about Donald Trump's presidency seemingly continues to get worse, you may be thinking that the country could use real galaxy guardians or an unbelievably fast car to take us far away from here.
But Stephen Colbert actually went the opposite route on "The Late Show" last night during his monologue, imagining the Trump scandals as perfect material for a summer blockbuster.
Focusing on the recent scandals which have involved (long breath) Trump firing FBI Director James Comey amid the Russian-collusion investigation, Trump threatening that he's been secretly taping conversations in the Oval Office and Trump leaking highly classified information to the Russians, Colbert envisioned Trump as the star of a dark sequel.
Mentioning an Axios article claiming that Trump might try to have a "huge reboot" within his staff given all the problems, Colbert launched into his movie pitch.
"Yes, it's yet another 70's reboot ... 'Watergate 2: Resign Harder.' This summer, he is a crook," said Colbert.
He then continued, "Although, to be fair, Nixon at least attempted a cover-up."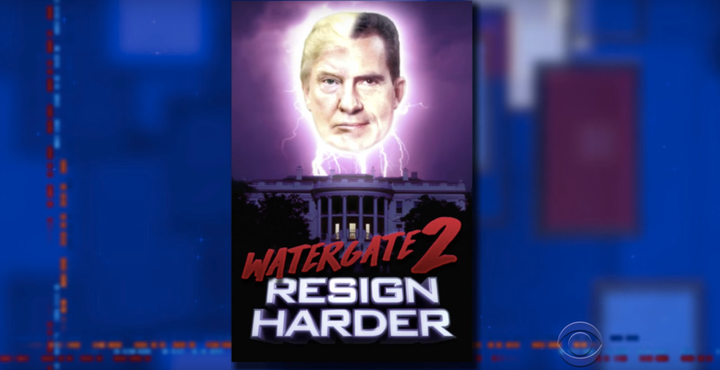 Colbert had another string of jokes immediately following this.
The late night host examined White House Press Secretary Sean Spicer's decision to avoid all questions about Trump's claim about Oval Office recordings with iterations of, "The president has made it clear what his position is."
"No, we know he's screwing the country," Colbert responded, "but he hasn't made clear what the position is. Is it missionary? Is it doggy style?"
Making up (presumably) a politically-related sex position, Colbert joked, "Sounds like he's pulling a reverse-Constitutional."
This Trump blockbuster has intrigue, scandal and, apparently, sex. No wonder more than 60 million people voted to watch this.
BEFORE YOU GO