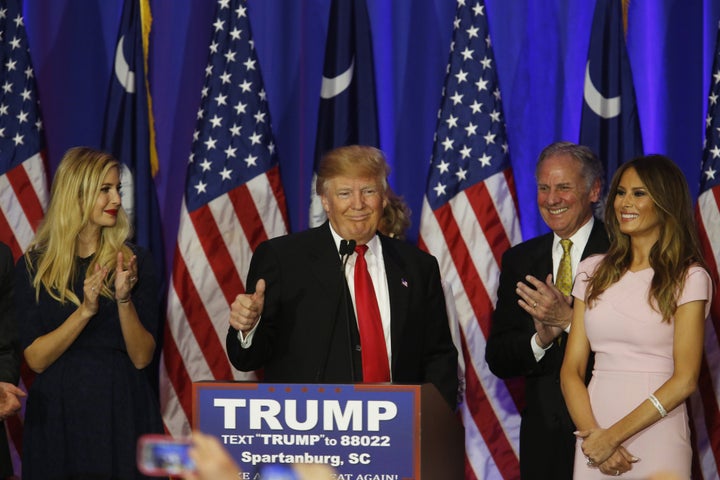 Donald Trump said his wife Melania and daughter Ivanka have asked him to "act presidential," but he is having trouble listening to them.
"My wife and my daughter Ivanka said to me, 'Act presidential! Act presidential!'" Trump told supporters at a rally outside Phoenix, Arizona on Saturday. "Like in the last debate, I acted presidential, OK? I didn't hit little Marco and I didn't hit lyin, lyin, lyin Ted."
"I didn't wanna hit 'em -- I wanted to really impress my daughter and my wife," he added.
Trump did indeed refrain from personal attacks against his rivals in the March 10 debate, though they also treated him with unusual civility.
But the Republican establishment out to stop Trump increasingly sees his vulgar remarks and theatrical demeanor as his biggest weakness with voters. Earlier this month, veteran GOP strategist Karl Rove told power brokers at a reclusive Georgia retreat that turned into an anti-Trump planning session that voters have trouble viewing the real estate mogul as "presidential."
Trump appeared to concede on Saturday that he has trouble conforming to this traditional standard of presidential behavior, but implied that it was to voters' advantage -- since it would make him more likely to stand up to companies that offshore American jobs.
In a colorful, meandering bit, Trump described the "unpresidential" way he would threaten the air conditioner manufacturer Carrier with a 35 percent tariff if it did not return its production to the U.S. The company, which reported a $7.6 billion in profit in 2015, announced in February that it was moving the jobs of 1,400 workers at an Indianapolis plant to Monterrey, Mexico.
"I wanna do it myself. I know it's not presidential. It's not presidential for the president of the United States to call up the head of Carrier, 'Hullo this is the president,'" he intoned, speaking the imaginary dialogue in a goofy voice. "But I don't care. It's so much for fun for me. I love doing it. Please don't take that away from me!"
Trump continued: "Every single air conditioning unit that you make, as it crosses the border … we're gonna put a 35 percent tax on that unit and I hope it works out well for you folks!"
Trump added his usual assurances that after threatening Carrier with a tariff, he would be able to withstand the lobbying assault they would launch against him because he does not rely on their campaign donations.
"I don't give a damn for them, folks," he said. "I care for you."
The discussion of trade was also notable for Trump's mockery of Republican critics who say his stance on trade is not conservative.
"You know, Jeb Bush would say, 'He is not a conservative,'" Trump said, imitating a robotic voice. "I'm conservative folks, but I'm also like, smart -- you know, smart."
BEFORE YOU GO