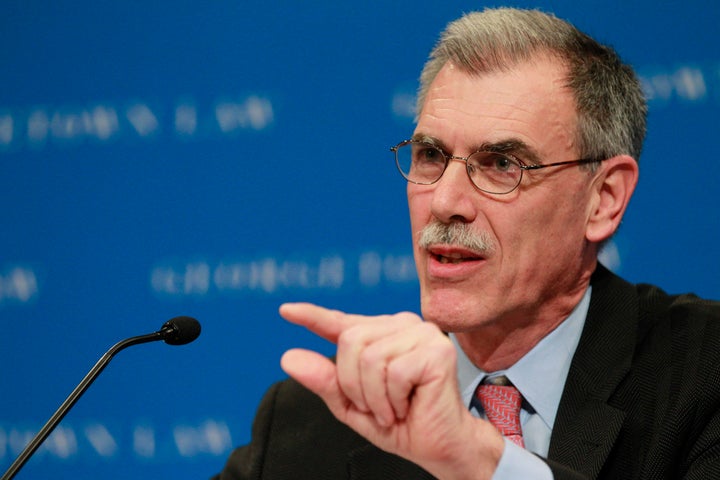 The lawyer who helped steer the Obama administration through some of its toughest challenges before the Supreme Court has found a new gig.
Verrilli will help open up the D.C. office of the Los Angeles-based Munger, Tolles & Olson, a corporate law firm whose values, he said, are in "really close alignment" with his own. The shop announced the hire on Wednesday.
As solicitor general, Verrilli's chief responsibility was to represent the government's interests before the Supreme Court. He argued 37 cases there, among them two key victories that salvaged the Affordable Care Act from constitutional and statutory challenges.
"When I was in the government, I tried to represent my client, which was the United States, to the very best of my ability, every day," Verrilli told The Huffington Post as he reflected on his return to private practice, where he worked for more than 20 years before going to work for the president.
Prior to being confirmed to the post, Verrilli was a political appointee in the U.S. Department of Justice and later in the White House Counsel's Office. On June 28, 2012, Verrilli spoke directly with Obama after the high court upheld his signature health law for the first time, as seen in the photo above.
The former solicitor general said he hopes to enter this new chapter "with integrity, honesty, and to the very best of my ability." He added that he expects to remain active in Supreme Court practice, though he certainly won't limit his work to only those kinds of cases.
As a former government attorney, Verrilli is subject to rules that won't allow him to take certain cases or square off in litigation against his former boss for some time. He's also banned for life from representing clients in specific matters where he participated "personally and substantially."
As career twists would have it, Verrilli stepped down right before the justices handed down some of the biggest cases of their last session, which ended in late June.
He was already a private citizen on a long-awaited summer break when he learned of the court's indecision in a major immigration case, which preserved a lower court ruling against the government and left millions of immigrants in the shadows.
Verrilli said the justices' split "was not ideal," though he surmised that "it was unavoidable" in light of the court's ideological tie following the death of Justice Antonin Scalia.
"I hate to lose, and I particularly hated losing that immigration case," he said. He wouldn't comment on a new government petition asking the Supreme Court to take a second look at the case by the time a ninth justice joins the bench.
In his new role, Verrilli can go in any number of directions from here, but there are a few areas that particularly interest him, like copyright law, health care and telecommunications.
Ultimately, he said, he anticipates he'll do legal work that one way or another keeps him "in the public life of the nation for the next several years."
BEFORE YOU GO
PHOTO GALLERY
Exclusive Look Inside The Supreme Court