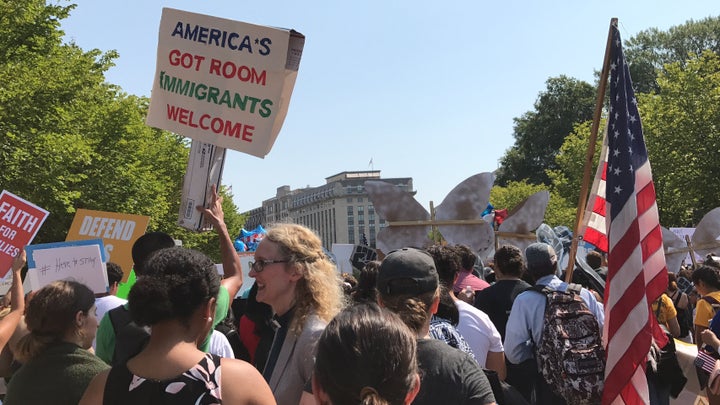 In the past, lawmakers have struggled to pass even limited forms of immigration reform. Republican opposition and the defection of six Democratic senators defeated the Dream Act, a bill that would have provided legal status to young undocumented immigrants who came to the U.S. as children . A broader comprehensive immigration reform bill that included immigration enforcement measures was defeated in 2013.
Due to a legislative process that has stalled and the reality of a broken immigration system, the Obama administration implemented the DACA program as a way of providing relief to the immigrant community.
Since then research has shown that DACA has increased the wages and labor force participation of recipients, reduced the number of undocumented immigrant households living in poverty, and increased the mental health of recipients. There are no known major negative impacts from DACA on native-born workers, with most statistics saying that DACA has benefitted the economy.
DACA recipients have become productive members of society while following rigorous standards and fees set for them to qualify for the program. They trusted the federal government with their information and now they have been betrayed by the country they call home.
A memo by the Department of Homeland Security states that Immigration and Customs Enforcement (ICE) will have access to this information if needed for a deportation procedure. "Information provided to USCIS in DACA requests will not be proactively provided to ICE and CBP for the purpose of immigration enforcement proceedings, unless the requestor meets the criteria for the issuance of a Notice to Appear or a referral to ICE under the criteria set forth in USCIS' Notice to Appear guidance," said the statement.
This means that immigration agencies won't actively be going after DACA recipients but if ICE requests their information, it will be provided for deportation procedures.
There are several bills right now in Congress that would provide much needed relief for young undocumented immigrants whose lives are now in turmoil. These include the Dream Act, which would benefit those who came to the U.S before the age of 18 and lived in the country for four years prior to the bill taking effect, and the harsher Recognizing America's Children Act (RAC Act), which would apply for those who came to the U.S. at age 15 or younger before 2012.
While lawmakers from both parties seem to agree that something must be done to protect young undocumented immigrants, Republicans who have assured Dreamers repeatedly that a legislative solution to their predicament will be reached are already looking to place conditions for their support.
These conditions vary from cutting legal immigration by attaching provisions from an anti-immigrant bill called the RAISE Act, to securing funding for Trump's southern border wall, to strengthening Trump's deportation force by hiring more border patrol and ICE agents.
It seems the Trump administration is playing politics with the lives of 800,000 of some of the most productive members of our society. He is threatening to break up families and uproot the lives of youths who call this country home. It's time for legislators to do their job and fix our broken immigration system in a humane and compassionate manner.
Thomas Kennedy is a communication fellow for the Center for Community Change.
BEFORE YOU GO