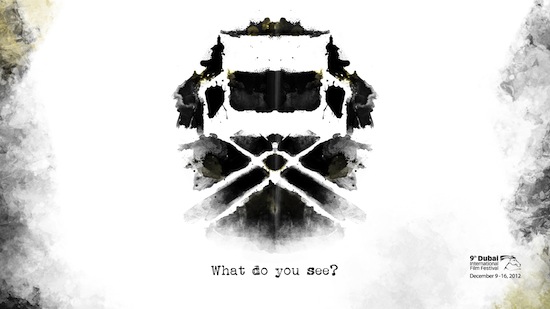 It's the last weekend of the year, and while everyone is busy compiling their "Best and Worst of 2012" lists, I turn to my passion for cinema from a region that I adore: the Middle East and North Africa (MENA). This year for MENA has been fruitful and full, even seeing the coveted Foreign Language Oscar going to A Separation, a film from Iran. The movements of the Arab Spring brought some new governments and some old governments dressed as new ones but importantly -- and in my personal opinion most welcomed -- the revolutions drew a lot of attention to a part of the world that, until then, had been ignored or worse, mistrusted by the west. As Pascal Diot, the Manager of Dubai Filmmart, so aptly put it at this year's Dubai International Film Festival "the problem of the western world right now is that there is still a fear of the "other" and of someone who is different from them."
This year's Dubai International Film Festival (DIFF) ended more than a week ago and it exceeded all of my expectations. They were high, considering I wanted the festival to be both a watchable extravaganza of cinematic masterpieces and a marketplace of sales and distribution worthy of Cannes. Turns out, DIFF does things its own way, and if you come to it expecting it to be like any other film festival in the world, you'll be quickly proven wrong. DIFF sets its own standards high and then outshines them, year after year.
Perhaps this trend mirrors the region's thirst for movies. There is no denying that cinema in the Middle East is becoming the business to watch -- pardon the pun. When it comes to the United Arab Emirates alone, gross box office has grown 200 percent since 2007, with barely 300 screens. Compare that with the 3 percent decline in GBO in the U.S., despite nearly 40,000 screens nationwide, and you get the idea. Audiences in the Gulf are also some of the youngest in the world, with nearly half of all GCC nationals under 25 years of age, and they rely on new trends in VOD, TV and video -- as well as good old traditional outings to the cineplex -- to satisfy their growing cravings for cinematic entertainment. In fact, Mohammed Al Mubarak, the chairman for Image Nation, a subsidiary of Abu Dhabi Media, pointed out that "the average Abu Dhabi family goes to the movies three times a week, which is unheard of anywhere else in the world."
Image Nation International financed The Help, an independent film that was made for $25 million, generated more than $210 million in global box office and was nominated for multiple Academy Awards, claiming one for supporting actress Octavia Spencer. Even a less well received production like Ghost Rider: Spirit of Vengeance made back its initial budget in worldwide box office. As a company, Image Nation admits to a dual agenda: to invest in international partnerships to finance overseas films and to use the profits from these to finance locally produced Emirati films. And in case you were wondering, they do exactly that with their projects. During this year's DIFF, Mohammed Al Otaiba, head of Image Nation Abu Dhabi, announced a new project to be directed by award-winning Emirati filmmaker Mohammed Saeed Harib, a yet untitled sports comedy scheduled to be filmed entirely in the Emirates in the spring of 2013 to be released in the fall of next year. The film will be Image Nation's third local production, following the seemingly never-ending success of Sea Shadow released in 2011 and the horror film Djinn, set for release in 2013. Harib's long running animated series Freej potentially reaches 35 million homes in MENA, and he's part of the highly anticipated film adaptation of Khalil Gibran's The Prophet produced by Salma Hayek.
Going back to what Al Mubarak said, the way movies are watched may differ slightly in the countries of the GCC and the Emirates, yet the preferred choice of movies is eerily similar to what western audiences crave. At a recent visit to the VOX theaters in Mall of the Emirates -- one of the venues where films are screened during DIFF -- the line-up read like that of any local movieplex in NYC: Life of Pi, Jack Reacher, The Hobbit and Rise of the Guardians -- with some Bollywood thrown in and one Arabic title, the Egyptian box office topper Abdo Mota.
DIFF also started and ended with two blockbusters, albeit ones directed by world cinema figures. Ang Lee's Life of Pi kicked off the festival in full 3D grandness and Wayne Blair's The Sapphires, the story of four talented Australian Aboriginal girls set in the late 1960s distributed by The Weinstein Company, was the closing gala presentation for this edition of DIFF. Arab cinema from MENA was definitely the intended beneficiary of the festival, but the powers-that-be at DIFF know how to bring in international names to create the buzz needed at any cinematic event. Cate Blanchett, Kevin Spacey, Colin Firth and countless other western stars graced the various red carpets for the myriad of galas that surrounded the films. Yet the presence of the Egyptian superstars and other well-known figures from the region definitely got most photographers' flashes in a frenzy on the red carpet.
But the reason I came to DIFF this year was to observe the deals being made, to watch the trends for cinema from and about the region in years to come. This may not seem as glamorous as walking the endless red carpet with Freida Pinto at the Madinat Arena in Jumeirah, but to a lover of MENA cultures and a believer in the unifying power of cinema, it was in fact the most exciting aspect of the festival. Definitely all the films screened at this year's DIFF were winners by their sheer presence in the line-up, from the Jordanian When Monaliza Smiled, to the Kurdish story Bekas, from the Saudi Wadjda, to the Egyptian Winter of Discontent, from Emirati shorts like Safi and Half Emirati, to future cult classics like the U.S.-made Death Metal Angola and Indian Ship of Theseus.
On separate occasions, I sat down with both Shivani Pandya -- managing director of DIFF -- and Pascal Diot and they both enlightened me to the ways DIFF helps filmmakers and cinema from the region. Diot pointed to the clear aim of the Filmmart "We have two goals: One is to help the Arab world to make, to sell, to co-produce, to be exposed to the rest of the world; the other is to bring the remaining part of the world to the Arab world and to emphasize and develop co-production."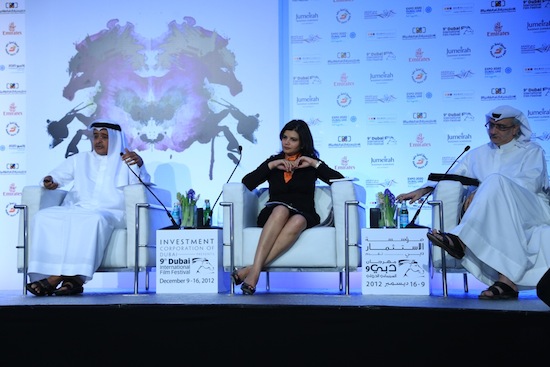 Shivani Pandya flanked by Abdulhamid Juma, DIFF Chairman & CEO (left) and Masoud Amralla Al Ali, DIFF Artistic Director (right)
Cooperating is an idea that came up often during DIFF, in fact much is dedicated to creating bridges with other cultures, other countries and other organizations. Recently, a DIFF-curated series of films was screened at New York's Film Society of Lincoln Center, and Pandya admitted "What was really interesting is the people who would typically visit Lincoln Center had no idea and no exposure" to Arab cinema, yet, she continued, "when they watched the films they were really intrigued and wanted to watch more." Toronto this year had a good line-up of DIFF-supported films, and in Venice, Haifaa Al Mansour's Wadjda enjoyed a gala premiere. Of Al Mansour's journey, Pandya said "Haifaa is like a beautiful case study for us. Wadjda blossomed right through, went through the motions at different levels, from Torino Film Lab, through to Dubai Film Connection," which are both ways DIFF helps filmmakers from pre- to post-production and every step in between. In fact there are so many resources and programs funded and supported by DIFF -- between Enjaaz, DFC and the Film Forum -- it's hard to keep track. And there's even another film festival in April, the Gulf Film Festival, to satisfy those spring cravings for cinema from the region.
All in all, how DIFF differs from say, Cannes is "a scale", as Diot pointed out. He continued, "the Dubai Filmmart is a regional oriented market, emphasizing Arab but also Asian and African content." Pandya added that the Filmmart is "a place to give these filmmakers a platform to sell their films and if they go to Cannes, it's beautiful and a really big market but they're competing with the rest of the world, where people's priorities may be European and American films." When people come to DIFF, Pandya continued, "they are looking for films from the region and when you add Asia and Africa, they are getting the best they can get out of the festival."
In the world of show business, finding an organization -- or even a person for that matter --that keeps true to its promise is nearly impossible. The entertainment industry is usually a land full of "let's talk about it" which only really mean "I'll call you, don't call me". But DIFF is "DIFFerent" indeed, keeping true to its two main mantras: "Script-to-Screen" and "A Film for Everyone". With around 300 distributors from the Arab world and nearly 200 from the remaining countries (plus countless more through their partnership with Festivalscope, a professional online platform where exhibitors and film programmers can access films in the DIFF line-up) this year's festival and Filmmart managed to keep its first promise. And with around 160 films from 60 countries, there was indeed enough choice to please even the pickiest moviegoer.
Bottom line, if you're not watching films from or about this part of the world, you're not really watching films.
All images courtesy of the Dubai International Film Festival, used with permission.