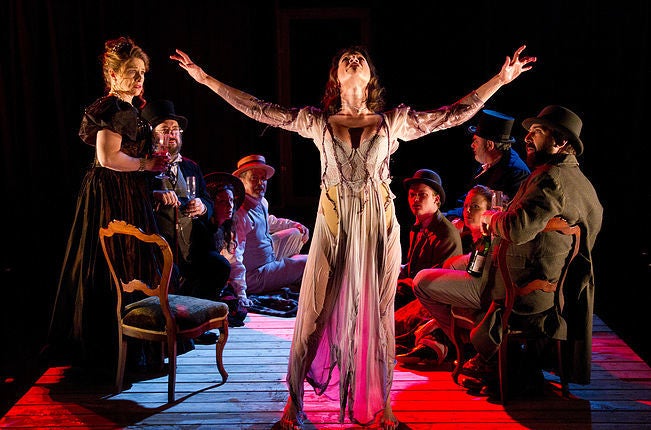 EgoPo Classic Theater is focused on Russian literature this season with new stage adaptations of works by Tolstoy, Dostoevsky and a stellar production of Anton Chekhov's The Seagull, in a brilliant English translation by Paul Schmidt. EgoPo director Lane Savadove uses both natural and surrealist prisms, to balance Chekhov's hothouse mix of domestic melodrama and existential angst that is always one line away from being a Greek tragedy.
"I'm in mourning for my life" intones Masha (played with seething cynicism by Stephanie Iozzia) hopelessly trying to break out of her own trap of unrequited love she has for dreamy young playwright Konstantin. Konstantin meanwhile is trying to wrench away from his toxic relationship with his famous actress (and full time diva) Arkadina while she entertains her entourage at her summer house on the pond. He stages a pretentious but brave play about 'the universal soul' for them starring his lover Nina an aspiring ingénue. When Nina's character starts raging about frogs and flowers and eternal truths, Arkadina mocks it as a "symbolist" joke. Konstantin is so enraged he halts the performance and storms off, on the verge of a very real breakdown.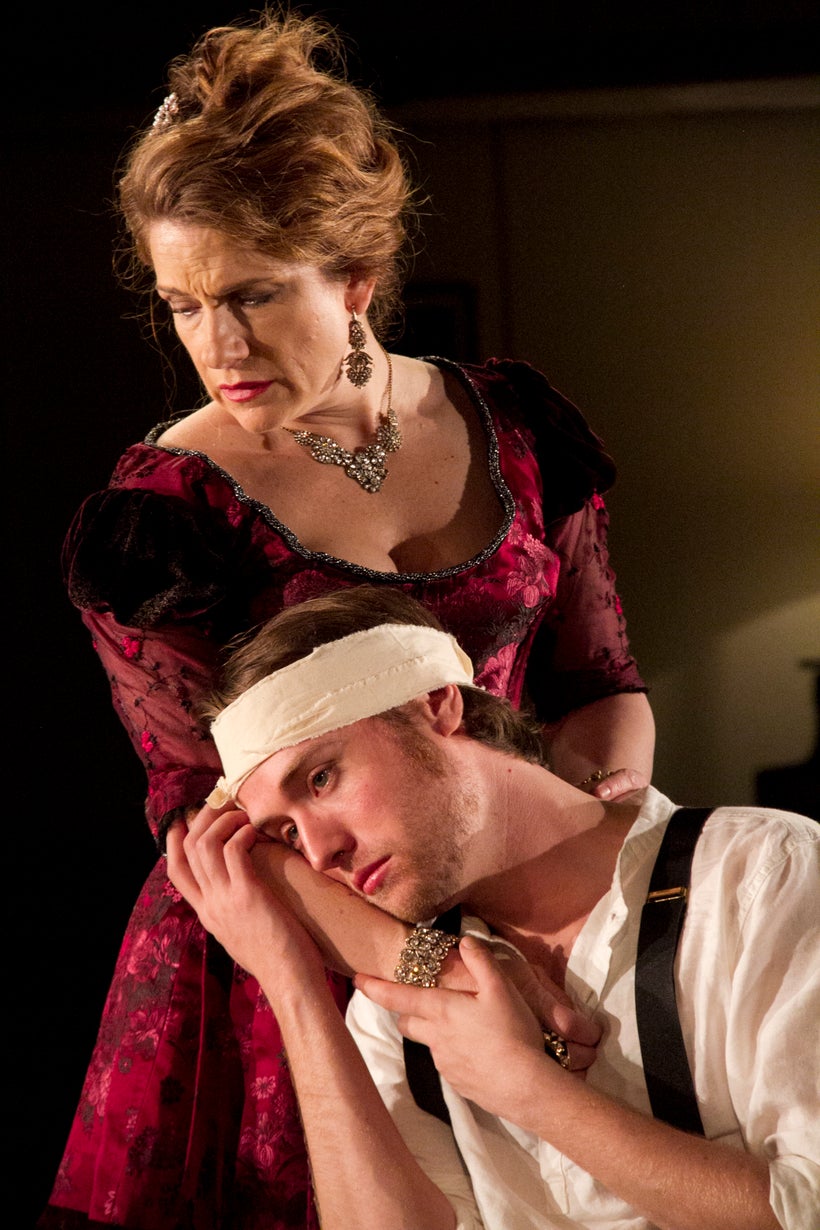 Arkadina makes her case that he is attacking her profession and her own and her artistry. Her elder brother Sorin tells her that she has humiliated her son, but she remains defensive. Konstantin shots a seagull to try to somehow impress Nina and then tries to kill himself. As Konstantin recovers, Arkadina tries to be a loving mother, but gets bored, tyrannical and preoccupied with her hot affair with Trigorin, Konstantin's nemesis.
Meanwhile this disastrous incident doesn't stop the all of the off-season canoodling. To review- Masha loves Konstantin, who is after Nina who seduces Trigorin, who lusts after her, but keeps Arkadina hanging on. Meanwhile, gentle teacher Medvedenko is in love with Masha, who rebuffs him at every turn, but eventually marries him, assuring her unhappiness. Director Savadove lets these tragicomic scenes breathe and shows what a strong director he is not only with Chekhov, but with a uniformly strong ensemble cast.
Melanie Julian is both subtle and operatic as the imperiously self-absorbed Arkadina. as she tries to nurse Konstantin after his suicide attempt that dissolves into an emotion brawl with each drawing blood. It is delivered by both these actors with unforgettable verisimilitude. Moments later Julian is bawdy and mannered in an equally demanding scene where she seduces Trigorin on the dining room table knowing she is not winning back his heart from Nina.
Andrew Carroll is a tortured dreamer in lyrical voice and passionate heart. Carroll punctures the vanities of his mother and tragic in his acceptance of his own. Anna Zaida Szapiro tackles the equally complex role of Nina, the unstable ingénue who seduces Trigorin and tosses Konstantin to the side. In the final act, Konstantin tells the sad tale of Nina's career and tragic personal life trailing after Trigorin, having a child, then trying to return to the stage. Szapiro gives a defining performance in the demanding volcanic tragedy of Nina. Ed Swidey is the manipulative Trigorin, who belies the deeply shallow depths of his insecurities. Stephanie Iozzia keeps a razor sharp disillusioned Masha and plays one of the best comic drunk scenes of this or any other season.
Other fine performances include Eric Kramer's Dorn, the voice of retired reason, who looses suffers fools with waning patience and Mark Knight provides brittle comic relief as the boorish groundskeeper. Great supporting cast includes Nick Ware as the stableboy, Dane Eissler's earnest, put-upon Medvedenko, Aaron Cromie as the ailing Sorin and Kirsten Quinn's ever repressed Paulina.
Sumptuous costume design by Rita Squitiere's costume designs- burnished organza gowns, country linen wraps for the women and dusty vests and breeches for the men, last season Moscow garb. Thom Weaver's set and lighting design in the otherwise cramped 2nd floor space of the Latvian Society is a marvel, in fact he spills it out onto the stairwell and actor's dressing area that we trail through. He has devised a pond, a levitating deck and the darkly lit, summer room with a baby grand. A black crystal chandelier complete the surreal atmospherics of act II, with everyone literally sloshing around in home truths that lead to Chekhovian transcendence and for this ensemble, one of EgoPo's finest productions.
Through Feb 19 at the Latvian Society, 7th & Spring Garden St. Philadelphia call 267.273.1414 or check http://www.egopo.org/
This post was published on the now-closed HuffPost Contributor platform. Contributors control their own work and posted freely to our site. If you need to flag this entry as abusive,
send us an email
.