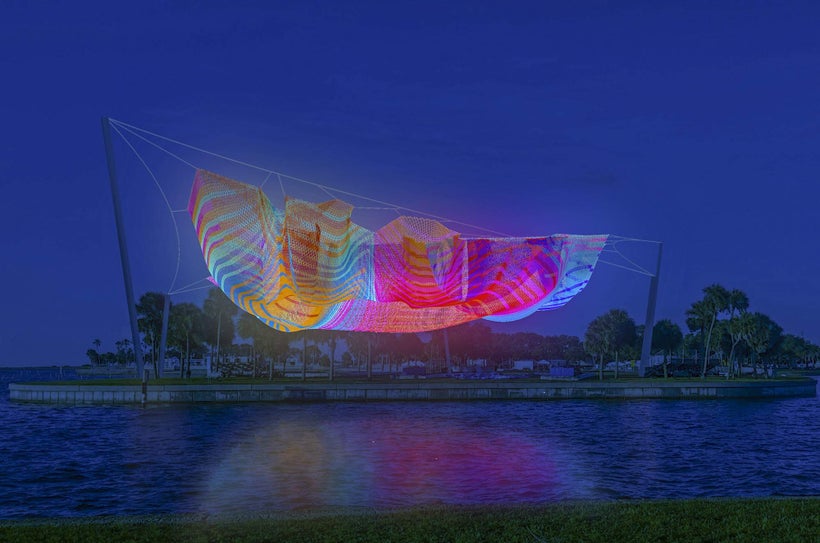 Debatable appeal or worth are inherent to any and all works of art. Make that a public work of art and all bets are off. Every opinion on visual appeal might be valid but a work's monetary value or why it might be worthy of a city's investment are less debatable as we can research and experience such results. Throughout history cities have faced controversy over investing in public art. Just ask Gustav Eiffel. As work on Eiffel's tower began an army of no less than 300 Parisian artists drafted and published a protest against the now iconic structure, stating among other things, "We, writers, painters, sculptors, architects and passionate devotees of the hitherto untouched beauty of Paris, protest with all our strength, with all our indignation in the name of slighted French taste, against the erection … of this useless and monstrous Eiffel Tower." Today the tower stands as the most visited monument in the world. Similarly, Washington D.C.'s Vietnam Veterans Memorial by artist Maya Lin, was once described as "a black gash of shame" by public officials. Add to the list of originally opposed public art projects Christo and Jeanne Claudes' The Gates, for which city permits were initially denied but was ultimately and triumphantly brought to life in New York City's Central Park. The Gates was responsible for significantly boosting tourism during a traditionally slow season in the city. Museum of the City of New York's curator Lilly Tuttle has credited the work with lifting "the city's spirits" and kicking off "a period of fearless, bold, large-scale public art in the city."
Today St. Petersburg, Florida serves as the setting for a centuries-old scenario. A massive and dynamic work by Tampa born and raised artist Janet Echelman has been proposed for the city's waterfront. Her iconic transformative works have been commissioned by cities throughout the world and major institutions such as the Smithsonian, making her one of the most respected and sought-after figures in the public art world. One of Ms. Echelman's floating sculptures would undoubtedly add a world-class landmark (and attraction) to the site where the old St. Petersburg pier once stood.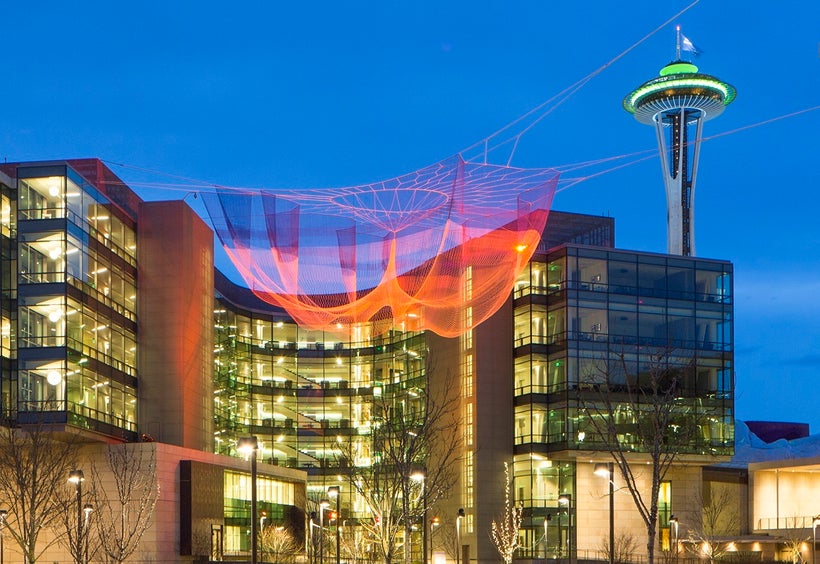 Echelman's Tampa Bay roots run deep. In 1908 her family made Tampa their home, opening a dry goods store in Ybor City. In 1912 they opened the Sierkese Department Store in St. Petersburg on Central Avenue. Over 70 years later the store's focus shifted from luggage and clothing to fabrics and patterns and became St. Pete's longest family-run establishment. Her mother and aunt also ran five clothing boutiques. Discarded fabric scraps of every texture and color ignited her imagination. This childhood fascination reflects in her chosen medium today.
Changes have been underway at downtown's waterfront for quite some time and many residents have expressed understandable frustration with the pace of the new Pier District's development. But change is nothing new to the Sunshine City. Since the land was first purchased in 1875 St. Pete has gone from fish town to a quaint favorite of retirees to dilapidated haven for drugs and prostitution to funky rough-around-the-edges art town. At its current phase the city is now quickly and boldly rising to claim its place as an international (art) tourist destination. In recent years downtown has shed its boarded-up storefronts and evolved into a tourism jewel faceted by galleries and museums, hip restaurants and boutique hotels. The independent artists and shop owners who took big risks in launching and establishing their small businesses there early on will forever remain the undisputed catalysts in the city's brilliant turnabout.
On January 2, 2018 the Tampa Bay Times reported on the proposed pier sculpture, announcing (by way of headline) its price tag to be $3 million dollars. Almost immediately criticism and debates erupted over social media. "$3 million for that?" more than a few scoffed. "The price is actually quite fair for a major iconic piece such as this," explained Bob Devin Jones, arts commissioner and director of Studios @ 620. During our conversation I asked why it is important for our city to invest in a piece by an artist of global stature rather than offering the project to artists who currently live and work here. "Everyone has their turn. Janet was once in our shoes. If we acquire this sculpture the tide will raise all the boats. This piece will cement internationally our place in the art world." Posed with the same question Janet Echelman makes a strong and valid point. "Every community wants their artists to be eligible to create art in other cities." which renders limiting applicants a counterproductive effort.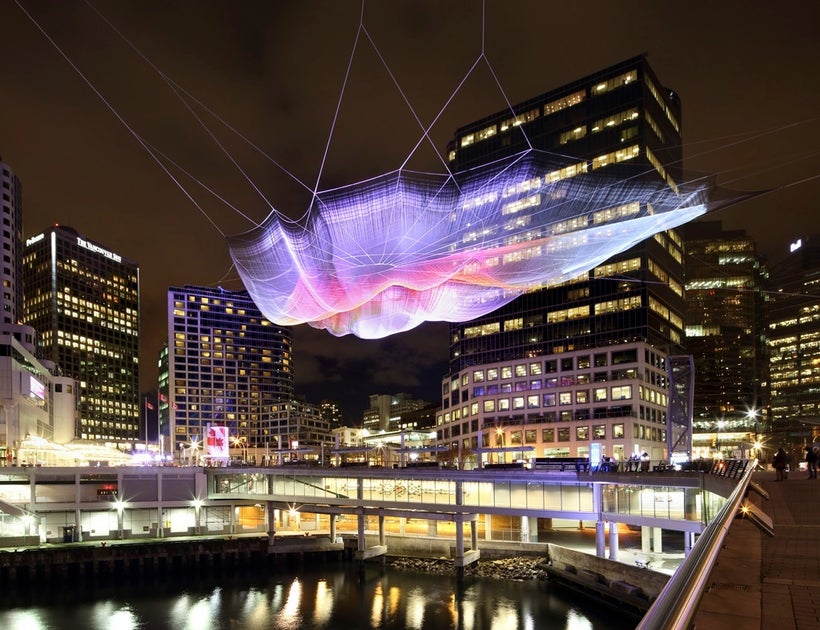 The sculpture itself is estimated at $1.5 million. $1.3 million is estimated on infrastructure and lighting. While the Times article stated that $650,000 has already been raised by Mayor Rick Kriseman from private donors and $250,000 will be coming from the Public Arts Commission, leaving roughly $600,000 to go (most of which will likely also come from private donors), many could not seem to get past the $3 million dollar headline. Some argued the choice of spending such a sum on art instead of roads or housing. "A city can do many things simultaneously. It can address education, housing and arts. Arts are essential and should never be allowed to become an afterthought." Bob Devin Jones states. St. Pete's Director of Cultural Affairs, Wayne Atherholt explains that "Private donors would be paying for the bulk of the art piece and donors have always had to choose amongst a wide variety of civil and social needs. Some people give to animal causes, some to art causes, some to medial causes. I believe that we have enough donors who would give to make this happen if the people want it. Obviously, it is easier for us, representatives of the people, to leave the beach the way it is. We're being responsive to the public committees who thought an Echelman sculpture would be an incredible addition to the city. "
Many Facebook critics worried for our local wildlife and the longevity of such an investment in our seaside climate. I posed these questions to Ms. Echelman, who is no stranger to such concerns. "No bird or creature has ever been harmed from one of my artworks, and I've had major public sculptures out in the environment on multiple continents since 2004, including waterfront and beach areas similar to the Spa Beach site. We have letters from various cities who own the sculptures confirming this. My work goes through a careful review to receive legal permits before construction begins. We consulted a bio-engineering firm that explained to us how the physical qualities of our nets don't meet the criteria that would endanger birds and other wildlife."
In addressing the concern of hurricane winds, Echelman's sculptures are soft and flexible, designed to let strong winds pass through and engineers from Arup have confirmed the St. Pete design to withstand 150+ mph winds. She uses colorfast fibers like Polytetrafluoroethylene which is 100% resistant to UV light, high temperatures, pollution, and even chemical reactions. It is more commonly known as either PTFE or Teflon, and is the same material that coats Astronaut's space suits. She also uses Ultra High Molecular Weight Polyethylene fiber, which is 15 times stronger than steel by weight and the material NASA used to tether the Mars Rover.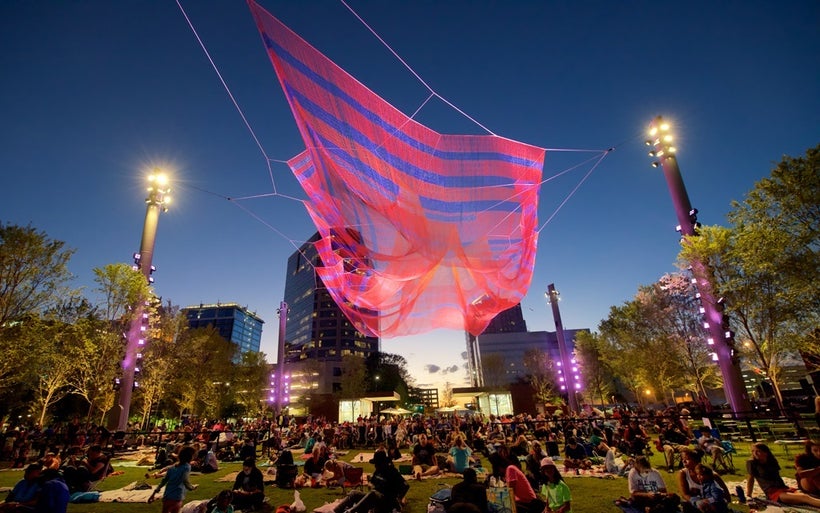 Public art has always incited controversy. It likely always will. In the early 1800's the public art movement was born in a city which remains rich in world-famous iconic works, Philadelphia. William Rush, known to many as the father of public sculpture, was commissioned to create art that would change the way citizens related to and interacted with common spaces. Traditional as they may now appear, his Water Nymph and Bittern, created as fountain statue for the Center Square Waterworks raised many an eyebrow due to detailed clinging "body-con" garb. Today in the vibrant fast-growing city of St. Petersburg, Florida Janet Echelman stands in for Mr. Rush and an LED-lit spacesuit material floating net replaces the detailed sculpted female form. It is the hope of many, myself included, that before too long an other-worldly many-colored dream cloud (or catcher) will shine high above our Pier District welcoming the community to gather beneath and get lost in its billowing magic while inviting art loving visitors (and their tourism dollars) from all across the globe. As city representatives press on with their fundraising efforts the debate continues.
This post was published on the now-closed HuffPost Contributor platform. Contributors control their own work and posted freely to our site. If you need to flag this entry as abusive,
send us an email
.