A man died after falling from the upper deck to the concrete on the first level of Atlanta's Turner Field during a game between the Braves and Yankees on Saturday night.
The victim was identified as Gregory Murrey, 60, of Alpharetta. He fell at least 40 feet during the seventh inning in the area behind home plate.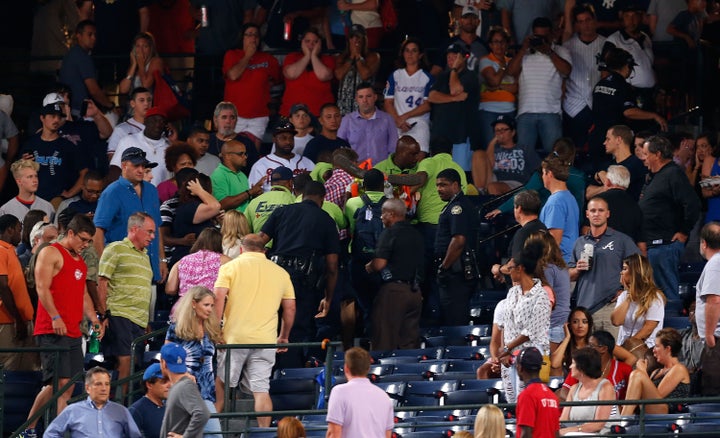 Other fans scrambled as emergency officials rushed to the scene. Pools of blood on the ground could be seen in images posted on social media.
"People started crying right away," Donnie Marley, a fan who was seated near the victim, told the Atlanta Journal-Constitution. "It was surreal. It was like, 'Did I just see that happen?'"
Security cleared the area and restricted media access.
Paramedics rushed to provide first aid, before loading the man onto a backboard for transport to Grady Memorial Hospital. He died en route, a police spokesperson said.
Witnesses claimed to have seen the man attempt to hang on to a wire apparatus that connects to the protective net behind home plate, a security guard told Fox Sports. He fell in the process. He was responding to the Yankees' Alex Rodriguez being sent in to pinch hit, fans in the area recounted to ESPN. He landed on his head, another person at the game claimed to WSBTV.
Many family members of the Yankees players were in the area where the man fell, ESPN reported. 
Police were investigating the exact circumstances of the fall,  but at the time authorities were not aware of any foul play.
 No one else was injured, WSBTV reported.
"We were sitting in Row 6 and I just told him to watch for A-Rod. And then we heard a big thud. I saw a guy falling from the top. I grabbed my son and ran for security. He was bleeding pretty badly. I don't think he's gonna make it. And I don't have any clue how he fell," Greg Shiver of Tennessee, a fan at the game with his son, told AJC.
"I saw him falling, like right in front of the press box. Then he hit the wires. Crazy," Yankees player Didi Gregorius, who was on second base at the time, told ESPN.
"Huge condolences go out to that family," Braves pitcher Matt Wisler said. "We were all in the dugout paying more attention to that than the game when it first happened. That's terribly sad to hear. We really hope for the best for that family. That's sad to see something tragic like that happen at a game."
 The Yankees went on to win the game, 3-1.
As the AJC noted, this is the third fatal fall at the stadium in seven years. A man's 2013 fall to the parking lot was ruled a suicide, and another man died in 2008 after falling four levels onto a concrete and metal railing at the field level. 
PHOTO GALLERY
Best Baseball Quotes