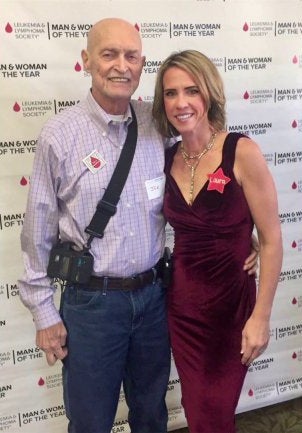 Laura French – proud mother of three, wife, accomplished news anchor and reporter for WTVR CBS 6 – has always been a fighter. Whether it's developing award-winning exclusive reports from across the country or consulting for CBS News 48 Hours, Laura has used grit to face challenges and to always win.
Even thyroid cancer. Laura discovered she was sick during her second pregnancy. And yet she soldiered through the surgery and grueling treatment to make a full recovery.
But Laura refuses praise. Instead, she considers her father, Joseph Heinzen, the author of her grit and the "true fighter."
Joseph was an executive that mixed breakfast with million-dollar deals. He was successful, a stellar athlete, devoted father and newly married.
Then, in 2008, everything changed. Joseph's doctor told him he had Acute Myeloid Leukemia (AML).
With three months to live, Joseph's only chance at survival was a stem cell transplant that would cost in the hundreds of thousands of dollars. He found a match in his sister Mary, but after the transplant expenses, the gap in his insurance totaled about $19,000.
And Joseph only had a week to raise the funds before his scheduled transplant.
That's when the Leukemia and Lymphoma Society (LLS), an organization that funds cutting-edge research to advance blood cancer treatment and clinical trials, intervened. LLS not only provided Joseph with excellent resources to raise transplant funds in seven days.
"My dad is living proof that the Leukemia and Lymphoma Society saves lives," Laura said. "He is a walking miracle."
That was nine years ago. To the amazement of Joseph's doctors, he is still alive. It's a stunning feat, considering the National Cancer Institute reports only 25% of adults with AML are expected to live three or more years past their post-diagnosis mark.
As far as cancer survivors go, Joseph is in uncharted territory. Only three survivors are still alive from his 26-member stem cell transfer class.
"Cancer is hell. But the strain is harder on everyone around you than yourself," Joseph said.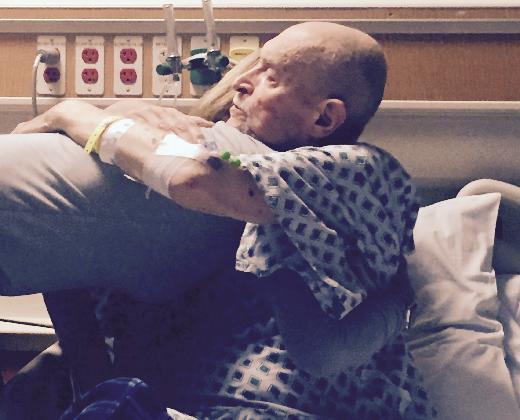 Joseph lives with agonizing pain; his muscled body is now thin and bruised; his movements slow and weak. Leukemia has beaten him down mentally and emotionally, cost him his finances, home, and close personal relationships. And in February of this year, he suffered a massive STEMI heart attack from all of the chemotherapy.
"There were plenty of times I wanted to give up," Joseph said. "But I think about my kids. I see how strong they are. That motivates me. And it's why I've never been afraid of dying. So I made a promise to myself: If I wake up each morning, then I was going to deal with that day, one at a time."
Joseph's resilience inspired Laura to accept a nomination for the 2017 Leukemia and Lymphoma Society Man and Woman of the Year Award, all in honor of her father's struggle.
"I am honored and humbled to have been nominated as a Woman of the Year candidate," said Laura. "It is a chance of a lifetime to give back to an organization that played a large part in saving my father's life."
For the past several weeks, Laura has fundraised to support the campaign, with each dollar representing one vote. The campaign will culminate on Saturday, May 20, 2017, at a Grand Finale Gala with a live and silent auction, with the winner revealed at the end of the night.
Laura's goal is to raise at least $50,000, at which time she can name a research grant after her father, ensuring that his legacy will live on. Additionally, Joseph desires to share his lessons to survivors and to start a foundation.
"People need to hear that not everyone with cancer dies," Joseph said. "I believe that my purpose is to communicate to other people what happens to you when you live. And if we can help one person understand that there's hope, that there are people out there that can help them, that they don't have to lose everything – then we have succeeded."
To learn how you can donate to Laura's Woman of the Year campaign in honor of her father Joseph, please visit llsteamjoe.com.
This post was published on the now-closed HuffPost Contributor platform. Contributors control their own work and posted freely to our site. If you need to flag this entry as abusive,
send us an email
.