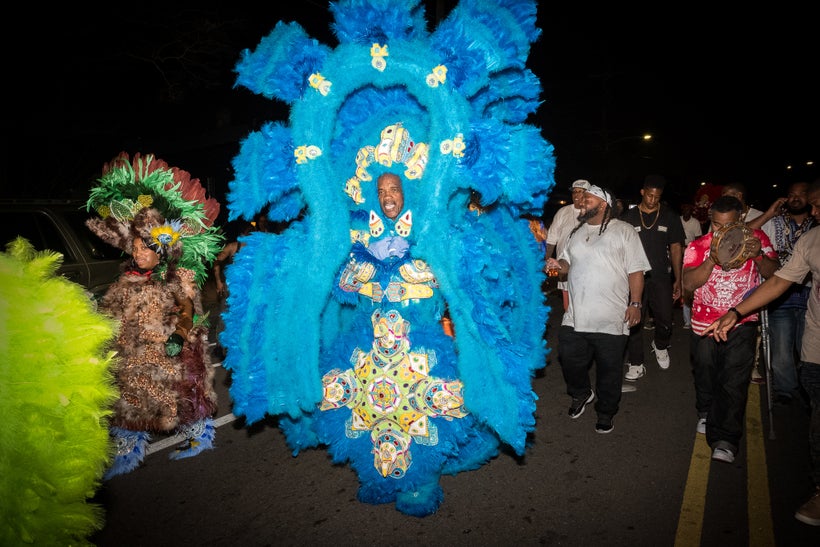 Blackness in America, a tangled web, often woven from shallow narratives and cliched stereotypes. Yet, in Tremé, New Orleans Black Masking Indians defy those labels. This story follows Big Chief Darryl Montana and his Yellow Pocahontas Black Masking Indian Tribe through 2017 Carnival, known to many as Mardi Gras. Darryl is preparing to pass the torch and retire his family's legendary crown. With Father's Day nearing as this article is published, this story of fatherhood, inheritance, and tribal ritual is universal.
After nearly a century, Darryl and his tribal brothers dedicate themselves to supporting their community, maintaining new rituals and creating a unique form of beadwork and garment construction. Aided by colorful art and painstaking craftsmanship of ceremonial robes and regalia, the men pass on their history through generational inheritance, from father to son. In this mostly man's world, members sacrifice time and money to earn their place in the tribal family.
While some may find this type of patriarchy too old school, it's clear that this continuity has benefits. The tribes' stability and annual presence strengthens and comforts a vanishing community of color in the Crescent City. Tremé is a historic community torn apart by floods, government negligence and rapid gentrification.
In this fight to stay vital, the tribes continue to thrive, by supporting one another, guarding their tribal secrets, and creating an alluring African brotherhood and mystery. But the essential elements for their continued success and survival are crystal clear: honor, character, tradition, and loyalty to family.
Simple? Maybe, but their recipe stands as inspiration and road map for other American, minority communities on the verge of extinction. Masking, suiting, dressing...becoming.
"I've been doing this all my life and I just have some other stuff I want to do."
Seated in the workroom located on the second floor of his two-story house in New Orleans East, Darryl Montana, 62 years old and a fourth generation Black masking Indian, works feverishly on his suit with needle and thread. It's three days prior to Carnival Day, known worldwide as Mardi Gras.
Darryl is the Big Chief of the Yellow Pocahontas Black Masking Indian Tribe, a role he inherited from his father, Big Chief Allison "Tootie" Montana. Tootie, a legendary tribal chief and innovator within the New Orleans community, is present at all times. His power and influence so far-reaching he became known as the Chief of Chiefs. Devoted to his father and tribe, Darryl knows well the weight of being chief.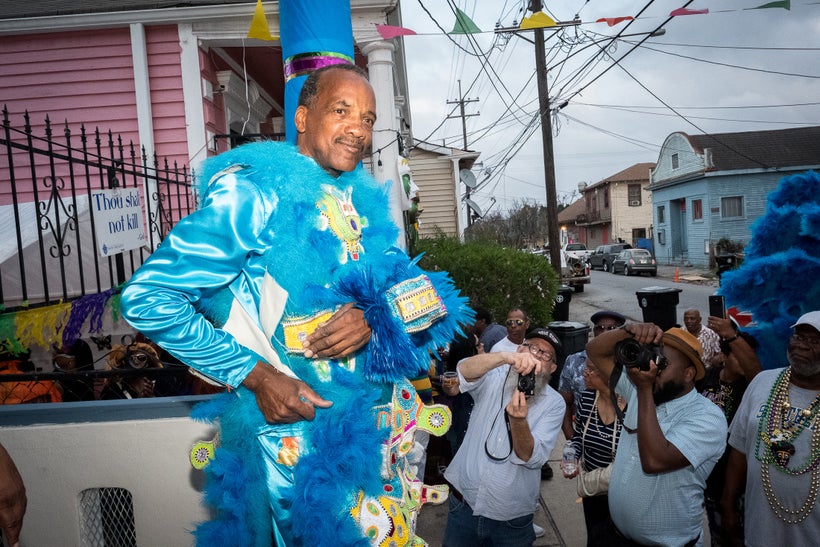 "I started helping my dad when I was six years old, but I made my first suit at age 10," Darryl explains. "That's 52 years ago. So I've been involved in it for 52 years, but I've dressed for 48 years."
"A lot of friends who don't want to see me stop tell me, 'You're a young man. You're just 62 years old. You've got at least 20 more years.' But I mean, I've been doing this all my life and I just have some other stuff I want to do."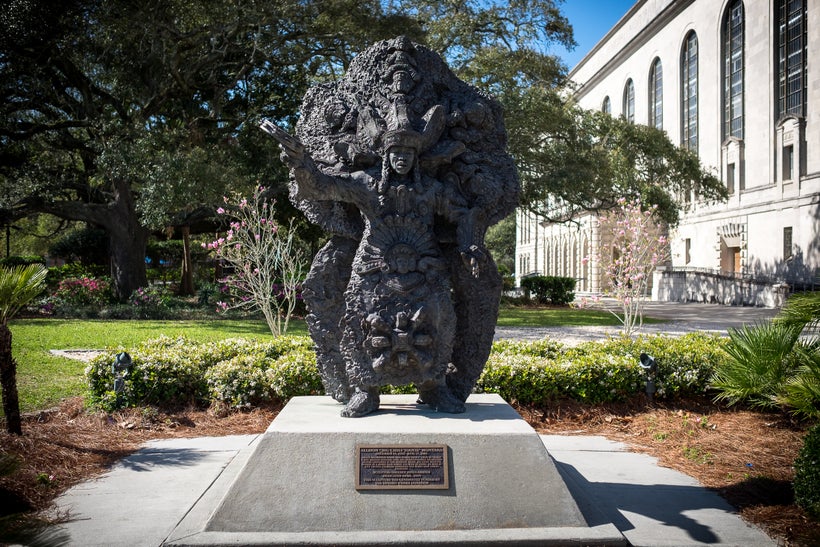 Tremé is the oldest black neighborhood in America. The famous neighborhood dates back to 1812 and is considered to be the birthplace of jazz music. But for a week, every year on Carnival Day, Black Masking Indians command the spotlight. Strutting, chests out. Self-styled in ornate, handmade garments. Each member swallowed up, buried in an explosion of color. Every suit unique with intricately designed bead work. The final caged cape trimmed-out in feathers and topped off with a gigantic headpiece, some weighing hundreds of pounds. The Black Indians shimmer and strut. The pace slow, it's their terms. Their show. They rule the streets.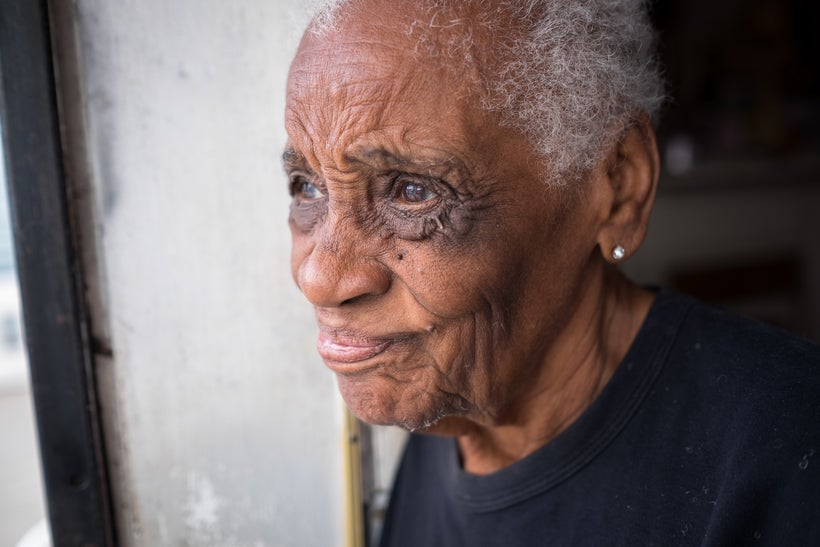 "The dramatic part comes when the chiefs meet."
After dressing for 48 years this will be Darryl's final. Opting to break with family tradition, he has chosen a non-family member to bear the title of Big Chief. His successor's name, Shaka Zulu.
The New Orleans Black Indian tradition of "masking" is an on-going, indigenous African-American tradition that is unique to the culture of New Orleans. It dates back to the 1860's. Darryl's family has been involved since the beginning. He is the fourth generation and his grandchildren are currently the sixth generation. Choosing a successor from outside of the family was not an easy decision for Darryl.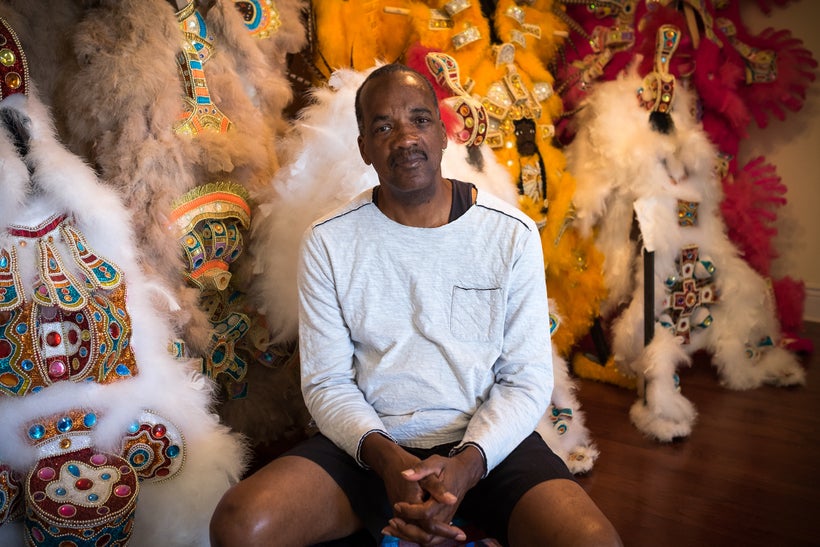 Darryl recalls memories from his childhood and stories passed along to him by his father.
"My grandfather was Alfred Montana, and he was involved in the tradition as well. I think I remember him. My daddy first started out as a skeleton. This had to be somewhere around 1945. Then, around 1947, he decided that he wanted to dress as an Indian. It was like two weeks before carnival. He went by his daddy's house and he told his daddy he wanted to dress and his daddy said, 'Well you know you only have two weeks left, and the suits that we making now, that's a year round process.' And my daddy said, 'Well I got help.' It was a decent little suit he made."
Allison "Tootie" Montana ultimately dressed on Carnival Day for 52 years, longer than anyone else ever has. Darryl was dressed alongside his father for 40 of those years.
"Folks from other tribes or other parts of the city would ask me if I was dressing and with who," Darryl recalls. "I would tell them, 'What kind of question is that? I'm dressing with my daddy."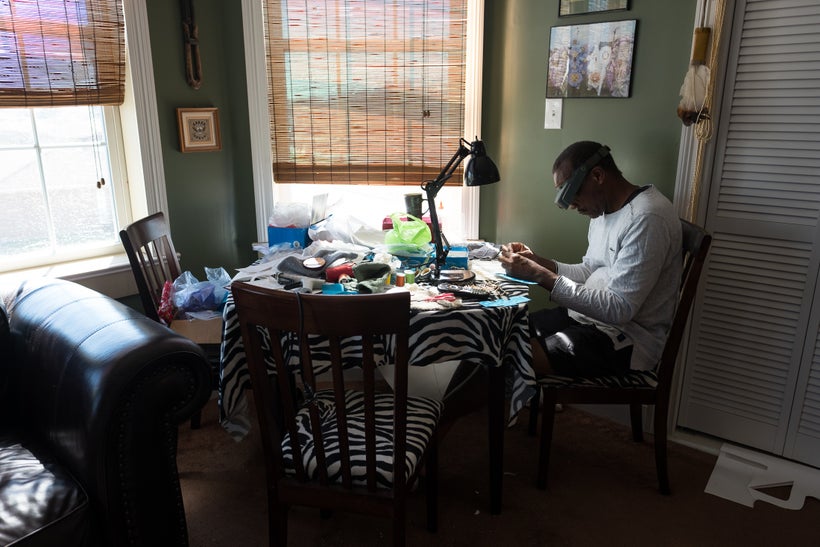 Many traditions of the Black Masking Indian tribes in New Orleans are shrouded in secrecy and mystery. Casual observers who stumble upon Black Masking Indians on Carnival Day may hear them mistakenly referred to as Mardi Gras Indians. Visitors see theater and entertainment, but natives and family know the tremendous sacrifice and painstaking labor involved to create the artistic achievement so proudly displayed on Carnival Day. Each Indian who masks on Carnival has likely spent thousands of dollars creating their suit. All hand-made, Darryl estimates his suits take over 5,000 hours or ten months to design, sew, and build.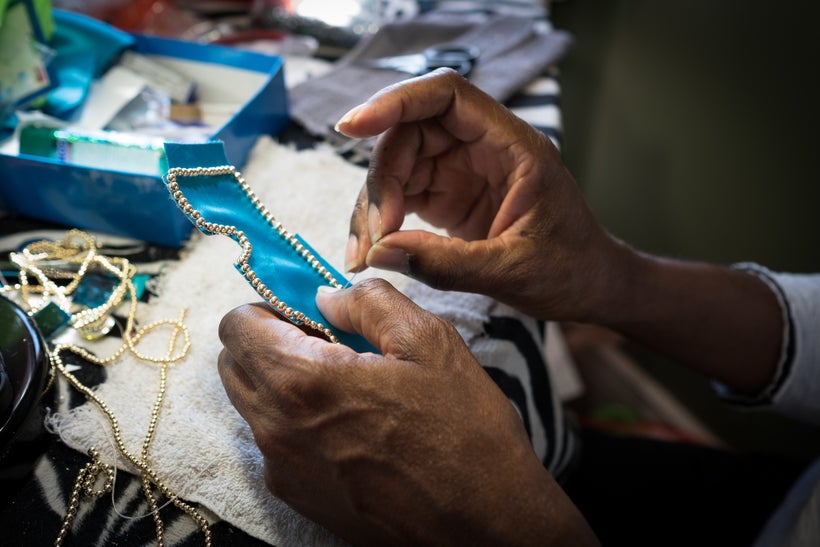 Darryl explains the hierarchy and street strategy of a Black Masking Indian tribe:
Rank - Spyboy, Flagboy, Wildman, Trailer Chief, Big Chief.
"We're basically playing a war game. The object of the game is to get to the other chief, but only a chief from the opposing tribe can meet the chief. A spyboy from the opposing tribe cannot meet a chief, so we go through this whole ceremony where the spyboys meet, they meet and greet and show love, and then they move to the side. Then the flagboy walks up and meets the flagboy from the other tribe. They do their thing, they meet and greet, show love, and then they split up."
"The dramatic part comes when the chiefs meet."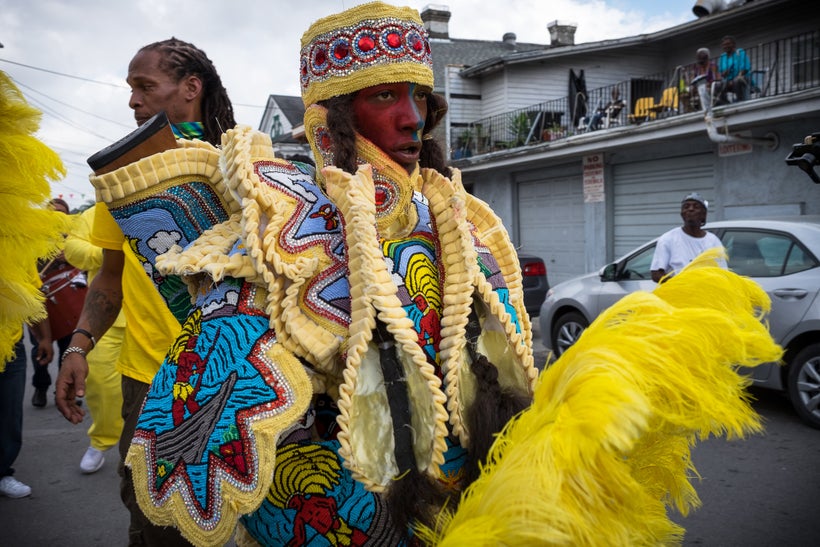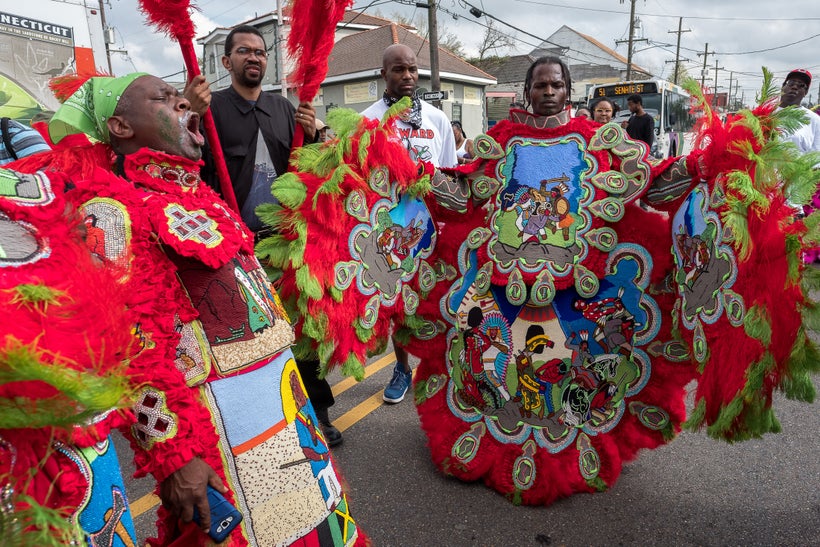 "Tootie took it from a physical battle...and he made it into the power of the needle and thread."
Tootie, a New Orleans cultural icon, was exulted to the title of Chief of Chiefs during his reign. His tribe - the Yellow Pocahontas tribe, which will be 100 years old in 2019 - is the only tribe in New Orleans that spawned eight other tribes. Darryl names the tribes:
"It's the Wild Apache, whose chief was Ray Blasio and then another guy who masked under Ray who was with us as a spyboy. His name was Franklin Davis. We called him Winnie. He had one arm. And them two, they basically ran the Wild Apache. We have Trouble Nation, the Monogram Hunters, FiYiYi, the Creole Osceolas, the Seventh Ward Creole Hunters, and Black Feather."
Sabrina, Darryl's wife, explains Tootie's impact on the culture of masking, moving the focus from occasional violence towards artistic accomplishment and competition:
"Tootie took it from a physical battle - the different tribes would fight - and he made it into the power of the needle and thread. He changed that whole conversation because it was all about being pretty. The Yellow Pocahontas were always known for their work. Not just the neatness of it, but the creativity of it. And the strength of their tribe."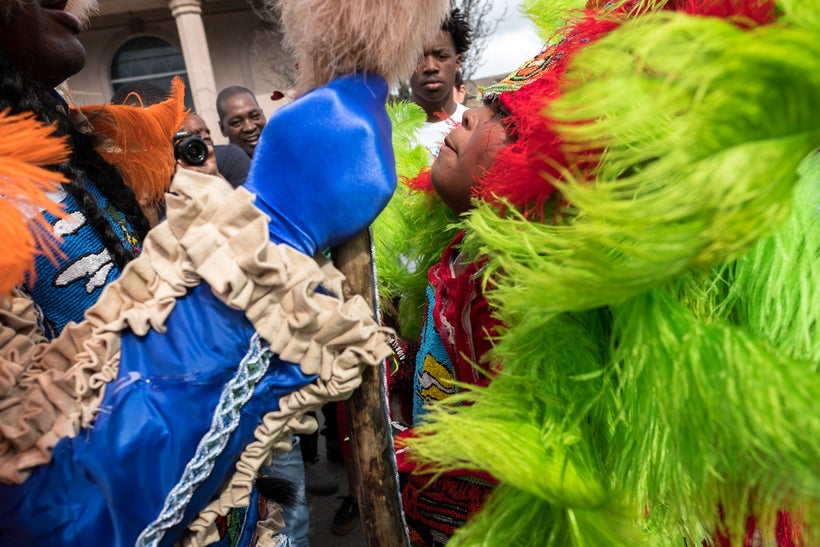 From a practical perspective, it did not make sense to spend countless hours, dollars, and effort throughout the entire year on a suit only to see it damaged when you finally wore it on Carnival Day. Transitioning from physical battles to artistic battles helped Black Masking Indians such as Allison "Tootie" Montana and Darryl Montana become recognized globally as master artisans whose work is worthy of permanent collection status in prestigious museums. Tootie's work received a National Endowment for the Arts award for crafts in 1984.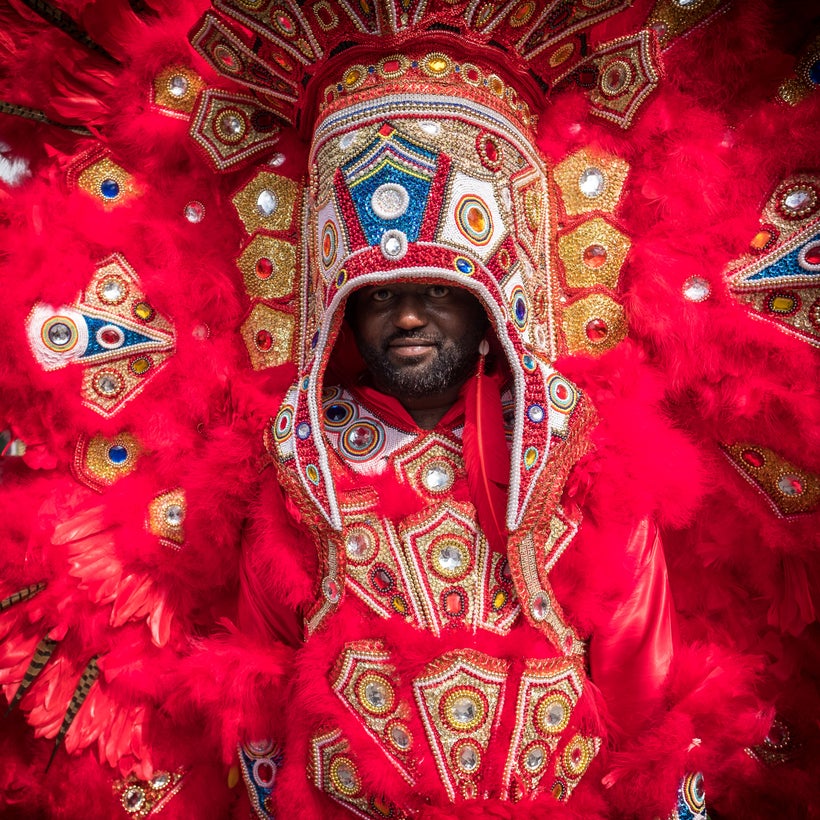 Big Chief Tootie retired from masking in 1997 but he made a comeback in 2004 following pressure from his fans. In 2005, on St. Joseph's Night, which takes place annually on March 19th and is the second time during the season when Indians wear their suits, New Orleans police shut down the annual celebration on the pretense that no parade permit had been obtained. Police violence erupted that night.
On June 27, 2005, Tootie spoke at a City Council hearing called to address the St. Joseph's Night attacks. Flanked by chiefs from many other Black masking Indian tribes, Tootie recounted the police brutality his tribe and others had encountered during the years. Tootie looked directly at the City Council and top police officials and proclaimed "I want this to stop!" In a dramatic scene, once Tootie finished speaking, he collapsed on the floor of the City Council chambers, suffering a fatal heart attack.
Two months later Hurricane Katrina struck New Orleans. Darryl and Sabrina Montana spent the next year in Texas before returning to the crescent city.
"The tradition of 'masking' has also been linked to a tradition of resistance."
It is important to note who we're referring to when we talk about the indigenous people from whom the tradition of Black Indian masking hails.
Though many of the depictions on Black Masking Indian suits show Native American Indians, such as the Choctaw and Natchez tribes, the true roots of this unique tradition are amongst native and indigenous black people in Louisiana who came from places such as Haiti and the African continent.
Along with native people, there were free people of color in New Orleans who had previously been enslaved. There were also indigenous black people who were already in Louisiana. A misnomer is that the tradition of Black Masking Indians was influenced by Buffalo Bill's Wild West show at the centennial celebrations in New Orleans, but people involved in the culture dispute this, calling this bad information. In fact, indigenous black people in Louisiana were wearing feathers as early as 1724.
The tradition of "masking" has also been linked to a tradition of resistance. Some historians describe masking as an implicit civil rights protest aimed at white elites and at the segregation that was rampant post-Reconstruction.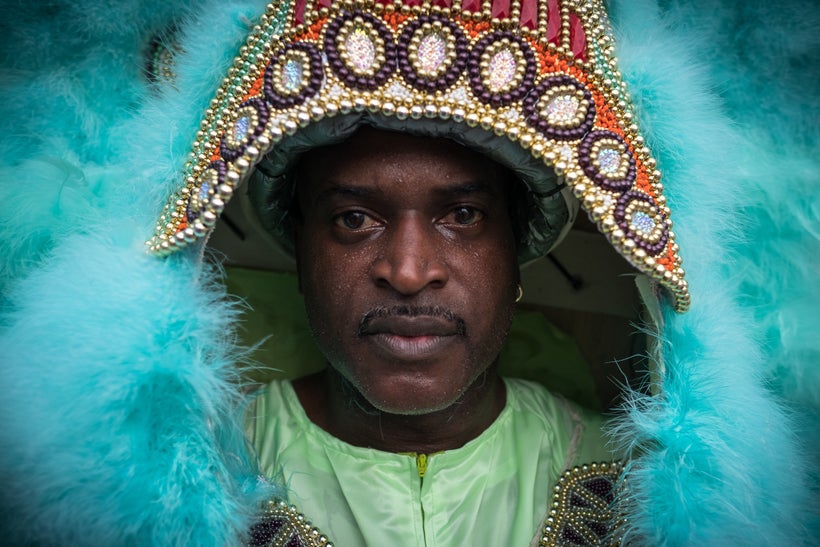 "I had to look outside of family."
This is Darryl's final year dressing on Carnival Day. Picking a successor was not easy for him.
"I have seven grandsons and I know my daddy was concerned about keeping this in the family. But for a long time I looked and a lot of the family wasn't even involved as far as dressing. They would help participate with the work, but it didn't work out that they continued to dress. So I had to look outside of family and Shaka Zulu was one person that I had kind of beamed in on.
At first he didn't want to have a chief position. But I felt like he was very equipped and had paid his dues. I guess as time went on, he decided that's what he wanted to do, and he was a good choice as far as the history part. I feel Shaka's more equipped than I am because he goes back deep."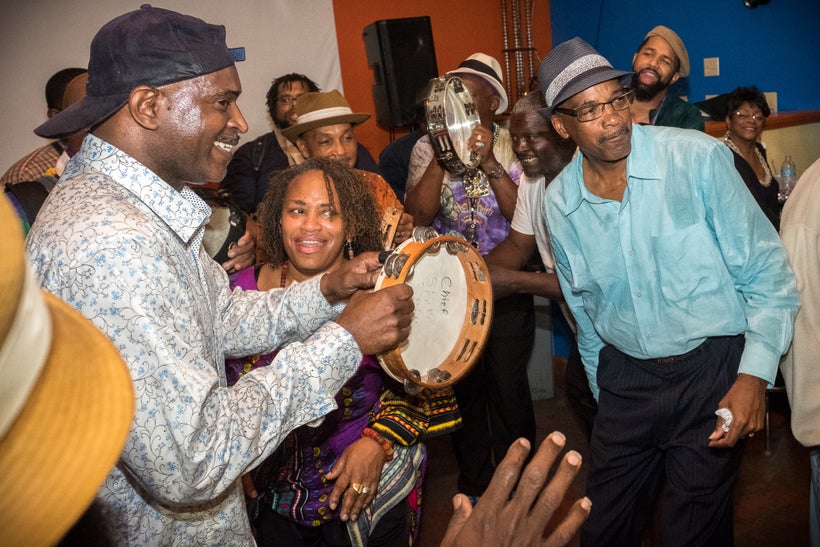 Darryl's wife, Sabrina, adds,
"Shaka is grounded. From a child, he was raised in a very African-centered home. And he has the character and personality of a chief. He has the calmness that's needed because the chief maintains the order."
"It's like I'm going into another life now. It's their responsibility to keep this thing going."
Darryl pauses, overcome with emotion.
"Last Sunday at practice, I teared up. It's like I'm going into another life now, you know. From what I was used to doing all my life. I don't want to be in and out, in and out, you know. I want to leave and when I walk away, like I'm about to do, I want to walk away into the sunset. . .I feel like with my daddy, he basically was the role model for all of us, and he didn't drop the ball so I could not drop the ball. Now once I give it to the next person, it's on them. It's their responsibility to keep this thing going."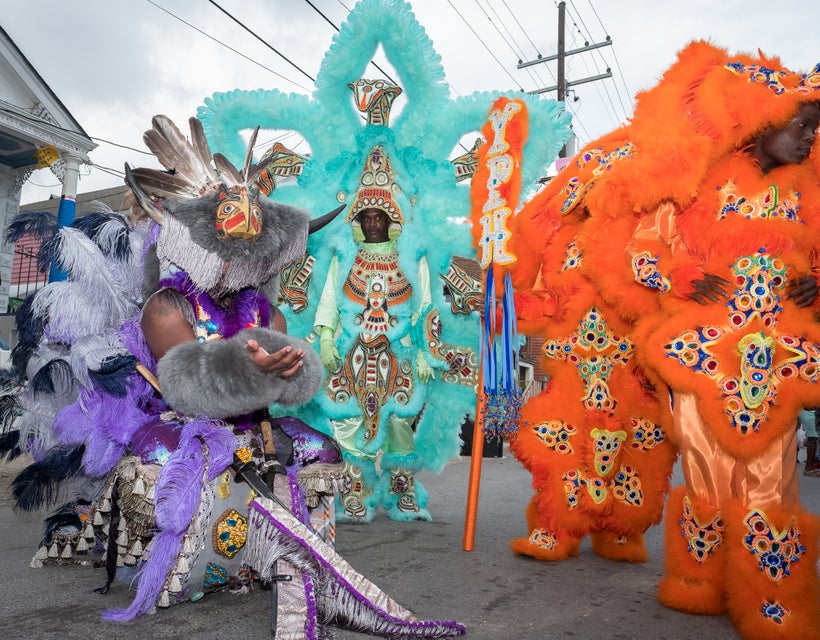 "I didn't want to carry the burden of the Yellow Pocahontas history."
Shaka Zulu comes from a masking tradition. In his family, they are stilt dancers, all initiated in the African society of stilting. He began masking about 17 years ago. Shaka Zulu reflects on his new role as chief of the Yellow Pocahontas tribe.
"What fascinated me about Yellow Pocahontas was, one, I saw many chiefs that I had been watching for a while, but I can't just respect you as a chief. I have to respect you as a man first.
Darryl Montana was the first example of what I saw and was attracted to in terms of how he carried himself as a man. He's always had class. He was always demonstrating good leadership. It was no question that I wanted to be a part of that particular masking tradition, but the next thing was how do you get in, because it's normally passed down, somebody has to make you a chief.
I asked him about masking one time, and the first thing he did was he said, 'I have to talk to your wife.' He mentioned, 'her time and her money, which is your money, is going to go into this, so I can't just go by what you say, because it's a family tradition. It's a family commitment, so I can't just talk to you.'
I thought this is going to be a very interesting journey. . .that was very attractive to me."
The first few years of masking, I quickly understood that this is a heavy, heavy thing. I was wondering, 'How long can I do this?' Darryl will tell you I never wanted to become the chief because I didn't want to carry the burden of the Yellow Pocahontas history. Their thing is the big crowns, and being a perfectionist, and sticking to the tradition that was set, and I was wondering if I had the stamina.
But as Chief started wearing down, he began looking for who could actually carry that role. I've been there the longest period of time in terms of consecutive years, so that's one part of it. But the other part was that he was looking at good people more so than anything. You can teach people how to sew, but you can't train them to be good people.
It's what's in the heart."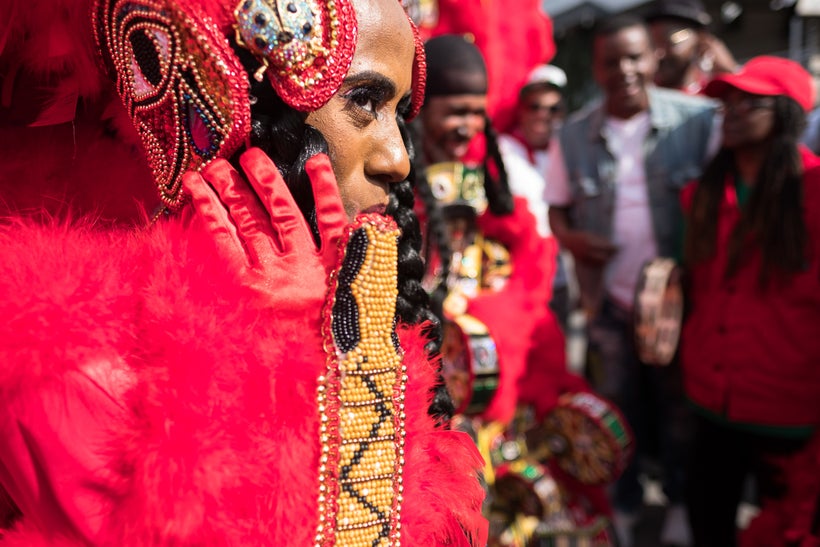 "In African tradition, we've worn feathers for thousands of years."
Shaka Zulu explains a common misconception surrounding Black Masking Indians:
"When we say paying homage, we're speaking of paying homage to the indigenous black people who were here [in Louisiana] prior to the slave trade. With the transatlantic slave trade, you got Africans that came to Louisiana. When they fought, they ran off into the Maroons with the indigenous black people. The way that we paid homage to the indigenous for helping us during that period - because they would hide us from the masters - was to create a tradition that we call the Masking Indians.
The misconception came later when people start discovering, 'Wow, there's people wearing feathers in the streets that are black.' Immediately, they assume that we were mimicking what we typically call 'Native Americans,' but we were paying homage to the indigenous black people. You can't hide people if you don't look like them. We share that culture through how we create our suits.
If you look at our style of beading versus the Native American style of beading, you see a distinct difference. Our style of beading came from the people that came from Africa by way of Haiti, or the Caribbean, but Africa is the origin. When those people came to what we call Congo Square today, we started really learning and mixing some of the indigenous with some of those particular cultures. In African tradition, we've worn feathers for thousands of years, so it wasn't because of the 'Native Americans.' It's just that feathers have been a part of our culture for many years."
"Once you put a mask on, you're not a person anymore."
Carnival Day arrives. The Black Masking Indian tribes take to the streets of the Tremé neighborhood. The weather is unusually warm - eighty degrees with blistering hot sun. This does not bode well for the Yellow Pocahontas tribe who wear suits that routinely weigh over 100 pounds. Shaka Zulu explains to me that if it is eighty degrees outside, inside his suit he is sustaining temperatures well above 100 degrees.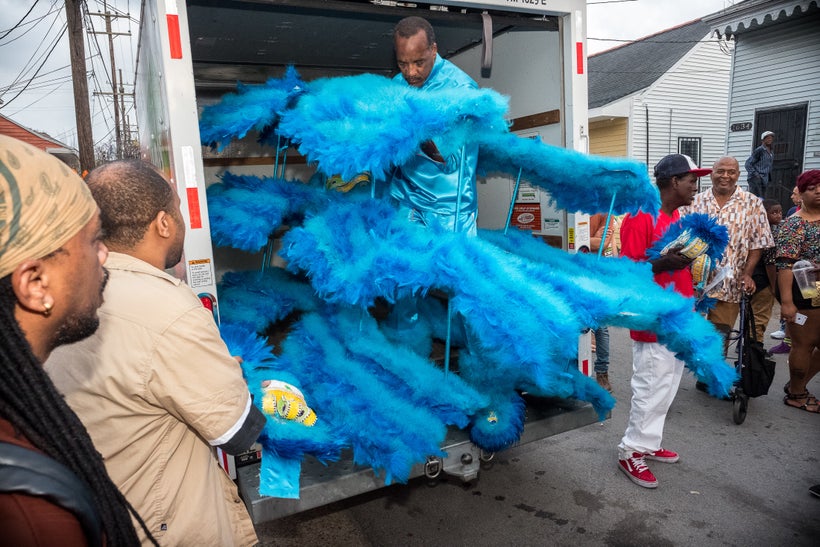 Once an Indian puts his or her suit on for Carnival Day, they transform. They become the energy of what they have been masking. Shaka Zulu describes the experience as a sort of out-of-body experience he explains as incorporeal.
"A lot of people look at this as sewing a suit for a whole year, but for us it's really an experience. You had ups and downs that year, you had financial issues that year, you may have had a death in the family that year...You're wearing all of that. You're wearing all of that with the spirit of what it is that you're doing out of resistance anyway, so you combine those two forces, and you've got a very powerful moment, a very powerful spiritual realm. What carries you is the excitement and the enjoyment of people really appreciating you taking that time and energy for them."
In the Yoruba tradition of Nigeria, their culture required beading.
"Their thing was was prayer beads," explains Shaka Zulu. "So the whole year-long process of hand sewing those suits was like a prayer. Eventually, that prayer becomes this temple that you put on and transform into this entity, because when we say masking, it's an African tradition. Once you put a mask on, you're not a person anymore. You become the energy or the entity of what it is that you're masking."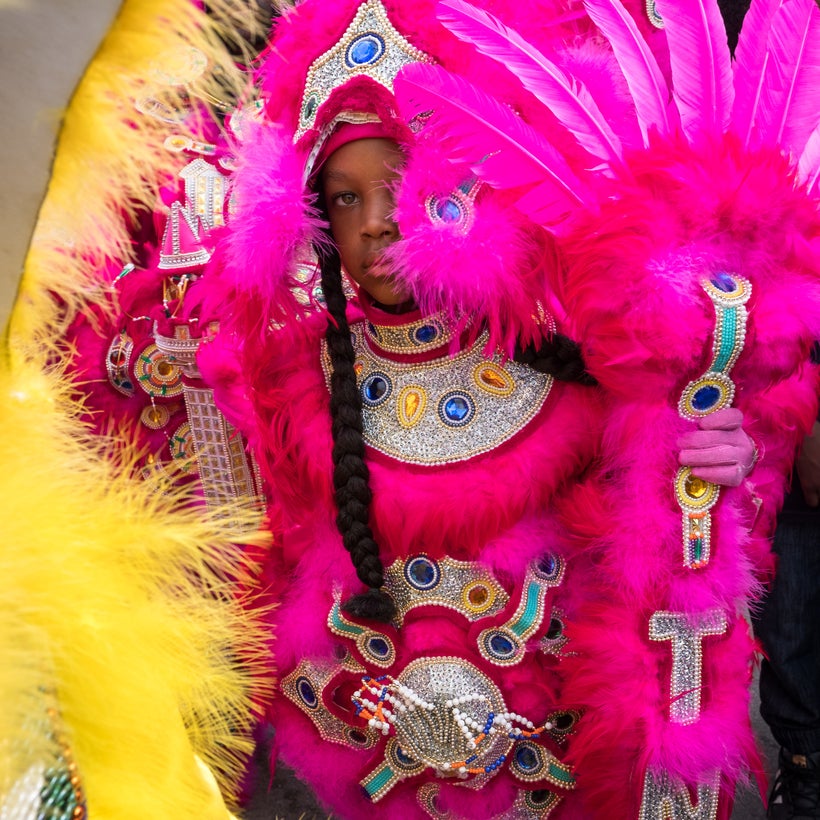 This post was published on the now-closed HuffPost Contributor platform. Contributors control their own work and posted freely to our site. If you need to flag this entry as abusive,
send us an email
.