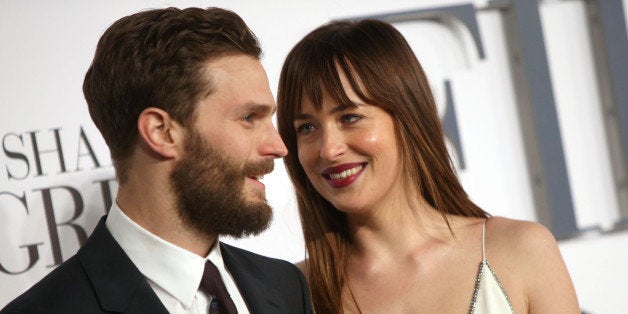 Naturally, most films aren't made for the grey-haired set, in spite of being named things like Fifty Shades of Grey. But fearless boomers that we are, we like to keep up with modern life. And since single seniors have more time and can go to the movies during the day, that is what I did. So, there I was, sitting in a comfy chair ensconced by calming darkness and icy-cold air conditioning (Los Angeles, folks!) in case I got too hot under the collar.
So, what happens when an older woman who came of age in the intoxicating days of sexual awakening watches the much-talked about potboiler? My expectations were low. After all, the book has been cattily labeled "Mommy Porn" by critics -- meaning it's not so scandalous that the star, Dakota Johnson, couldn't send Mom, Melanie Griffith, to the movies without cringing. But now I know, should cringing ensue, it is probably not because of sex, sado, flogging or fornication. I did a fair amount of eye-rolling, had a few yawns, but mostly laughed. And then unabashed nostalgia hit me with flashbacks, which I think are inevitable when seeing films about sexual adventures.
Our heroine, Anastasia Steele, a badly dressed, particularly clueless young woman (think Anne Hathaway in The Devil wears Prada), ends up in a rich man's sick fantasy world (think Pretty Woman), and is transformed into a willing slave of sex, money and love. Sure, if you're a poor college student, why not hang out in a breathtaking billionaire's bachelor pad and have sex in all its possible forms -- and then some?
There is that pale young man named Christian Grey (Jamie Dornan) with model-looks and a nose so sharp it could cut paper. He offers what he considers dangerous derring-do, but what actually looks a bit like preppy porn because he's so clean cut and impeccably dressed. But he has deep pain in his puppy eyes.
"I don't do romance," he warns her in a forbidding manner. He shouldn't have said it, because that is the surefire proclamation that is still catnip for todays' young women. Every Good Girl with a savior complex and a nurturing heart will jump at this opportunity to do some healing. Not exactly a spell-binding premise, I thought, wishing I had brought more chocolate-covered almonds...
So, when shy Ana interviews the Grey Fox for a college paper, my mind started wandering back to my very own years as a 19-year-old reporter who covered music and movie stars.
I was a capricious young woman in 1968, and I certainly wasn't shy, obsequious or as easily impressed as Anastasia. We were living in exciting times, right in the middle of that sexual revolution. Freedom for all! And I was living it up with gusto, passion and crazy and wonderful sexual encounters that almost seem innocent by comparison with today's mores. Honestly, I had never really heard of sadomasochistic sex, bonding and all those things that involved NOT only pleasure, but physical pain.
Not to draw too many similarities to Ana's life, but I do admit that being a pretty reporter can turn into a sexy game of pursuit anytime, anywhere. I myself was chased in several cases by my interview subjects (European actors and musicians, two famous, the others well-known), involving nightly knocks on my hotel room door (I was on assignment), drunken groping, attempts at passionate kisses in an elevator and charming "attacks" by the swimming pool.
I liked the guys, but I wasn't impressed. They weren't my type, and when you're young and desired, you feel like you can pick and choose and take your time because there will always be a long line of men waiting for you with impatient passion. (That turned out to be a slight miscalculation after 50 plus years on the planet, by the way).
Should I mention that nobody had their own helicopter or an obsession with neckties and slick designer clothes? Young men weren't penthouse-pimps like the Grey dude, they didn't brag about fat bank accounts and corporate jobs to impress girls. It was the sixties, men were more likely to get a hot chick into bed by being a slightly androgynous charming guy with long curls and bell-bottoms -- preferably with a guitar. In the newly-minted PC circles with its slightly radical leanings towards feminism and anti-capitalism, Don Juans and vain billionaire tycoons were never heard of and if so, they were definitely sneered at.
The more hip girls of the '60s would have never ever seen such a benign and bourgeois retro movie like Fifty Shades, which is basically he old struggle of Good Girl trying to be Bad Girl but ending up Good Girl who will always leave everything behind and would die gladly so a man can live. As far as I remember, 45 years ago, a great number of young women weren't interested in being pliant princesses.
The nice thing about sex in the sixties was that no money or status symbols whatsoever were involved. What goes on in Fifty Shades of Grey is capitalist sex, kinda corrupt, kinda three-piece-suited. Kinda boring. In short: Undecorated, cheap sex is a winner.
I don't know how much pain, serious trussing and whipping and begging was going on back in my youth, but oh, the good old playful "bondage" days. I remember them fondly. Done with a classic red bandana (which worked as a blindfold as well) and lots of cracking up and kidding around. Maybe it was the pot we smoked, maybe just the silliness of carefree youth. Sex was seen as pure hedonistic fun and enjoyment.
Let's not forget that sex is still not just fun; it's funny too. And I mean funny as in laughing. I don't know about you, but I always felt that laughing in bed is one of the most liberating and refreshing things that lighten up the solemn and dark elements that come with sexuality. That much-needed laughter is lacking in the movie, too. Which is surprising, because who could keep a straight face when someone is brandishing a riding crop or wants to tie you up like a pot roast! (See Madonna's face on her new album cover -- funny!)
Unfortunately, Mr. Grey is an earnest customer, unsexy and unsizzling. After all, these S & M shenanigans are not about joy, but power. He is the dom, and that is because he is rich and he is a man. So, it's money that talks, and it's not so much corporal, but corporate sex that might cause yawns in the moviegoer instead of erotic fantasies.
There is a big difference between seeing sex on screen, reading about it and doing it. The three are worlds apart, and it is a difficult task for filmmakers to shock or titillate with kinky sex when it's become something almost pedestrian and readily available on your iPhone.
So, this is indeed a good film for boomers if they want to be reminded of simple sex without an agenda, when fresh ideas, unruly passionate lust, tussled hair, a tear in the t-shirt, rolling around on the floor and dripping with real sweat were enough excitement. Maybe it makes a big difference whether it's Beyoncé or Jimi Hendrix playing while someone is putting handcuffs on you...
After the movie I went home, cool as a cucumber. But I did think of an old boyfriend I was madly in love with when I was 23. He was the one with the bandana idea... What was he doing these days?
Maybe next time, when in the mood for pensioner-porn, I will try drinking "Fifty Cups of Earl Grey" instead. That'll make my pulse race!