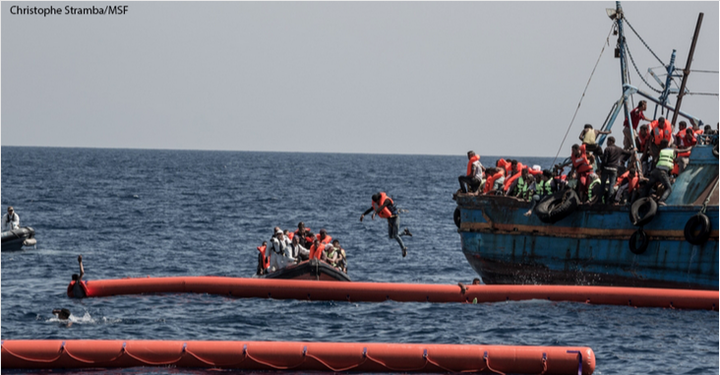 After thousands of migrants and refugees died or went missing in the Mediterranean Sea this year while trying to cross into Europe, a British marine equipment company wants to help save those at risk of drowning during the treacherous voyage. 
The Unique Group has developed the CentiFloat, an inflatable buoyancy aid that can save hundreds of people at one time. The company's website explains that the tube-shaped float, measuring 82 feet by 1.6 ft and weighing 165 pounds, is designed to be thrown from a rescue ship to the sea. It's also fitted with grab handles, and the company is currently developing new floats that can safely carry babies and infants. CentiFloats can be inflated in about three minutes, and reused over and over again.
The company originally developed the buoy to sell to commercial shipping companies for their emergency search-and-rescue operations. But after seeing photos of migrants and refugees traversing the Mediterranean's choppy seas and of 3-year-old Alan Kurdi washed ashore on a Turkish beach, Ben Board, a site manager at Unique Group, decided to start sending the products to coastguards and charities for free.
Some 522,000 people have arrived in Europe by sea since Jan. 1 this year, and over 2,600 drowned or went missing during the journey, the International Organization of Migration reported Tuesday.
To help fund the CentiFloats, Board created a crowdfunding campaign on Sept. 6. He hopes to raise 15,000 British pounds (about $22,700) by Oct. 6 to pay for materials. As of Tuesday, the campaign has raised over 10,400 pounds (over $15,700). People have also sent money to the company directly, and Unique Group's suppliers have donated material at minimal costs, Board told The WorldPost. Any money left in the pot will go toward funding further search-and-rescue equipment such as life jackets, he added.
The company's workers have also donated about 160 hours of their time to help build extra CentiFloats, Board said.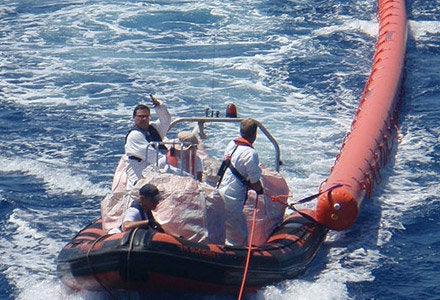 So far, the company has dispatched four CentiFloats -- two to the Migrant Offshore Aid Station, a search-and-rescue charity, and two to Doctors Without Borders. According to the Unique Group, the CentiFloat helped MOAS save some 700 migrants from an over-capacity wooden boat in an Aug. 6 rescue mission.
Thanks to the outpouring of support, the Unique Group is gearing up to send 10 more CentiFloats to agencies around the Mediterranean over the next few weeks, Board said. The company is also in talks with the Greek coast guard, he added. According to the International Organization of Migrants report, Greece has accommodated over 388,000 arrivals in 2015 alone.
"I have been stunned by the generosity of the people that have donated money and also the time and effort that the staff here at Seaflex have put in before and after hours to keep the overhead [costs] down to a minimum to enable us to build more than we had anticipated," Board wrote.